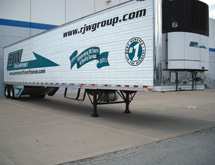 Times were challenging when Kevin Williamson took the reins of RJW Group from his father, Ron. The recession was in full swing when Williamson took control of the company, and one of the first things he had to do was make layoffs. However, as a result of Kevin's leadership, things have turned around quickly, and not only has Williamson been able to hire again, but the company has grown at a rate of nearly 30 percent for each of the last three years.
The road to recovery is rarely an easy one, but Williamson says RJW Group is better equipped than most to bounce back. Thanks to the company's diverse grouping of services and an unwavering commitment to customer service, RJW Group not only has the qualities to help it survive the recession, but also to propel it to greater success in the near future.
Ron Williamson started the company in 1981, after spending the better part of two decades as a transportation manager for multiple companies. Despite the hard work and long hours that it took to get the fledgling company off the ground, within a few years it had established itself as a leader in the logistics industry in the Chicago suburbs. Over the years, the company branched out from pure logistics to offer a variety of services. These include LTL/TL transport from Chicago to the continental United States and Canada; intermodal, regional and local trucking in and around Chicago; and warehousing.
Service and Services
Although the competition in the Midwest has become greater over the last decade, Williamson says RJW Group has one key differentiator that sets it above the rest. "Customer service, period," he says. "I believe that we have the best customer service that there is."
The company's customer service policy hinges on being open and honest with customers in every situation, as well as being quick and responsive to their needs and concerns. Although no carrier or logistics provider is perfect 100 percent of the time, Williamson says, it's how those mistakes are corrected that separate leaders from followers in the industry. "Issues are going to happen, service failures will happen from time to time," he says. "It's the follow-up that matters."
That exemplary customer service philosophy supplements an array of available services, and Williamson says RJW Group can do more for its customers than almost anyone else. Although cheaper trucking options continue to exist in the marketplace, the value-added services RJW Group provides present customers with the peace of mind that comes from knowing all of their needs are being handled. The company won't be the cheapest option, Williamson says, but it will be the most complete. "With our value-added services that we have, including hazmat and protect-from-freeze, that has given us a slight advantage with added service," he says.
Keeping Pace
Although experiencing nearly 30 percent growth each year is a situation most carriers would like to find themselves in, Williamson says the growth has created some challenges for RJW Group. Specifically, anticipating what form that growth will take and how much of it to expect is something the company has to keep a close eye on.
For example, its warehouse space has grown substantially in recent years. The company has nearly 300,000 square feet of warehouse space, including its own 180,000-square-foot facility at its headquarters in Woodridge, Ill. Just a few years ago, however, RJW Group had only about 80,000 square feet. Williamson says the company just added another 90,000 square feet through a long-term lease, as well.
Keeping the company staffed at the appropriate levels during a growth period is just as important. Williamson says the company has found a quality partner to help staff its front office through a temp-to-hire program. Finding drivers has proven to be a little more difficult, but Williamson says the company's focus on shorter distances offers some benefits for drivers looking for an easier schedule. "We hire a lot of drivers who are home nightly, so it's a little different than those who are all over the road," he says.
Williamson says RJW Group expects to see its current growth patterns hold true. The company is considering opening up hubs on the West Coast; specifically, in the Los Angeles market. The goal is to reach $250 million in revenue by 2016. Judging by the way the company has kept itself together so far, he says, there is reason to believe it can.
"I think we've done a good job so far of handling that growth," he says.