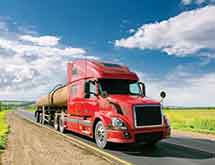 Road Scholar Transport knows its fleet is seen by millions of people every year and decided to use that opportunity for the greater good. Rather than self-promote, the company uses a majority of the space on its tractor-trailers to raise awareness about various charities.
Every company that uses Road Scholar Transport to ship their freight supports its 10 Million Miles to a Cure Program, which the company says has been a huge success nationwide. Road Scholar Transport's goal is to log 10 million miles on its awareness trucks and a percentage of every load it hauls goes to raising awareness about its charities. Customers can select the specific charities they would like to support and Road Scholar Transport ensures that charity truck is rolling in the customer's name.
"The only number growing faster than the national debt figures is the amount of times our awareness trucks have been viewed during this campaign," founder Jim Barrett says.
Road Scholar Transport is associated with the American Red Cross, Clayton's Hope, Make A Wish, Children's Craniofacial Foundation, American Federation of the Blind, Children's Tumor Foundation, Autism Speaks, International Rett Syndrome Foundation, St. Joseph's Center, Flight 93 Memorial and the Cystic Fibrosis Foundation. The company also raises awareness for breast, prostate, pancreatic and childhood cancer.
"Together, we can raise awareness and provide the necessary exposure for these organizations so they can get us closer to a cure," the company says. "Road Scholar is deeply involved in helping others in the community and beyond. [Our] dedication to a wide range of charities displays the true nature of our strong family culture and core values. A company who makes a difference in people's lives is a company you can be proud to be a part of."
From the Beginning
The Dunmore, Pa.-based company was founded in 1988 by Jim and Debra Barrett. Today, the husband-and-wife team has grown Road Scholar Transport into a large asset-based carrier serving the truckload, less-than-truckload and auto-hauling needs of businesses and individuals throughout 48 states. It specializes in high-security shipping, expedited freight services and temperature-controlled freight. "We approach every customer, large or small, with the same dignity, respect and professionalism we would afford our own family," the company says.
Over the past 27 years, Road Scholar Transport has grown from one owner/operator to a fleet of more than 105 tractors, 300 trailers and 65 refrigerated units. "We employ only experienced drivers who are always uniformed, clean-cut and courteous," the company notes. "Road Scholar prides itself on the people who make the company great."
Because of all its years of experience and the use of smart and innovative shipping and tracking methods, Road Scholar Transport prides itself on using its imagination to become transportation problem-solvers. "Most companies operate on a concentric business model, reacting to the unpredictable nature of business," the company explains. "Ours is based on an eccentric business model, proactively anticipating and preparing for any circumstance."