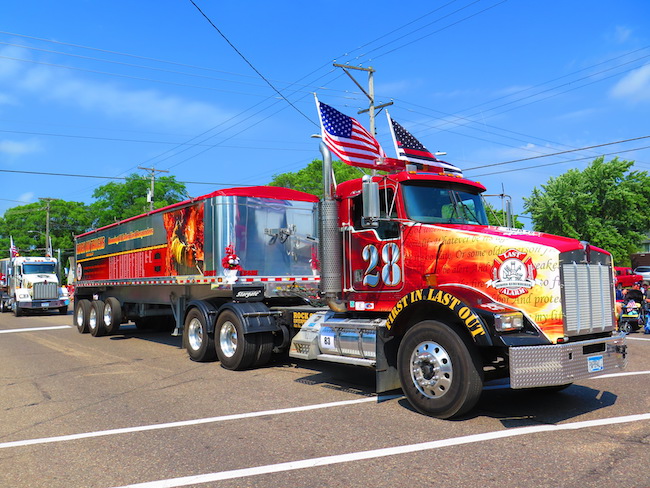 No matter what the challenge, Rock On Companies works diligently to benefit its employees, customers and community.
By Bianca Herron
In 2001, 25-year-old Krystal Vierkant founded Rock On Companies, an aggregate trucking company. It was a challenging time for Vierkant as she was trying to carve out a lane of her own in a male-dominated industry.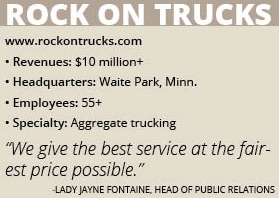 Although she only had one truck and trailer, Vierkant met the challenge head-on and grew the Waite Park, Minn.-based company to a $10 million operation within five years. To further support Rock On Companies, Vierkant established five other support businesses: Rock On Enterprises Inc., Rock On Trucks Inc., Rock On Properties LLC, Rock On Repair and MN Tarp and Liner.
Today, Rock On Trucks has grown to have 60 trucks, 75 trailers and 55 employees. Rock On Truck's head of public relations, and Vierkant's mother, Lady Jayne Fontaine, says the company is successful because Rock On Trucks is not only service-based, but also does what it says it will do.
"We give the best service at the fairest price possible," she says. "We know we are not the lowest price, yet we aren't the highest, either. Service is key for us, which is why we do what's necessary to keep our trucks running and keep them available for customers."
Innovation On Purpose
As Rock On Trucks grew, the company continued to invest significantly in technology to keep its trucks and operations efficient, including a GPS tracking dispatch system, electronic logs and computerized maintenance systems.
"Rock On has been a leader in the industry with the innovative technology we have implemented in our trucks," Fontaine says proudly. "For example, the GPS tracking dispatch system allows us to effectively deploy our people from one location to another. We also offer this technology to our independent truck owner operators so they can have a better system."
The company has also become known for its character-themed trucks and trailers. "We love to make people smile," Fontaine explains.
In 2016, Operations Manager Kevin Vierkant wanted to honor those who had given their lives in service. Not long after, the Operation Respect campaign was implemented, which pays homage to fallen veterans, fire fighters and law enforcement with tribute trucks.
"Operation Respect supports the families of these fallen individuals through public awareness," Fontaine says. "The goal is to make people aware of the fact that the price of freedom isn't free. Their trucks participate regularly in parades and charity events. Rock On Trucks wants to honor all of the fallen veterans, law enforcement and firemen."
Fontaine notes the company unfortunately knows the importance of fire fighters firsthand due to a fire that consumed its dispatch and repair shop in January. "It was a devastating fire," she says. "However, our community has shown us a lot of love and support throughout this tough time, which has helped us tremendously."
Rock On is still looking at the best possible course for its business and everyone involved. "We have come up with something that we are excited about, and are still working out details in regards to a start date," Fontaine says. "We live on service, so we want to build a better facility that allows us to be more efficient with getting our trucks repaired and on the road again."
Extending Opportunities
Rock On Trucks' more than 55 employees include company truck drivers with many years of experience in the field. Additionally, four drivers are women. Rock On is currently recruiting and being proactive in sharing the great opportunities women have in the trucking industry. "With Rock On Trucks being a woman-owned company, it's important that Rock On Trucks extends opportunities to women," Fontaine notes. "We are currently working on a training program that will open doors for all, including women and veterans, who are looking to obtain their CDL.
"We believe that women are a major asset to any industry," she continues. "Women are not only hard workers, but they also have an opportunity to make better money as a truck driver compared to other industries. So although we have excellent women drivers right now, we're looking to build a sharp team of them."
Rock On drivers include dedicated independent truck owner operators (ITO's). "We built Rock On by helping ITO's acquire jobs and remain legal," Fontaine explains. "When gas prices went up significantly, some ITO's couldn't afford cash flowing their fuel, so Rock On started a fuel program to help out our dedicated ITO's."
Communication is critical to building and maintaining relationships. "We have regular meetings, but Rock On also consistently sends out key employees to converse with customers to strategically check on how we're doing, which ensures we don't have any problems," Fontaine explains. "If we do have any, we quickly resolve them as we work hard at conflict resolution.
"We decided a long time ago that we would not burn bridges, but rather restore them," she adds. "Rock On wants to retain the key people we have and help them be the best they can be, so that we can be the best we can be."
As Rock On Trucks moves forward, it isn't concerned about growth because the company wants to stabilize and grow what it currently has. "We're not looking at conquering the world because we want to be the best Rock On that we can be," Fontaine says. "We want to attract the right drivers who will stay with us and become a part of our family, and meet the obligations we make for our clients and customers. Ultimately, we're looking for super-heroes to drive our super-hero trucks.
"We also want to keep serving our community as well as our customers – who are first – because without them, we don't have the resources to serve the community," she continues. "Additionally, we have created a community of givers with our drivers, and would not be able to help others without them helping us.
"We have a family-like culture," Fontaine concludes. "We care about our drivers, present and past, and we are there when they need us. We work hard to communication better with all. We believe we have some of the best people working for us, and it is because of them that we are able to impact the world we live in."
Built With Love
For Rock On Trucks, giving back to its community plays as critical role in its operations as much as the aggregate trucking services it provides. Vierkant has also won several awards, including ABC's Construction Woman of the Year Award in 2013.
Fontaine notes that her daughter is a diligent worker and most importantly, cares about people. "For the past few years, Rock On Trucks has honored not only our truck drivers and partners, but also helped our community with our annual Christmas Party," she explains. "It started when a daughter of one of Krystal's friends was diagnosed with a rare terminal cancer. That year we turned our Christmas Party into a silent auction and took the leadership role to hold a benefit. We raised money, which sent the girl and her mother to an esteemed hospital that had experimental treatments for this cancer. Today, the young girl is cancer free.
"Rock On Trucks believes that ever leader has an opportunity to get involved in their community and make a difference," she adds. "If we can, so can you."