Saint Paul Port Authority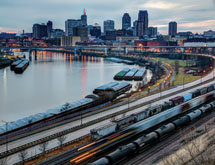 The Saint Paul Port Authority was created more than 80 years ago to stimulate business development along the Mississippi River, and the authority continues its mission today by taking it inland and redeveloping industrial spaces in ruin.
In the 1920s, the U.S. Congress approved the dredging of a nine-foot channel in the Mississippi River between Saint Paul, Minn., and New Orleans, creating the lock and dam system. "This made the Mississippi River reliably navigable when the locks and dams were built," President Louis Jambois says.
Today, the port authority manages and leases space in four river terminals. Barges coming into the port mainly haul grain, sand, gravel, fertilizer, salt, cement and coal into the port. "The Saint Paul Port Authority is working harder than ever at doing what it can to assist in the movement of bulk commodities by river," says Lee Nelson, president of Upper River Services, the port's harbor operator. "They have become more aggressive at bringing in business."
Increasing Demand
Commodities travel by train or truck to reach the Mississippi River and are then shipped north into the Saint Paul Port. From there, the commodity travels to its next location and Jambois says the commodities can be in Europe within five weeks of departure from the port. "This harbor is a multimodal transportation hub," he adds. "Harbors tend to be hubs for commercial activity. We have the Union Pacific Railroad, Canadian Pacific Railway and several trucking companies that roll in and out on a daily basis."
Saint Paul Port Authority's primary purpose is to retain land near the harbor and prevent it from be converted into other land uses. "We have lots of activity and from our perspective, our space is very tight," Jambois says. "We get more requests for shipping space than we can accommodate, which is the good and bad news."
Space may become even more of a constraint if Congress closes the Upper St. Anthony Falls Lock and Dam in Minneapolis to prevent invasive Asian carp from entering the waterway. "It remains to be seen [if demand will increase] and we'll have to see what commodities stay on the river," Nelson says. "Some companies have already moved to Saint Paul and Saint Paul seems to be picking up some tonnage in the last few years."
Reinvesting in the Land
While managing the Saint Paul Port is vital to maintaining smooth river transport of commodities, the Saint Paul Port Authority's primary line of business today is the acquisition and redevelopment of land that "no one wants," Jambois says. Saint Paul is a fully developed city, which means there are no greenfields left and if new development is to happen, it must take place on recycled land. "Often that land is left not very attractive to the marketplace because previous uses have left a dilapidated structure, soil contamination or deteriorating infrastructure," he adds.
The port authority will clean up the land it acquires, subdivide it and sell it to businesses. To date, it has redeveloped more than 2 square miles into 21 business parks throughout the city of Saint Paul that are home to nearly 600 businesses that employ nearly 24,000 jobs.
During the depths of the recession, the port authority purchased 46 acres of land from 3M, located on Saint Paul's East side. The site contained 1.5 million square feet of aging infrastructure and underlying soil contamination. "3M had that property for sale in the private market and there was zero interest," Jambois says.
The Saint Paul Port Authority demolished a majority of the aging infrastructure and was able to recycle 99 percent of the materials. 3M cleaned the soil contamination and today it has been transformed into the Beacon Bluff Business Center. A bakery, armored car service, ambulance and medical provider operate from the site. "That property was standing vacant and was a target for vandals, urban explorers and copper hunters," Jambois notes. "We have gotten rid of all that stuff and in place of that activity we have serious business activity. We turned that property around in a very difficult time."
In the future, the port authority looks to acquire more property. Because the port authority purchases properties that no one else wants, it doesn't expect much competition as the market returns. "For the first time in a long time there is some energy in the marketplace; there is optimism," Jambois says. "The development community is looking to Saint Paul and the properties available. The market is out there for space and we are keeping an eye on what they are doing and we are looking at what they will ignore."