Santa Monica's Big Blue Bus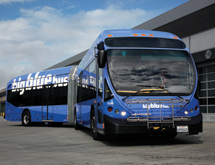 Santa Monica's Big Blue Bus is advancing its technology to provide its passengers with real-time scheduling, easy payment options and reliable service, just as public transportation needs are on the rise in its 58-square-mile service area.
The Big Blue Bus is a department of the city of Santa Monica and governed by its city council. However, it's unique in that none of the city's general revenue funds the department and Big Blue Bus is considered a regional provider of public transportation service, Executive Director Ed King says. "People look upon us as the city of Santa Monica's operated department, but we are a regional transit authority," he adds. "We are always trying to expand our markets and looking at new market initiatives."
Although it's a regional transit authority, the Big Blue Bus does not compete with Los Angeles County's Metro system or other municipalities' public transportation systems. Rather, it looks to compliment other regional providers. "We compliment each other in areas that we provide similar service in," King explains. "We don't compete with anyone because that doesn't serve the customers. We want to compliment."
Santa Monica launched its bus line in 1928 and more than 16,000 passengers rode the new buses the first week. A blue color scheme was chosen. Today, 200 buses cover 21 routes in Malibu, the Pacific Palisades, LAX, Los Angeles, Westwood, Beverly Hills, the Palms and Culver City.
Improving Service
The future of the Big Blue Bus is centered on technology and the department is building the infrastructure needed to support it. Construction is expected to start in spring 2014 on its 350 bus stops, which will provide improved passenger amenities, including additional space and benches for more popular stops and real-time electronic signs displaying bus arrival times. "These will be huge improvements from many of the stops now," King says. "We will decide how many 'pods,' as we call them, will be erected at each stop to provide shelter and seats. We have three designs based on high, medium and low volume."
Its advanced technology is what will continue to set Big Blue Bus apart, King explains. Also in the spring of 2014, passengers will be able to download a mobile app and receive real-time schedule information. Transit signal priority technology will be installed in 58 buses, which will allow a bus running behind schedule to get through traffic with extended green lights, King explains. The final new piece of technology will be its fare collection system that will allow passengers to use a smart card, stored value card or mobile app to pay bus fare. "I think the technology pieces are critical and have been well received by customers and the community," King adds. "We really don't do anything unless it will benefit our employees and customers."
All Big Blue Bus' bus engines are powered by liquid natural gas, compressed natural gas and electric/gas hybrid technology. The department became a 100 percent alternative fuel fleet in early 2013. "We want to make sure the customer is receiving high-quality transportation and that the bus comes on-time, is clean, reliable and safe," King says.
Technology Transition
The Big Blue Bus will adopt many new technological advances by spring 2014, but King also sees the technology as the department's biggest challenge. "We have all this great technology we are going to deploy and harness and to use that information strategically will be our biggest challenge," he adds. "We are looking at other organizations' best practices to determine the best approach for using this data to be more efficient and provide better service to customers and the community."
Big Blue Bus also will be working on training its 450 employees to keep up with the new technology. Supervisors who oversee bus services may need to troubleshoot and address issues "on the fly," King says. "Some jobs are going to change and we may require our supervisors to carry around a light tool box with them to troubleshoot a destination sign or components on a fare box to keep the bus operating on the street."
Because public transportation has become a major emphasis in the region, the Big Blue Bus has been successful in sustaining funding, King says. "There is a buzz that's happening here that happened in the Bay area 15 years ago," he adds. "The days we all sat around with the challenge of finding funding are gone. Now it's really leveraging the funding to be more efficient and provide more."