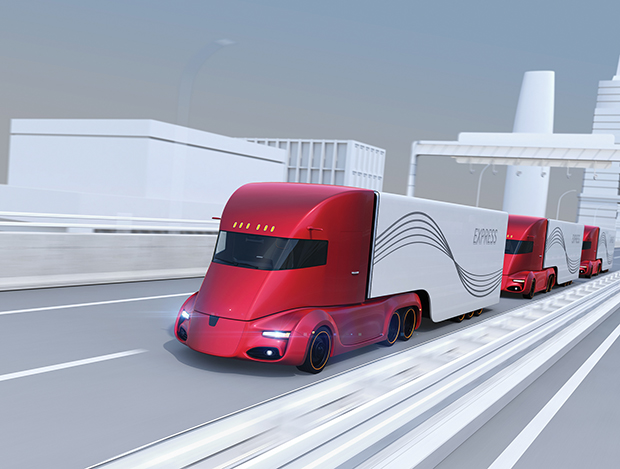 Self-driving fleets might help rescue the trucking industry from its current challenges of safety, costs and driver shortages.
By Maryline Daviaud Lewett and Paul Stith
Far from being a threat to the livelihood of the nation's 3.5 million truckers, self-driving trucks could be a lifesaver in more ways than one for the trucking industry and a benefit to the U.S. economy.
Autonomous vehicles (AVs), built on the electric vehicle (EV) platform, can address key challenges facing the industry, such as safety, costs and the acute shortage of drivers. Pilot programs from Peloton, Uber (which acquired Otto) and Embark and AVs like Waymo and GM Cruise are hitting the metro areas and highways right now, providing a glimpse into a future in which truck drivers and AV technology complement each other.
It is easy to imagine how a trucker can benefit from self-driving technology, which can be thought of as a souped-up version of cruise control or even as a second driver in a platoon system. A trucker can switch over to autonomous mode to combat fatigue, to comply with rules that restrict how many hours they can drive and to ultimately deliver freight faster and more efficiently. Quality of working conditions on the road, in cities and logistics centers, could be greatly improved with reduced noise and air pollution while optimizing facility operations and delivery schedules.
In addition, the deployment of self-driving trucks can create exciting, new business models for the industry, such as the creation of EV/AV logistics hubs in metropolitan areas and along major highways or the development of TaaS (transportation-as-a-service) models.
The initial wave of concern over AVs is being replaced by a growing recognition within the industry that self-driving fleets are the future. For example, the American Trucking Association (ATA), the largest national trade association for the trucking industry, is on board.
"Automated and connected vehicle technologies have the potential to dramatically impact nearly all aspects of the trucking industry. These technologies can bring benefits in the areas of safety, environment, productivity, efficiency, and driver health and wellness," ATA President and CEO Chris Spear said.
The Scope of the Problem
The labor shortage in the trucking industry is severe and getting worse. According to a recent ATA report, there is currently a shortage of 50,000 drivers and that could grow to more than 174,000 drivers by 2026. Trucking companies report that not only do they have shortages of drivers, but they are concerned that many new applicants are simply unqualified.
The demographics tell a discouraging story. The average age of the commercial truck driver is 55, which is 10 years older than the average age in similar industries like manufacturing and construction. And women are not entering the trucking industry – only 6 percent of drivers are female.
The trucking industry is a vital cog in the U.S. economy, moving 70 percent of the nation's freight. Economists are warning that the shortage of drivers will lead to either delayed shipments or higher costs, which could slow economic growth across the board.
The industry is also facing issues related to safety and cost. Crashes involving trucks kill an estimated 4,000 people a year in the United States and cause injury to another 100,000. And more than 90 percent of accidents are caused, at least in part, by driver error. Beyond the human cost, the average cost per truck accident is around $150,000, according to the Federal Motor Carrier Safety Administration. Further, having expensive vehicles out of commission compounds the costs.
AVs Can Address Those Concerns
When it comes to safety, the benefits are clear. AVs don't speed, and they don't get tired or distracted and can anticipate road conditions or issues. Other key causes of accidents and serious injuries, such as not wearing seat belts or driving while impaired, are eliminated.
In monetary terms, a recent study by Morgan Stanley predicted that AVs could save the trucking industry $168 billion a year: $70 billion in labor costs, $35 billion in fuel costs, $36 billion by reducing accidents and $27 billion in increased productivity.
According to the 2018 Black & Veatch "Strategic Directions: Smart Cities and Utilities Report," 51 percent of respondents said total cost of ownership was the most important factor when considering the purchase of electric fleets.
The good news is that Tesla recently announced that its Semi, an electric, self-driving truck that will hit the road in 2019, will start at $150,000. That compares favorably to a $120,000 diesel-powered truck which burns $70,000 worth of fuel a year. In fact, Tesla claims its Semi will save $200,000 in fuel and maintenance costs over the lifetime of the vehicle.
The Automated Road Ahead
The transition to self-driving trucks won't happen overnight, but the first stage is coming into focus, based on the pilot projects currently underway. AV startup Embark has partnered with Ryder Systems and Frigidaire to haul refrigerators on a 650-mile route from a warehouse in Texas to a distribution center in California.
A driver from Ryder Systems navigates the rig from the loading dock to a transition point on the highway where the driver unhooks the trailer and connects it to Embark's AV. A safety driver sits behind the wheel in case anything goes wrong.
The truck stays in the right lane and operates within the speed limit. When the highway portion of the trip is over, the truck stops at another transition point, where the process is reversed.
In Arizona, Uber has deployed a similar model with its fleet of self-driving trucks. Human drivers are handling the short hauls, and the AV handles the long haul with a safety driver behind the wheel.
So, there is a business opportunity for energy providers, charging networks along with transportation and logistics companies to develop these freight hubs, which would be located along major highways, in and around urban areas and would feature high-powered electric charging stations.
The Self-Driving Future
Current pilot projects are using EVs that have been retrofitted with AV technology, but that changes next year when Tesla delivers its Semi. UPS, Budweiser, Pepsi, Walmart and other major companies have placed over 600 pre-order the vehicles. And Elon Musk predicts Tesla will sell 100,000 self-driving trucks a year.
In terms of deployment models, the next step beyond what Embark and Uber are currently doing would be a driverless long haul between transition points. Another likely scenario would be the creation of a convoy of autonomous semis with a driver leading the way and a chain of driverless vehicles following close behind.
Longer term, we could see an evolution of today's leasing and pay by the mile TaaS models, to add on-demand networks like what Uber and Lyft are doing in the ride-sharing market. There is a long road ahead before the full potential of autonomous vehicles are realized. But the trucking and logistics/delivery industries will benefit enormously from the advances that AV technology can provide.
Maryline Daviaud Lewett is director of business development for Black & Veatch's Transformative Technologies business. She is responsible for sales and partnerships in distributed infrastructure, sustainable transportation and fleets, engineering, procurement and construction of electric vehicle charging infrastructure networks, fuel cell vehicle filling infrastructure networks, and behind-the-meter energy storage. She holds an MBA in Sustainability Management from the Presidio Graduate School.Paul Stith is director of strategy & innovation for Black & Veatch's Transformative Technologies business. He specializes in sustainable transportation and distributed clean energy solutions. He works with vehicle OEMs, utilities, transit agencies, cities and emerging transportation service providers to plan and build infrastructure for electrification and automation of light, medium and heavy-duty vehicle fleets. He received his degree in Business Economics from the University of California, Santa Cruz and studied abroad at Cambridge University, England.