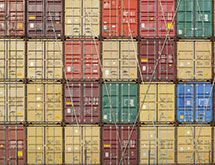 Seaport Intermodal does not shy away from a challenge. "We are a very dynamic and open-minded team, and that very much sets us apart," says Alex Cardin, vice president of operations for the Brampton, Ontario-headquartered intermodal transportation provider. "When a customer calls and asks us to do something, we don't say `no' just because it's something we haven't handled before – we explore it and see if it's something new we can do."
One opportunity to expand the company's horizons came in 2012, when CSX Corp. approached it to take containers from its rail terminal in Buffalo, N.Y., across the border to Toronto, which CSX had previously not been able to do because of network limitations.
"This was a non-existent service that had to be developed from the ground up – CSX didn't have a team to guide them with border crossing procedures," Seaport President Andre Earl notes. "They approached us, realized there was an opportunity for a trucking carrier to complete the last leg of their supply chain, and we were open-minded about the idea."
Seaport not only began carrying CSX intermodal carriers by truck – it became an extension of the company by integrating into its software and tracking systems, which required training its drivers and staff. "We enabled CSX to offer service from its piers in Buffalo directly to Toronto, giving their customers another transportation option," Earl adds.
Cardin attributes the company's flexibility to the involvement of its management team in its day-to-day operations. "The amount of involvement top management has in the company shows the care we have for it," he says. "We want to know what's going on and how to improve things. We want our employees to feel valued by the top players in the company and know that what they say is going to be heard."
High Standards
The CSX contract is just one example of Seaport drawing on its facility and fleet assets to meet customers' shipping needs. The company operates terminals in Toronto and Montreal offering container transportation services to and from marine ports in Buffalo, Philadelphia and Newark, N.J. Seaport also offers container yard storage and handling services.
Seaport operates more than 200 chassis, many of which are owned by independent trucking operators. Equipment is a regular area of investment for the company, as more than $2.7 million has been invested in chassis, generators and ground power improvements at the company's terminals in the last four years.
All of the company's drivers are held to high safety standards. "When I first met with investors about starting the company, my first comment was `let's not worry about finances or operations – what really keeps me up at night is safety,'" Earl says. "As an owner, I want to make sure safety is predominant in our company and that we fully comply with federal and provincial standards."
The company has a zero tolerance policy when it comes to safety. Owner/operators with two preventable accidents on their record will have their contracts terminated. In addition, the company seeks to determine the root cause of any potential safety hazards. Seaport did this in 2012, following the loss of a wheel while a truck was on the highway.
After determining the cause of the lost wheel to be a deficient wheel stud, the company pulled every one of its trucks off the road and changed every single wheel stud and nut. "Safety is something we take very seriously," Earl says.
Past and Future
Seaport was formed in 2010 after Maersk Canada sold terminal operations in Montreal and Toronto formerly belonging to a subsidiary company, Bridge Terminal Transport (BTT), to investor group Rouge River Capital Ltd. Earl, whom Maersk hired to form BTT in 2002, joined the new company as its president.
Maersk was one of the company's earliest and largest customers, as Seaport had a three-year contract to handle all of its container traffic from Newark and Philadelphia to Toronto and Montreal. That contract has now expired, though Seaport still serves some Maersk traffic.
The company expanded its business in part through its acquisition of two competitors – Harlyn Transport, which now manages Seaport's Montreal operation; and Conforce 1 Container Terminals, which operates an empty container yard in Mississauga, Ontario.
Seaport continues to seek opportunities to expand the company's shipping and yard capabilities.
"None of us are in this for the short-term," Earl says. "We have a healthy balance sheet, plan to continue to have a healthy balance sheet and continuously look into acquiring companies and growing."