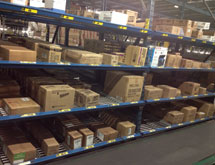 Sears Holdings Corp. has seen many things change. But despite increased competition, Sears is leveraging its network and making improvements to maintain its place among the largest U.S. retailers.
Formed in 2005 when Sears, Roebuck and Co. merged with Kmart Holdings Corp, it has roughly 2,600 retail locations. It is a home appliance, tools, lawn and garden, consumer electronics and automotive repair and maintenance leader.
Living Legacy
Sears' foundation is built on historic brands like Craftsman, Kenmore and DieHard. It is also the largest provider of home services in the United States, making more than 15 million service and installation calls annually.
"Our service offering is impressive," says Jeff Starecheski, vice president of logistics services. "Going forward, we are dedicated to competing effectively in e-commerce." Sears' environment is competitive due to big-box and e-commerce retailers. To compete, Sears updated its supply chain to offer its appliance line on a next-day basis.
"As the market evolved, there has been pressure for faster delivery," says Richard Smith, vice president of transportation.
The key has been leveraging Sears' stores and distribution centers. "We have the physical locations that e-commerce companies don't have," Starecheski says.
Enhancing Operations
Sears made many upgrades to transportation and logistics processes. Improvements in supply chain efficiencies included consolidating volume. This means Sears does more than selectively pick a mode of transportation. The company knows how to bind volume together to move more products.
"Working with intermodal and rail providers allows for synchronized releases," Smith says.
Sears has cut days from delivery, even with international purchases. The company synchronized delivery and release with vessel sailing and getting containers off of vessels. "We want to get product to market faster because product lifecycles are shorter," Starecheski says.
Technology investments have also been influential. The company can process real-time information through EDI feeds, monitoring milestones throughout transportation and reacting when necessary.
"If a shipment is late, a proactive alert system allows us to take action," according to Smith.
Within distribution centers, Sears uses Wi-Fi and mobile devices to get real time information to managers. This improves accuracy, productivity and safety, reducing training time and eliminating various costs.
Sears also built a first-class distribution culture, providing transparent information and engaging in training and recognition. This has helped associates take ownership of their roles and understand priorities.
One area Sears will focus on is processing international products. Smith says movement of products on the East Coast has slowed, as ocean carriers today practice slow steaming to save on fuel.
Another challenge is continued development of e-commerce and fulfillment solutions. This is one area in which Starecheski says Sears is prepared.
"The key is flow path optimization," according to Starecheski. "Our flow path optimization team allows us to put energy and resources into leveraging our footprint."