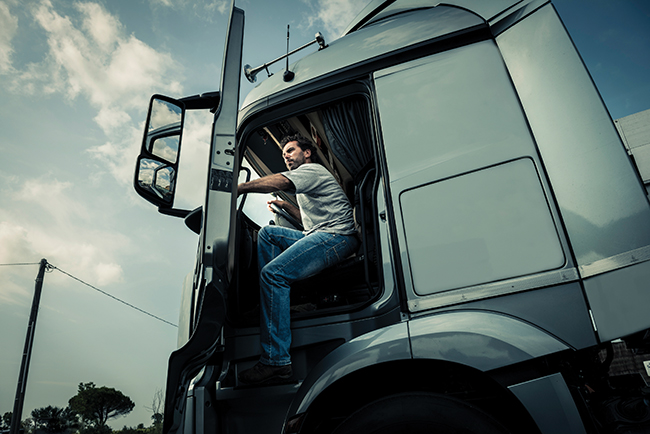 Data sensors can boost energy efficiency.
By Wally Stegall
The transportation and construction industries have long been plagued by energy inefficiency. In fact, medium- and heavy-duty trucks produce 23 percent of all transportation emissions in the United States even though they only make up 5 percent of all vehicles on the road. While energy efficiency often takes a backseat to more pressing issues, fleet managers who prioritize it stand to reapmore than a few rewards. In addition to saving both time and money, careful and consistent monitoring of fleet utilization can pave the way for environmental policy compliance.
Changing regulations coupled with plenty of other responsibilities, including swapping out and maintaining vehicles, can make it difficult to keep up with energy requirements. But now with the Internet of Things (IoT), maximizing a fleet's efficiency may no longer be an issue.
Sensors capable of collecting real-time data are becoming an increasingly common sight on transportation vehicles – and they can deliver big benefits with little to no manual effort. From conserving energy to more efficient resource management, discover how IoT is raising the bar on fleet efficiency.
Driving Transportation Forward
When it comes to trucking fleets, the IoT sensors have already made their impact felt. The simple, yet effective connected technologies for various vehicle touchpoints – such as heat or air conditioning, tire pressure and monitoring fuel performance – have shed light on the many ways in which the IoT can continue to improve the efficiencies in transportation.
But the use cases for connected sensors don't end there. IoT gateways are being leveraged as central hubs where both wired and wireless sensors can be reached. This central location of real-time data is empowering fleet managers to gain new levels of efficiency in areas that currently don't have connected sensors.
For example, setting up wireless sensors on wheel ends enable the detection of drastic changes in vibration and temperature levels. This new insight allows fleet managers to know instantly monitor driver behavior and safety, the status of wheel bearings and when the threat of thermal events are increased due to rising temperatures.
From bleeding airlines to worn kingpins, sensor-enhanced maintenance is helping fleet managers and operators solve for many costly or dangerous issues before they actually arise. It also allows their focus to shift from addressing issues to boosting the effectiveness of the fleet.
A New Take on Efficiency
With IoT sensors, getting trucking fleets from point A to point B may be a little less costly. Real-time data not only gives fleet managers valuable insights into maintenance needs and fuel economy, but also can open the door to more autonomous – and safe – transportation practices.
While there is some hesitation about bringing increased automation to truck driving, the fact remains that state-of-the-art driving systems have the ability to completely transform today's trucking fleets. The ability for a series of trucks and trailers to be driven by smart, connected technology can help improve traffic safety and increase cost efficiencies. By outfitting tractor trailers and the trucks pulling them with new sensors and monitoring, fleet managers are empowered with more robust communication between the tractor and trailer.
Platooning and sensor-enhanced vehicles have the potential to drive unprecedented improvements to fuel economy, fleet maintenance, vehicle wear and system stability.
Meeting Environmental Mandates
These types of efficiencies stand to benefit fleet managers in more ways than one. Not only do they save money and resources, but it gives managers and operators a better chance of sidestepping costly environmental penalties later on.
For example, increasingly stringent regulations have made fuel efficiency more important than ever for those operating in the transportation and construction industries. As the National Highway Traffic Safety Administration (NHTSA) considers potential penalty hikes for those who exceed fuel-economy standards, fleet managers must look to cut back on fuel consumption wherever they can.
That's where IoT sensors and central gateways can make all the difference. Research shows IoT sensors may save fleet managers hundreds or even thousands of dollars. Resources that once covered environmental penalties as high as $55 for each mile per gallon can instead be used to expand a fleet's size and capabilities. From an extra vehicle to new features, the upgrades promise to help fleet managers stay one step ahead of the competition.
Energy inefficiency isn't always top of mind for most fleet managers. But perhaps it should be. Although it may be quite some time before the transportation and construction industries lead the pack in terms of energy efficiency or automation, small improvements can lead to big savings. From bringing connected sensors to new parts of the vehicle to exploring the potential benefits of truck platooning, IoT sensors are helping position fleet managers at the forefront of the efficiency movement. The result? A fleet that's both effective and efficient.
Wally Stegall is the technical fellow and director of business development at Morey Corporation, where he's led engineering, sales, technical management and business development efforts for the company. He has nearly 30 years of industry experience, having previously worked with Textrol, VES and AMETEK.