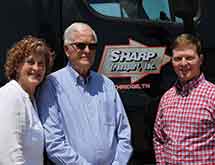 Sharp Transport delivers on its mission of providing the highest quality transportation services daily because of its people and state-of-the-art technology. "If it wasn't for the great team I have here, daily operations would be a lot harder," President Allie Sharp-Schwalb says.
In the late 1970s, Sharp-Schwalb's father, John Sharp, was working for Murray Ohio, a lawnmower manufacturer in Ohio that had a need for a truckload carrier to move its product to California. In 1979, Sharp and his wife Rebecca founded Sharp Transport in Ethridge, Tenn., with one tractor. "That's how he got into it in the first place," Sharp-Schwalb says. "We would go out to California to deliver bicycles and lawnmowers and haul strawberries for Shoney's on the return."
Today, Sharp Transport has evolved into one of the largest family owned truckload carriers in Tennessee and hauls for many Fortune 500 companies. Sharp-Schwalb began working for her father in high school and returned to work in 1988.
Throughout Sharp's history, both of Sharp-Schwalb's sisters, Angie Ezell and Ginger Stutts worked for the company for many years. In addition to the immediate family, the sisters' three cousins also worked at the company for periods of time. Presently her nephew, Chase Adkins, is the only family member involved with her and her father. "I am so thrilled for Chase to be able to learn and work side by side with my Dad," Sharp-Schwalb says. "Pop has tons of information that can't be taught from any website or spreadsheet."
Sharp-Schwalb says that she is also very blessed to have a strong management team that is like family. The team includes Vice President Gary Shelton, a 35 year veteran; Operations Manager Ralf Maier who has been in the industry for more than 20 years, Maintenance Director Jarit Cornelius and Comptroller Jonathon Molloy. Sharp Transport's team is the best it has had in many years; every person is a strong and valuable part of this operation. The team is a cohesive group and willing to adapt to change. "Integrity, family values and a great staff is what sets us apart from the pack," Sharp-Schwalb adds.
Improving Operations
Sharp Transport is setting itself up for the future by not only preparing the family's third generation to learn more about all aspects of the business, but also by ensuring it has state-of-the-art technology to get where it wants to be and earn valuable certifications. "Jarit Cornelius is our maintenance director and has overseen getting us into the next century, as far as new technology for our equipment," Sharp-Schwalb says. "He was instrumental in working through Sharp obtaining our SmartWay certification. We are very proud of that partnership."
SmartWay launched in 2004 and is an EPA program that helps the freight transportation sector improve fuel and supply chain efficiency. SmartWay reduces transportation-related emissions that affect climate change, reduce environmental risk for companies and increase global energy security. The program is a public-private initiative between the EPA, large and small trucking companies, rail carriers, logistics companies, commercial manufacturers, retailers and other federal and state agencies.
The maintenance department reports efficiency at the company has improved by more than 40 percent because of embracing and utilizing technology. "Technology has allowed us to not only gain control of our No. 1 expense – fuel –but it has allowed us to use it to continuously drive this cost down," Cornelius explains. "Aerodynamic advancements, auxiliary power units, automatic transmissions, selective catalytic reduction allow us to gain real-time visibility and drastic utilization improvements to every transportation company's most neglected asset – trailers. It's solely responsible for structuring our drivers hours of service to not only appease the CSA world, but better route planning practices with operations."
Attracting Drivers
Sharp Transport has stayed an attractive option for 140 employees today because it offers a competitive package that includes competitive pay, weekly home time, Blue Cross and Blue Shield insurance and 401K matching. The company believes however, that it has a couple major differences.
"The difference," Sharp-Schwalb explains, "is that we have non-forced dispatch on all our outbound freight; drivers like having a choice. We want to treat everyone like we would want to be treated and we want you to feel like part of our family."
Despite its attractive benefits, the driver shortage is a struggle for Sharp Transport and every other transportation company. "There are not enough trucks out there for the ever-increasing volume of freight and the biggest challenge is to find qualified drivers," Sharp-Schwalb says. "You rarely ever hear people coming out of high school or college aspiring to be a truck driver."
Sharp Transport continues to focus on being a more driver-friendly company to attract new drivers. The company offers a $3,000 sign-on bonus, more dedicated routes and tries to get more drivers home every night. Sharp Transport also implemented a pay incentive program last year – developed by Shelton and the management team – that focuses on drivers meeting daily requirements to uphold the company's mission of on-time deliveries and damage-free loads.
David Estes, a driver for Sharp for more than 30 years says the company "hit this one out of the park" referring to the scorecard. Drivers receive additional pay based on a scorecard that tracks their miles-per-gallon, on-time deliveries, no accidents, clean inspections and cooperation with dispatchers, for example. "They are graded on 20 things every month and receive an extra two cents per mile if they meet these requirements," Sharp-Schwalb explains. "We are trying to incentivize them to pay more attention to things that are important to us."