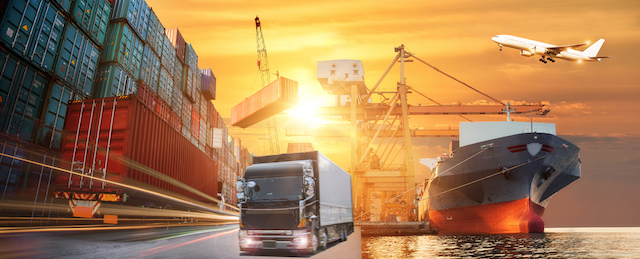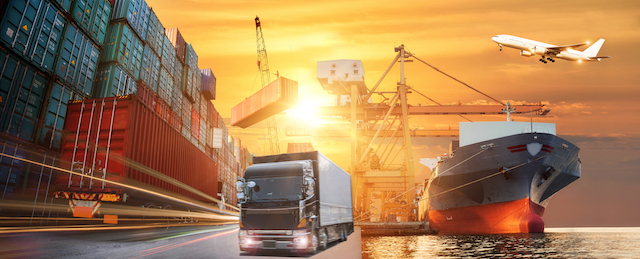 (Photo courtesy of: Getty Images)
Sierra Wireless says it leads the way in IoT solutions for the transportation market around the globe.
By Alan Dorich, Senior Editor at Knighthouse Publishing
Now more than ever, it is critical for companies to securely extract, orchestrate and act on data from their assets using wireless solutions. And that is where Sierra Wireless can lend a hand with its internet of things (IOT)-enabled wireless devices and services. "We are No. 1 in IoT modules for the automotive and transportation market, matching OEMs with specific grades of modules," Benoit Tournier says.
Tournier is the marketing director of mobile IoT solutions for the Richmond, British Columbia-based company, which provides products and solutions to connect thousands of businesses to critical data and people to information. He notes that Sierra Wireless started operations 25 years ago.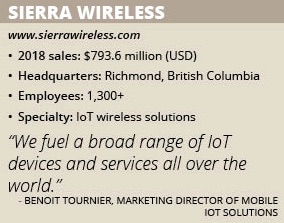 "At the beginning, it was a company specializing in machine-to-machine [M2M] communications modules," Tournier says. But Sierra Wireless began serving the automotive and transportation market with M2M solutions after its 2008 acquisition of Wavecom, a leading provider of embedded wireless technology for M2M communication.
Today, Sierra Wireless is a leader in embedded modules and gateways, particularly for automotive, transportation and public safety clients. One of the keys of the company's success, Tournier notes, is the high-speed broadband modules for automotive and public safety markets on one side, and narrowband long-range connectivity provided by LTE Cat-M1 technology for transportation on the other telemetry and fleet management cases. "Sierra Wireless has been one of the early initiators of LTE Cat-M1," he says.
According to Tournier, the technology features cost, power consumption and coverage advantages over other cellular data technologies, making it less costly for clients to deploy devices with sensors. "We have IP on LTE Cat-M1, which we consider as being a contributor to our growth in the fleet management market," he says.
Making Connections
Tournier joined Sierra Wireless in 2012 after it acquired SAGEMCOM, where he worked as a marketing director. "For more than 10 years, I've been in the IoT industry," he says, adding that he has held numerous roles at Sierra Wireless.
Today, he helps the company's customers connect to their mobile assets. These have included Arval, a vehicle leasing, fleet management and usage-based insurance company which uses Sierra Wireless' AirVantage cloud technology for its Active Link telematics solution.
This allows Arval and its customers to monitor and manage the usage of the vehicle through a telematics on-board unit that is wirelessly connected to the cellular network with Sierra Wireless' AirPrime embedded modules. "Arval is one of our big [clients] in [the] transportation market," Tournier states.
He also highlights Sierra Wireless' Smart SIM and Connectivity Service, which helps its clients take advantage of its position in the telecom market. "We have a broad range of cellular services all over the world, [with] roaming partners and roaming agreements," he describes.
These agreements, Tournier explains, give the company access to the best available network anywhere in the world. This allows Sierra Wireless to detect the best network and select it to transmit its clients' data from the cloud. "This is a unique position we have in this market [with this] capability," he says.
Envisioning the Future
Tournier is proud of Sierra Wireless and how it can help its clients save time and money to get access to their data. "In the past, we were organized [with an] approach with devices on one side and connectivity and cloud services on the other side," he recalls.
"Now, we offer an integrated data orchestration solution from device to cloud with distributed processing on both sides, that helps the consumer to save time to go to market," Tournier says, noting that he sees a strong future for the company, which will assist its clients in the "mobility-as-a-service" model.
One example he gives for "asset as a service" is Atlas Copco, which sells air compressors that are used in the automotive manufacturing industry. "Now, with connectivity, they can envision to sell air as a service where they do not charge anymore for the compressors, but for the use of the compressors, they will sell volumes of compressed air," he predicts. "All of these new business models will be enabled by IoT."
SIDEBAR – Augmenting Service
Another client that has benefited from Sierra Wireless is Schneider Electric, an energy management company with operations in more than 100 countries. When the firm developed charging terminals for electric vehicle charging stations through a test territory, it needed remote monitoring and controls to manage the terminals in 51 towns and five counties.
Schneider went to Sierra Wireless, which implemented its AirVantage Smart Automation platform that accelerates deployment and reduces the costs with deploying and operating M2M industrial control applications. "Smart Automation helps machine OEMs and industrial control systems integrators to quickly connect programmable logic controllers and sensors to easily develop M2M applications, enabling OEMs to add service revenue to their hardware and enabling service providers to augment services with M2M solutions and services," Sierra Wireless says.