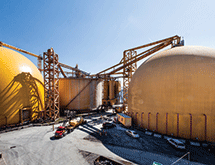 Larry Silvi Sr. started out in 1947 with a small sand and gravel plant located behind his farmhouse. Within a few years, he was supplying the concrete for foundation slabs at a new housing development by Bill Levitt, called Levittown, now Philadelphia's largest suburb. Business was brisk, with all the veterans back from World War II settling down to raise baby-boomer kids.
Today, his sons Larry Jr. and John Silvi run a large, regional, vertically integrated material supply company with divisions in mining, concrete, cement and real estate. Their Pennsylvania-based Silvi Group Companies owns more than 1,000 acres of land used for stone quarries, one of the largest sea terminals on the East Coast and the world's largest cement blending and processing domes. Those domes have a capacity of 130,000 tons and can offload a ship at a rate of 525 tons an hour.
And they're doing the kinds of jobs their father couldn't have imagined. Those include a continuous 12-hour pour of 7,000 yards of concrete for a one-acre, four-foot-thick foundation of a Hindu monument in Robbinsville, N.J., in October 2013.
"We spent four months preparing for that job," Silvi's Senior Vice President Tim Kurz says, "and we ended up using more than 100 trucks and shipped out of three plants."
The Robbinsville worship center, commissioned by a global Hindu organization called BAPS, includes multiple structures, and once completed in 2016, will be one of the largest of its kind in the world. The 49,000-square-foot foundation poured by Silvi – for the complex's 170-foot-tall monument – was built with 160,000 tons of stainless steel rebar and a 50/50 mix of cement and fly ash, which Silvi stockpiled for weeks in advance. Strengthening fly ash, produced from coal combustion, was used to enable a foundation of this size to cure and set over the course of 30 days without cracking.
Although the Robbinsville project was a major accomplishment for the company, big, high-pressure jobs are nothing new. In 2010, Silvi provided all the coarse aggregate material – 260,000 tons of stone – used to make ready-mix concrete onsite for a $376 million runway expansion at John F. Kennedy International Airport in New York City. "The New York City Port Authority sought us out because of the quality of our product and our ability to handle such volume," Kurz says. "It was a big logistical challenge to supply that much, but we did it." The company delivered as much as 100 truckloads per day from one of its quarries in Belle Mead, N.J. — a 75-mile haul.
Diversified Operations
Silvi services most of New Jersey and southeastern Pennsylvania. Its customers range from homeowners and small builders to large road and industrial contractors.
Its ready-mix division, called Silvi Concrete, operates seven ready-mix concrete plants (four in Pennsylvania and three in New Jersey) and has one of the largest fleets of front discharge trucks in the region.
"Ready-mix is tough right now," Kurz says. "A lot of companies have gone out of business or consolidated and there are considerably fewer ready-mix trucks in the market. Truck manufacturers were also hurt and now they can't build new trucks fast enough. As demand has picked up, it's been a challenge to take care of customers, but we'd better take of them before someone else does."
The economy also eliminated a lot of independent dump truck haulers, on which Silvi's mining division depends. "It's a challenge to supply our own plants," Kurz says. To help address the problem, Silvi recently hired an in-house logistics manager – a function that was handled by customer service in the past. "We're hoping this new position will create efficiencies and help us do better planning of our hauls," he says.
The mining division includes Sahara Sand, which has three sand mines in New Jersey, and Gibraltar Rock, which has one stone quarry in New Jersey and another in Pennsylvania.
To manufacture concrete, sand and stone are mixed with water and cement, which is the glue that holds it all together. Silvi imports cement through its materials division, called Riverside Construction Materials, a deep-water terminal on the Delaware River in Bristol, Penn. Cement from various regions of the world, such as South America and Asia, are superior to what is currently being manufactured in the United States. "We're looking for the best-quality cement since we're the ones using it in our concrete," Kurz says.
The terminal also handles road salt, mainly from Chile, Mexico and Brazil, and gypsum from Spain. The facility can handle almost any aggregate.
Despite decades in business and its breadth of operations, Kurz says the company has much greater expansion ahead of itself.
"We're still in our infancy," Kurz says. "We have much further to go."