Source One Transportation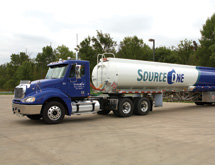 Source One Transportation is in the unique predicament of serving a growing industry with not enough employees to go around. The fuel transportation company's area of operations in Pennsylvania, Ohio and West Virginia is right in the heart of the Marcellus and Utica shale plays. As shale production continues to increase, the driver pool continues to decrease while Source One's fleet size increases—70 trucks and counting.
"The demographics are telling us that the driver pool is decreasing," Vice President Jeff Davis says. "So come 2014, whoever has the drivers will have the freight."
Source One's operations are designed around that fact. Even factors that seem unrelated to driver recruitment, retention or satisfaction are still somehow intertwined with Davis' observation about the competition for good drivers.
There are direct influences, of course, pay being No. 1 and steady work hours a close second. The company offers a competitive salary with full benefits, and pays by the hour whether that driver is on the road or not. Also, because the company operates within a three-state region, drivers are home every night.
But there are other forces at play, as well. Source One is focused on building a cost-competitive and quality operation that attracts a steady stream of customers, including convenience stores, petroleum jobbers, refiners, and companies involved in shale gas drilling.
Maximized for the Marketplace
"The way we become more cost-competitive in the marketplace is by simply keeping costs under control," Davis says. "We're not raising prices every year to cover outrageous costs to repair equipment or to cover an overall lack of attention to details. Some companies raise prices every year 2 percent or 4 percent, because they're not paying attention."
The company's commitment to safety is key to attracting customers—and drivers. Source One drivers undergo up to four weeks of training before hitting the road solo and on-board recorders track a driver's every move, providing peace of mind to customers and resulting in bonuses for safe drivers. Also, all drivers obtain Transportation Worker Identification Credentials (TWIC) from the U.S. Department of Homeland Security. The TWIC affirms that each driver has passed a federal background check and is certified to deliver fuel to customers that allow only TWIC holders on their grounds.
"Having across-the-board certification allows us to optimize our staff," Davis says. "I can't optimize if there are only 16 drivers who can do a certain type of work. There's a heck of a cost to it but there are too many benefits not to do it. It means we have no limitations." This same efficiency is seen in Source One's equipment.
"We're a successful trucking company because we have the ability to hire the best drivers, and one of the reasons we are able to hire drivers is because they know the equipment we buy is not just focused on cost. It's focused on getting them home safely every day."