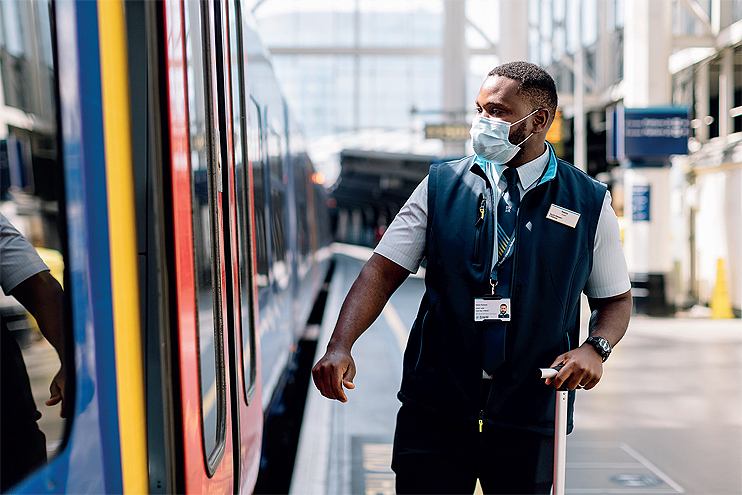 Putting the passenger first
Started in August 2017, the South Western Railway (SWR) franchise is a joint venture between FirstGroup – which operates a number of franchises in the UK, such as neighbouring operator Great Western Railway – and MTR. The latter operates the Elizabeth Line on behalf of Transport for London, along with other lines across the world.
"Our operation is quite a significant undertaking, operating out of the UK's busiest station, London Waterloo," explains South Western Railway's Deputy Director of Customer Experience, Chris Neill. "Our network covers a large geographical region including South West London, parts of the South East of England, including Surrey and Hampshire, as well as the South West including Wiltshire, Dorset and parts of Devon and Somerset. We also operate Island Line on the Isle of Wight, an eight-mile railway on the east of the Island. As part of our franchise agreement, we're set to deliver a number of exciting projects this year, including a new fleet for the suburban part of our network, and modern trains for Island Line."
As with all rail franchises – and indeed all transport operators – SWR's recent activities have been influenced no end by the Covid-19 pandemic. "As a public transport operator previously serving hundreds of thousands of commuters every day, it isn't surprising that the pandemic has had a huge impact on our business," Chris continues. "Lockdowns have resulted in our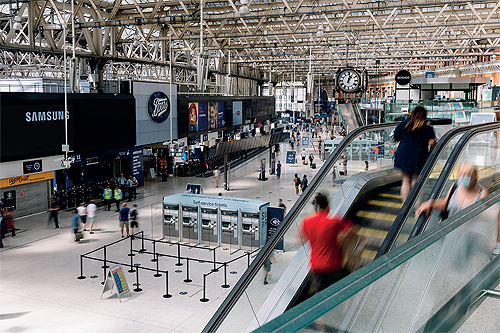 passenger numbers dropping to a fraction of pre-pandemic levels, and whilst restrictions have eased on occasion over the past year, numbers have remained relatively low. Despite this, our teams across the business are continuing to work tirelessly to keep the railway going, ensuring we run a safe and reliable service for those who need it, such as key workers.
"In terms of our service, we have been running a reduced timetable since March 2020, and with fewer people travelling and trains running, our timetable has given us more resilience when things do go wrong. In each period since April last year, our PPM (trains arriving at their final destination within five minutes of their booked time having stopped at all booked stations), has been consistently above 90 per cent. We are keen to ensure that this improvement in performance can be sustained in the long-term, and have been working hard to achieve this, including through transforming our Control Room operation by placing additional personnel in the control center with access to new, improved systems, and working closely with our partners at Network Rail to reduce speed restrictions across the network."
This year – 2021 – certainly got off to a positive start for SWR, with the franchise being awarded a coveted 'Putting the Customer First' accreditation by Customer First UK. "In January 2021, SWR was indeed recognized for achieving the 'Customer First' national standard in customer service, underpinning the company's determination to improve the passenger experience in readiness for more people travelling on the railway after lockdown,"
Chris declares. "Every aspect of SWR's customer facing departments underwent 18 months of rigorous examination before being awarded the 'Putting the Customer First' accreditation through Customer First UK. SWR is now part of select group of train companies to undertake the assessment and receive this prestigious accreditation.
"Over 250 colleagues were surveyed or interviewed by Customer First assessors, who visited the train company's operations facilities in Basingstoke and conducted numerous secret shopper visits at some of our busiest stations. The award recognizes how SWR is dedicated to delivering for its customers at every stage of the journey – from booking tickets on the website and app to interactions with front line colleagues."
Central to the ongoing success of the organization are SWR's people. "For service providers such as ourselves, it is the people within the business – at whatever level – who ultimately determine the perception of it amongst both users of said service, but also non-users," Chris correctly points out, before going on to note past, and forthcoming plans to facilitate ongoing employee development within the franchise. "At the beginning of the SWR franchise in 2017, we began our Momentum change program. In short, the program, which was intended to continue throughout the seven-year franchise, was designed to transform the awareness of all employees. The program reinforced that the actions and behaviors of colleagues, irrespective of role, would impact customer experience. Working with training specialists, Train4Change, we worked through multiple phases of this program, but unfortunately had to stop all development activity following the onset of Covid-19. We are currently in discussion with the Department for Transport regarding proposals for the development of our people during the new contract period, which is expected to commence in mid-2021."
In preparation for the return of higher passenger volumes, SWR has also continued to make important and significant investment in its services, fleet and infrastructure in recent times.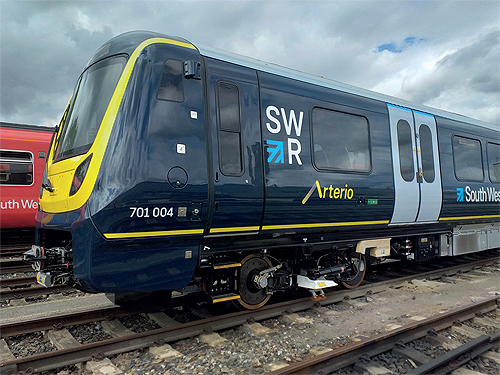 "SWR is committed to providing a railway service that is accessible to all, and our Assisted Boarding Points initiative is central to this commitment," Chris reveals. "This industry-first scheme will enable customers who require assistance to contact us at any time of the day through phone, WhatsApp or a Help Point to let us know that they will be travelling on our network. The customer will then be directed to one of our assistance points and the guard working on the service in question will also be made aware, helping to ensure a smooth, efficient and stress-free boarding experience. Every platform on our network will eventually have an assistance point, which will not only enhance customer experience, but also help to reduce delays."
This year will also usher in the launch of 90 new Arterio trains onto the SWR network. "The Arterios are a flagship project for our business, representing a £1 billion investment in our suburban routes," Chris says. "The 90 new trains – made up of 750 new carriages – will begin to be introduced onto our network later this year and will transform journeys from Day One. They will improve the onboard experience for our customers by providing enhanced passenger information, at-seat charging points, air conditioning and an accessible toilet on every train. Not only that, but they will improve performance on this busy part of our network with faster acceleration and braking, and more rapid door opening times. Additionally, using just one fleet of trains on these routes will make it easier for our teams to operate, helping to reduce delays for our customers.
"On top of investing in our fleet," Chris adds, "we are also continuing to invest in our infrastructure and technology to help us to deliver a modern railway. All 187 of our managed stations now have Wi-Fi available for our customers. Work is also continuing at our new depot at Feltham, which will be used to stable our new Arterio trains as well as providing facilities for our train crew and cleaning staff.
"We've also worked closely with Network Rail to deliver a number of projects including the upgrade of Feltham and Syon Lane stations. Working in partnership with the Department for Transport, Solent Local Enterprise Partnership and the Isle of Wight Council, we are also currently working on the transformation of Island Line, which will not just deliver modern trains, but also upgraded infrastructure and improved accessibility."
SWR is committed to playing an important role in combatting climate change by running a railway that is sustainable, as well as safe and efficient. To do this, it is investing in innovative technologies, and has been working with rolling stock company, Porterbrook, and emissions specialist, Eminox, to trial technology designed to reduce emissions from its diesel fleet. "This technology has been proven to reduce harmful emissions from mid-life diesel trains by over 90 per cent," Chris states. "We have also set ourselves the target of reducing our total energy use in buildings by 41 per cent by 2024, and we're making good progress on this. We have recently completed the installation of over 16,000 LED light fittings at 165 of our stations, which has contributed to a 21 per cent reduction in energy consumption. Overall, the reduction of energy this project has delivered is the equivalent of charging over 450 million smartphones!"
In 2021, the customer focus of SWR is twofold. Firstly, and as a priority, it knows that it must reassure its customers that its trains and stations are consistently clean, and that the railway is a safe way to travel. Secondly, SWR is committed to a continual improvement in customer service. "We know that our reputation as a company depends on us delivering consistently excellent customer service," Chris declares. "Good customer service 80 or 90 per cent of the time simply isn't good enough, and as such we will not be resting on our laurels. During 2020, we developed our 'Delivering Great Journeys' service standards, created for each customer facing role in a level of detail that can provide no confusion with regard what good looks like. These service standards are being rolled out this year, and will be used to influence our recruitment, training and development of future and existing colleagues."
Looking beyond 2021, Chris knows that there are huge opportunities ahead for SWR. "A new suburban fleet of Arterio trains will provide the springboard to deliver a significant step change in service on the SWR network, while investment in digital technology will allow us to leverage improvements in customer information on the Arterio fleet, as well as our existing fleets. Investment in our stations is equally as critical, and innovative and mutually beneficial ways to do this will produce considerable improvements for our customers.
"We also know that, as an industry, we must simplify our ticket pricing and provide solutions to meet customers' needs. The five-day commute is now widely regarded as a thing of the past, so providing a flexible ticketing option for commuters must be a high priority for the industry to address. We are working closely with the industry and Department for Transport to bring these options to the market as soon as possible."
South Western Railway
www.southwesternrailway.com
Services: Train operating company