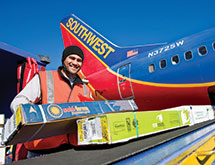 Southwest Airlines (SWA) Car–go's vision and commitment to quality customer service hasn't changed over the years, but nearly everything else about the operation has. Its technology, service areas and shipping capacity have all adjusted and expanded to serve a customer base that has also changed right along with everything else. Vice President of SWA Cargo and Charters Matt Buckley recalls serving a very different customer when the company began operating in the early 1970s. Back then it was primarily small packages, photo films waiting to be developed and canceled checks. But with the advent of the fax machine and industries going digital, shipments today look vastly different.
"Today's growing segments are really in online retail purchases, perishable commodities, and healthcare- and pharmacy-related business," Buckley says. "In general, the domestic shipping market is pretty mature, so for us the focus is to grow and add new markets and look at ways of improving existing services and support."
Because SWA Cargo is a byproduct of passenger carrier Southwest Airlines, Buckley says that "as the airline goes, cargo goes." SWA uses the passenger planes to carry cargo into existing markets, and the cargo team is gearing up to serve even more markets soon. In 2011, Southwest Airlines purchased AirTran Airways. Since that time the company has worked diligently to integrate operations and automation to connect the networks.
Capacity and Connectivity
"We announced the acquisition of AirTran in September 2010 and established the legal close in May 2011," Buckley says. "We have been feverishly working on integrating AirTran into SWA for passengers which enables cargo connectivity as well. We were excited to introduce our cargo products and services into the AirTran route structure on April 14th [2013]."
With this single purchase and two years of planning, SWA Cargo increased its capacity by 13 percent and added 68 new non-stop markets to its network. Because SWA Cargo already has cargo facilities throughout the country and physical and electronic infrastructure, AirTran will feed into this existing system. Buckley says it added about 430 new daily AirTran flights to its existing 3,300 daily flights on SWA.
Of all the many upsides of this major move, Buckley says that Atlanta is the premier destination. SWA Cargo added 90 new flights to and from Atlanta that provided shipping options to 22 new nonstop destinations. Customers benefited from the increase from 12 nonstop destinations to 34 destinations with AirTran.
"Atlanta is a great market," he says. "We have an existing customer base all over the country and many of them have branch locations around the country and they all have locations in Atlanta. They have trust with us and experience with the kind of service we provide, and they've expressed they want the same kind of service coming into and out of Atlanta. It's like having a built-in customer base."
In addition to growing its to-and-fro service in Atlanta, SWA Cargo added some new markets. Richmond, Va.; Charlotte, N.C.; and Rochester, N.Y., were added to the roster on April 14, 2013. It began servicing San Juan, Puerto Rico. As it inducts new markets, it will continue to grow existing ones.
"This will give us more frequency in other markets, as well," Buckley says. "Fort Lauderdale, Indianapolis, La Guardia, Baltimore, Philadelphia and Tampa, to name a few – this larger network will really give us a greater breadth of service just by virtue of adding the AirTran network to ours."
On to New Horizons
As it builds its domestic market, Southwest Airlines has publicly announced intentions to become an international carrier, which means by extension, SWA Cargo will follow the same route. Buckley says the company is positioning itself to handle current changes and prepare for future expansion. The company has narrowed down a list of vendors with customizable dispatching automation technology to handle international shipping.
In the midst of its international aspirations, the company also is improving technology and service here and now. Working with its partner, On Asset, it is able to offer the commercial air cargo industry's most comprehensive tracking solution system called Cargo Companion. It says this wireless asset-tracking device provides customers with detailed real-time data such as location, temperature and humidity of carriers all the way from origination to destination. The tool is offered to customers with high-value, time critical, and often irreplaceable items like lab specimens and critical parts.
SWA is also working to implement planeside scanning to scan baggage/shipments while loading or unloading the aircraft, so it can know where shipments are throughout the entire system, not just when it's at the cargo facility. "Customers want to have peace of mind and information gives them that," Buckley says.