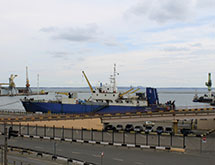 Southwest Shipyard has a lot on its plate. The company owns and operates four shipyards in South Texas with direct deep-water access to the Gulf of Mexico. From there, it provides gas freeing and cleaning services, topside and major repairs, surface preparation and painting, major conversion and new construction services to the marine industry. The company works on inland and offshore barges, boats, offshore supply vessels, ferries and offshore tugs. Southwest Shipyard remains competitive by providing services with a high level of quality and safety, and just as it works to clean and repair its clients' vessels, it also understands its responsibility to the environment.
"Our goal is to provide the best value service to all of our customers on every project," the company says. "Providing a high-quality product or service on every project is the focus of every employee, supervisor and manager. Our managers ensure that quality is designed into every step of our execution process. The production supervisors are directly responsible for product quality with assistance from the operational managers.
"Our customers have come to expect consistently high-quality products from Southwest," it adds. "Delivering products and services that exceed the expectations of our customers and the marine regulatory agencies is a fundamental business strategy."
In 2009, Southwest Shipyard began working on its Multimedia Pollution Prevention Initiative, which the company continues to employ to improve its operation. Since the initiative's start, the company has achieved many environmental improvements:
•Southwest Shipyard reduced total VOC emissions from 115 tons per year in 2009 to less than 44 tons per year in 2013, which is a reduction of 62 percent. The company explains it achieved this by virtually eliminating the addition of thinners to coatings during coating application and maintaining all barges on a vapor-control unit of less than 50 parts per million VOC content in the barges' vapor space during the degassing operations.
•Hazardous waste generation has been drastically reduced from 4.6 million pounds in 2010 to 0.53 million pounds in 2013, which is an 88 percent reduction.
•Total potable water consumption at the company's shipyard in Channelview, Texas, has been reduced from 18 million gallons in 2009 to 9.2 million gallons in 2012, which is a 49 percent reduction.
•The company's compliance with the Texas Pollutant Discharge Elimination System's wastewater discharge permit limits for four years achieved a reduction of sampling requirements from once a week to once a month for most permit-required tests.
"Southwest's pollution prevention initiative will continue to move forward to achieve further reductions," it says. "Work is currently underway on installation of a new vapor combustor system at our pressurized barge degassing operations that will further reduce VOC emissions by approximately six tons per year, and achieve a two- to three-ton-per-year reduction in nitrogen oxide (NOx). Plans are underway to also achieve an additional 10-ton-per-year VOC reduction in our barge cleaning operations."
The company explains its state-of-the-art vapor combustion system provides ultra-high destruction efficiency of VOCs – greater than 99.99 percent – while generating ultra-low NOx emissions of less than 0.2 pounds of NOx per million BTUs.
No. 1 Priority
In terms of safety, Southwest Shipyard has been recognized three times in the past four years for its dedication to safety by the Shipbuilders Council of America (SCA). The company received the Excellence in Safety Award after submitting the SCA injury and illness survey all four quarters during a year, having no fatalities and having a recordable incident rate below the SCA aggregate. The SCA notes that its quarterly survey shows that there has been a steady decline in incident rates over the past 10 years.
"Safety on the job is our No. 1 priority," Southwest Shipyard says. "We have an extensive health and safety program to ensure that we provide the best and safest working environment for all of our employees and managers. A highly dedicated and experienced safety team develops all the required procedures and training programs to educate and assist the employees in creating and maintaining a safe and healthy work environment.
"We work with all of the local and federal agencies to ensure compliance in all areas of our operations," the company adds. "From job safety analyses and tool-box meetings to monthly safety analysis, excellence in safety is a continuous focus at all levels of our employees. Our health and safety program is directed and managed by the company's senior management. We at Southwest Shipyard view health and safety excellence as being critical to our long-term success and sustainability."