Span Alaska Transportation LLC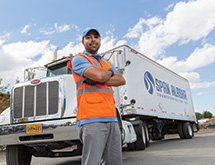 Span Alaska Transportation LLC's customers have come to rely on the Auburn, Wash.-based company to provide "a high level of service again and again," President and CEO Tom Souply says. "It takes a committed team to be able to do that."
Span Alaska specializes in freight shipping within, into and out of the state of Alaska. Ray Landry started the company in 1978 after working for a competitor. "He decided to go out on his own," Souply says.
Landry brought his family into the business, including son Mike Landry, who became its president and CEO in 2000. He stayed in that role until 2014, when Evergreen Pacific Partners purchased Span Alaska.
Today, the company also provides services to clients in Hawaii and Puerto Rico. "It's more of a secondary service," Souply says. "We have partners in those markets that provide services for our customers."
Span Alaska serves a broad range of markets, including retail, construction and building materials. "It's a very diverse group of customers who are all supporting and providing products and services into the state of Alaska," Souply says.
This works well for the state, which has very few manufacturers. "Almost everything has to be brought into the state," he says, noting that close to 90 percent of all commerce into Alaska goes through the Port of Anchorage.
Strong and Stable
This is a good time for Span Alaska to be in business. In September, it closed on its acquisition of Pacific Alaska Freightways, making it the largest freight forwarder in the its marketplace, Souply says.
"We are certainly moving more shipments on a less-than-container-load basis than any other provider in the market," he says. "We also are moving more containers on a weekly basis than anyone else in the marketplace, as well."
Span Alaska's market remains stable. Although oil prices are down, "the retail marketplace continues to be very favorable in state of Alaska," he says. "We're continuing to see new entries into the market."
This includes retailers such as H&M, Bass Pro Shop and Cabela's. "They're saying, 'We want a piece of this marketplace up here,'" he says, noting that the military sector is currently stable. "That can impact some of the income that's spent in the marketplace as well."
Promise Keepers
Souply has 34 years' experience in the transportation industry, which includes working for UPS and Roadway Express. He joined Span Alaska in 2010.
"We are blessed with some very committed people," he explains. "When we make a promise, we keep a promise. 'Promises made, promises delivered' is one of our tag lines."
Span Alaska enjoys low employee turnover, Souply adds. "We don't micromanage people," he says, noting that the company also pays a little more than its competitors. "People enjoy coming to work for Span Alaska."
By keeping its people happy, the company has nurtured a 90 percent-plus rate of repeat business. "It takes a committed team to be able to do that," he says. "[We give] what customers expect from us: to be predictable and reliable on their shipping."
Going forward, Span Alaska plans to stay reliable and help customers "find more efficient ways to move their freight," he says. "We will always look to do the right thing for the customer and try to be as creative as possible to meet those expectations."