St. Louis Lambert International Airport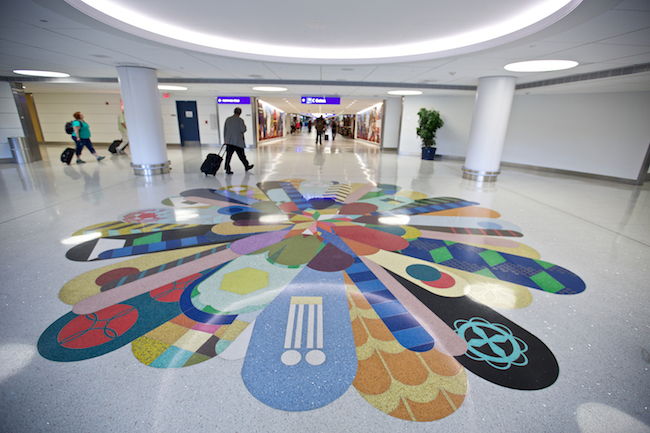 (Photo credit: St. Louis Lambert International Airport)
St. Louis Lambert International Airport embraces local culture and history while planning for future diversification of its services.
By Jim Harris
Passengers to St. Louis Lambert International Airport have seen a number of changes there in recent years. Between 2008 to 2014, the airport underwent a $70 million modernization and renovation of its Terminal 1, built in 1956. The project included renovating concourses and updating building systems including lights, floors, ceilings and signs.
In addition to creating a better all-around experience, the renovation gave passengers a much better since of place than they had previously. "We redesigned the terminal because we felt there was a disconnect from the region; no one really knew what city they were in when they were here," Director of Airports Rhonda Hamm-Niebruegge says.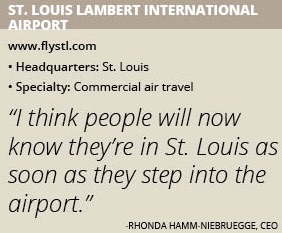 The airport is now giving travelers a true sense of being in St. Louis in part through the Lambert Art and Culture Program, which includes bringing local art and art exhibitions into the airport. "The effort helps create a visually interesting welcoming for millions of passengers while introducing St. Louis to the airport," she says. "We've partnered with dozens of cultural institutions and artists over the last five years and now have more than a dozen permanent art works or designated locations for temporary exhibitions.
"I think people will now know they're in St. Louis as soon as they step into the airport," Hamm-Niebruegge adds. "This region is so filled with culture; we wanted to include that here."
The airport's program partners include the Missouri History Museum as well as Contemporary Art Museum, Craft Alliance and others. Most recently, the Lambert Art and Culture program, in partnership with the Missouri History Museum, put a spotlight on the airport's significant place in aviation and American history. Formerly known as Lambert Field, the airport was host to several significant figures in aviation history.
The Wright Brothers visited there while touring with their aircraft. Later, Charles Lindbergh departed the field for New York shortly before his record-breaking trans-Atlantic flight in 1927. Lindbergh named his plane "Spirit of St. Louis" because the trip was sponsored by Lambert Field Founder Albert Bond Lambert and other city business leaders.
The Missouri History Museum recently published a book on the history of the airport entitled "The Aerial Crossroads of America: St. Louis' Lambert Airport." The airport recently opened an exhibition in conjunction with the book that features 53 historical photos from the airport's nearly 100-year history. The exhibition runs through November 2017.
In addition to modernizing the terminal and adding cultural displays, the airport in recent years also enhanced its concourse offerings. This includes complementing national brands and concepts with local favorites including Schlafly Brewery, which operates a brewpub there, and local restaurant Pasta House.
At the Center
St. Louis Lambert International Airport serves more than 1 million commercial passengers monthly. The airport in 2016 has seen a more than 9 percent growth in passengers and is on target to serve more than 1 million total arriving and departing passengers than in 2015. Between July 2015 and June of 2016, the airport added eight new destinations and topped 70 non-stop destinations served by nine commercial airlines.
"One of our greatest assets is that we are literally located at the center of the country," Hamm-Niebruegge says, noting that the longest domestic flights leaving the airport are a maximum three-and-a-half hours long. "We can move passengers and cargo to anywhere in the United States within a very short timeframe."
The airport is also less susceptible to severe weather such as snow and icy conditions. "We have a fairly mild winter season compared to other Midwestern airports, and can operate 365 days a year," she adds. "We are not a congested airport with regular air traffic delays and have easy access to major highways as well as rail."
Future Opportunities
With the terminal renovation complete, St. Louis Lambert International Airport is now planning additional on-going improvements. "We have an aggressive approach to generating revenue, and think of ourselves not just as a pure passenger airport but much more," Hamm-Niebruegge notes. "By doing that, we have a better selling point for bringing in passenger traffic."
The airport is diversifying its revenue base in several ways including growing its cargo handling operations. This includes entering into a 40-year lease agreement with a developer to renovate and repurpose a vacant hangar and manufacturing facility located on a 50-acre site adjacent to the airfield with access to runways.
A compressed natural gas (CNG) station operated by Spire Natural Gas Fueling Solutions also recently leased airport-owned land. A portion of the revenue generated by the station – which serves the public as well as private clients – goes to the airport.
Other diversification opportunities for the airport include growing its charter, corporate and private aircraft activity. The airport two years ago leased two hangar buildings to Jet Linx, an Omaha-based private aviation management company.
The airport is also looking to diversify its cargo handling activities. It is in the process of becoming an approved USDA port of embarkation, which would give it the ability to handle the transportation of livestock and other animals.
Future opportunities for the airport include working with partners to build additional corporate hangars, which Hamm-Niebruegge believes will become a reality next year. St. Louis Lambert International Airport is also working to expand its environmental sustainability programs, which could include developing a solar farm.
"We want to show the community and leaders in the region that this airport can be, and will be, more than what you see now," she says.