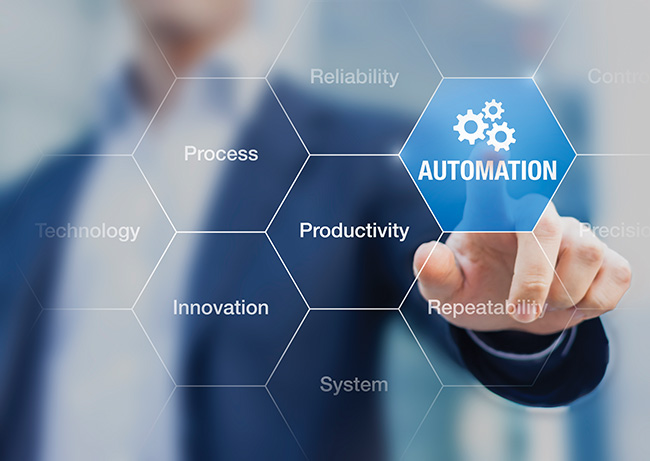 Shippers can use automated systems to impress their customers.
By Tony Donofrio
The delivery model ushered in by online retailers such as Amazon is now rippling throughout entire supply chains – bringing with it a new focus on customer experience. Transportation management technology has become an industry backbone that helps suppliers, manufacturers and retailers not only reduce a product's carbon footprint and carve away cost, but also customize shipping and packaging services at scale.
In this environment, the competition for customers can no longer be won with product alone. Service-driven demands now put logistics at the center of many purchase decisions. This means shippers are increasingly analyzing software providers and looking to build relationships with right-sized vendors. They are modifying legacy work processes to better align with the detailed form fields of automated distribution systems, working to ensure, for example, that refrigerated trucks show up at the dock to receive perishable goods.
I've guided many Argo clients through this transformation, and it can be a challenging task, one that generally shaves anywhere from four to eight percent off transportation costs. That's not a bad return on investment, but the reality is that those savings are only a secondary metric. The primary benefit lies in the improvement of the customer experience and progress toward the best practices that buyers, both B2B and B2C, have come to expect.
Here are three ways shippers can leverage the insights provided by automated transportation management systems to impress their customers:
• Mass customization of service – Centralized data and technology platforms allow manufacturers to splinter supply chains, delivering complex customization of products while at the same time streamlining services and controlling costs.
While a product may once have been available in only one or two colors, for example, a retail chain can now order custom shades delivered directly to decentralized storefronts in packaging that bears its unified corporate brand. The products skip right over intermediary warehouse stays, heading directly from the manufacturer to the point of sale.
This ability to segment and aggregate data to create multiple, customized delivery paths allows the manufacturer to capture additional profit through ancillary services, while also getting products into customers' hands more quickly.
Shippers also can use data from automated transportation management systems in conjunction with apps and other online tools to give customers increased visibility into the process that brings goods to their doors. This technology has become the norm for online retailers and is increasingly documenting the path of raw materials and finished goods throughout the supply chain.
These tools go a long way to improving customer relationships. Let's face it: buyers can be demanding. They want to avoid shortages on their factory floors or make sure inventory will be in stock when corporate holiday advertisements go live. They want to know exactly when five pallets of product will arrive so they can better manage staffing resources. At times, my team has identified that customers looking for an update on an order account for as much as 40 percent of the calls coming into our clients' service hotlines.
When customers are able to independently confirm that their delivery is on track, the phone rings a lot less. This automation cuts down on their frustration and also frees up critical resources to be deployed elsewhere in manufacturing operations.
• Cost management – Shippers are certain to find efficiencies outside the customer service department as well. Manual transportation management fails to cut all of the fat from distribution systems, due to the difficulties of visualizing and streamlining the moving parts of multiple complex processes all at once.
Automated services help shippers identify the fat and build a strategy to eliminate it. Most software service providers offer to generate operational reports, and this data helps uncover trends that better shape relationships with transportation carriers. The drivers of one trucking company may be consistently late. Another may offer better rates to the locations of top customers. Or shippers may be missing opportunities to combine orders. These patterns would be difficult to see without access to detailed metrics, analyzed over time.
Automated systems also allow companies to factor the end-to-end supply chain into estimates of the time and cost of both production and delivery of goods. A manufacturer with 30 factories stretched across the United States, for example, can consider the location of its suppliers and customers when estimating both costs and project timelines. It can help aggregate orders to create efficiencies, streamlining the production of red widgets for three customers and orange for three other customers, for example. Or it can pool regional orders together to take advantage of zone skipping.
These kinds of insights can help companies not only lower costs to one-tenth of a cent, but they also cut down on the daily workplace frustration. When trucks don't show up on schedule, transportation managers don't need to scramble to find cost-effective replacements.
The automated system provides a list of available options, capacities, costs and timelines. Trucks in a fleet also can be outfitted with GPS devices to improve predictability. All of these efficiencies convert into better prices, better turnarounds and more reliable services for customers.
• Sustainability – Automated systems also can help manufacturers measure and diminish the environmental impact of end-to-end supply chains. This area of analysis has grown in prominence over the past decade, and I expect that trend to continue and even accelerate, as manufacturers try to rein in a 45 percent surge of freight activity that the U.S. Environmental Protection Agency projects could occur by 2040.
"The good news is that freight transportation is one area where proven technology, policy and operational strategies exist to reduce fuel consumption, greenhouse gas emissions and climate risk while still achieving sustainable economic growth," an agency fact sheet states.
Large publicly-held companies routinely tout progress on this front in customer-facing forums. Technology company HP, for example, in 2008 became the first company to put the U.S. Environmental Protection Agency's SmartWay logo on retail packaging. This was a display of the company's commitment to reducing the size of its carbon footprint.
American retail giant Walmart, which is also a SmartWay participant, last year told investors that it had shaved $1 billion from its transportation bill and also reduced its carbon emissions by 650,000 metric tons.
Shippers can make gains in this area while also saving money and keeping customer prices in check. Optimizing routes, delivering direct-to-stores rather than to centralized warehouses and also localizing production will reduce emissions. Steps can also be taken to reduce the size and weight of packaging.
Sustainability metrics are no longer just feel-good numbers. Increasingly, buyers demand insights that will help them both understand and minimize the environmental impact of the products they stock.
"It's been said that 'supply chain is strategy,' and that's true," Walmart CEO Doug McMillon wrote in the company's 2016 Global Responsibility Report. "It's our opportunity to get things to customers in a timely, cost-effective and sustainable way.
"The individual choices we make along the supply chain greatly impact the future for all of us," he wrote. "So what was once largely about our own operations has shifted into helping rewire whole systems."
Tony Donofrio, principal and head of Argo Consulting's supply chain practice, has more than 30 years of supply chain experience. He has a reputation for taking on tough challenges, creating growth opportunities and outperforming the competition. Learn more at www.argoconsulting.com.