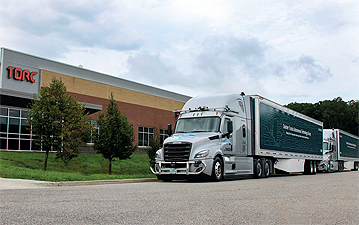 Successful collaboration
September 2020 marks one year of Daimler Trucks and Torc Robotics partnering as a team after the U.S. based automated driving technology company became part of Daimler Trucks' Autonomous Technology Group.
---
One year together, collaboratively pursuing a common goal of bringing series-produced highly automated trucks (SAE Level 4) to the roads within the decade; including on-road deployment of a Level 4 test fleet, initiation of redesign of truck chassis, adoption of a hub-to-hub model, formalized rigorous testing protocols, formal truck safety driver certification process, and extended software capabilities.
Now, the Autonomous Technology Group will extend its testing to New Mexico by building up a new testing center in Albuquerque. Expanding to a new location will support testing and provide data for more use cases of next generation vehicles on public roads starting this fall.
Dr. Peter Vaughan Schmidt, Head of Autonomous Technology Group at Daimler Trucks explained that the partnership has enabled both teams to move faster on developing Level 4 trucks, providing Daimler engineers with insights on how the technology will impact truck design, and providing Torc with data and perspective on what technology will work best for the trucking industry.
"We have accomplished a lot during the first year," added Michael Fleming, CEO of Torc Robotics. "Daimler's commitment to safety, innovation leadership of truck technology and foundational knowledge of on-road scenarios that truckers encounter has moved our system faster than we could have done alone as a technology firm. By working with the inventor of the truck and number one truck OEM, we are convinced that Level 4 trucks can be commercialized safely with a strong business case."