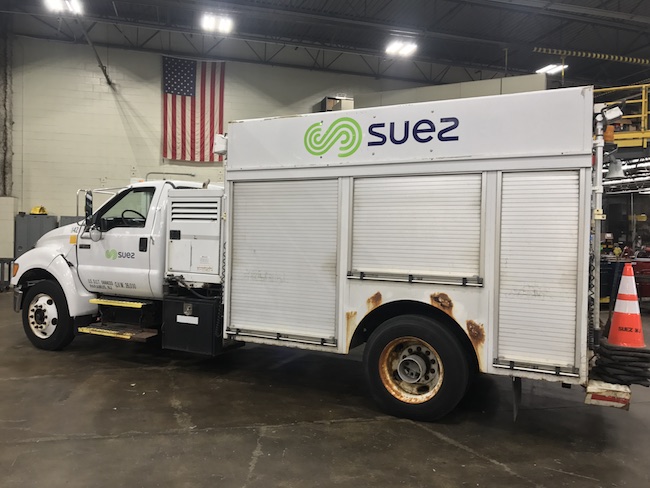 SUEZ' facility in Hackensack, N.J., introduces lighter vehicles and an anti-idle program to reduce its environmental impact.
By Janice Hoppe-Spiers
SUEZ is a leading environmental company providing water and waste recycling services to more than 7.5 million people in the United States and Canada. With a company-wide commitment to innovation, SUEZ New Jersey Operations is adding safer and more efficient trucks to its fleet at its Hackensack, N.J., facility.
SUEZ owns 15 regulated water utilities, operates 74 municipal water and wastewater systems and offers water and advanced network solutions to 16,000 industrial and municipal sites. The Paramus-based company was formerly known as Hackensack Water Co., until the 1990s when it became United Water. Owned by SUEZ at the time, United Water retained its name until 2015 when SUEZ streamlined its brand.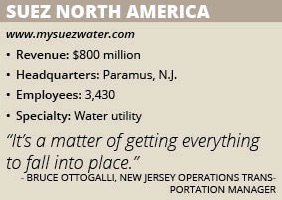 Today, 50 companies and their business units carry the same name: SUEZ. "SUEZ is based in France and is an environmental company specializing in water and wastewater solutions, and waste recycling and recovery," Transportation Manager Bruce Ottogalli says. "They had a number of different companies under various names until they decided to have everyone under the same umbrella. Nothing changed – we are doing the same thing and still pumping water and treating wastewater to the tri-state area of New Jersey, New York and Connecticut."
Innovative Initiatives
"We are an environmental company and since we put our anti-idling program in place in 2012, for example, we have reduced our carbon emissions by 1.2 million pounds," Ottogalli says. "Last year, I began looking for ways to cut our energy costs."
In addition to placing anti-idling devices on the vehicles, Ottogalli continues to look for ways to fulfill SUEZ' goal of providing green solutions. Because alternative fuels are not an option in his area, Ottogalli worked with truck builders to develop new lighter weight bodies for utility trucks.
SUEZ began replacing its vehicles last year with updated models that feature an aluminum body built by Reading Truck Body in Reading, Pa. "Reading couldn't give me an amount on how much lighter they would be, but said it would be significant," Ottogalli remembers. "When the first truck came in and we weighed it empty versus the truck it was replacing, it was 1,100 pounds lighter than the older one."
When SUEZ weighed its E350 cutaway and chassis-cab vans fully loaded with all the materials its workers require for the field, almost all of them were overweight. "Some were 11,400 pounds with a GVW of 9,600 pounds," Ottogalli says. "With the new Ford Transit cutaway with a GVW of 9,900 pounds, the heaviest came in at 9,600 pounds loaded with an average weight of 9,300 pounds."
SUEZ then went on to its F650s, partnering again with Reading to design the body type it needed. "Some of our F650s are 2006 and 2007 Fords with Caterpillar diesel engines and we wanted to get away from them because of all the problems with regeneration of the engine that are significant and cost us money," Ottogalli notes. "Ford came back out with gas engines and we went to those."
The original F650s came equipped with an Ingersoll-Rand P185 air compressor, used for jackhammering the streets, that was positioned behind the cab. In the new vehicles, SUEZ made the body of the truck longer and put a vehicle mounted air compressor under the hood. "That compressor can run two jackhammers at once, so we took out the compressor behind the cab that weighs a lot and put a small one on the engine," Ottogalli explains. "That truck empty is 3,200 pounds lighter than the old one. We weighed the truck after all the equipment and tools were installed and it weighed 232 pounds more than the old truck did empty."
Doubling its Rewards
SUEZ' new trucks have only been out in the tri-state area for a few months, so Ottogalli has yet to determine the company's return on investment. However, he believes the impact of lighter bodies in addition to the anti-idling program will be significant.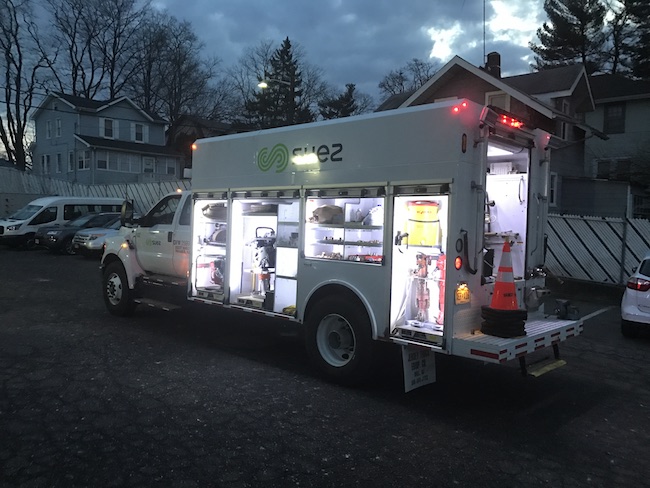 "We installed an idle shutdown system in every vehicle that is programmed to five minutes," Ottogalli explains. "In the state of New Jersey there is a three minute idle time rule on any vehicle, but we allow them five minutes because New York has a five minute idle law."
Despite implementing this program five years ago, SUEZ' New Jersey Operations says its biggest hurdle is getting drivers to abide by the rule. "The fact is that there are employees who have been here for a long time and some like to continue to do things the way they've always been done," Ottogalli admits. "When it's hot outside most people want their vehicle to be nice and cool, and when it's cold out, most people want their vehicle to be nice and warm. As a result, some employees have found ways to bypass the system."
The company started installing GPS in all of its 170 operational vehicles in 2012 to monitor idle time and has been watching its return on investment grow. SUEZ started installing the idle shut down system in any new vehicle that it received in 2016. "With just the improvements of more fuel-efficient vehicles and the idle shut down program, we have saved about 54,000 gallons of fuel up through the end of last year," he says. "I had no idea what to expect, so I figured if I save 10,000 gallons that would have been good. It's trending down, but again, how often will drivers shut their truck off?"
To get more drivers to participate in the program, SUEZ is developing company policy that will coincide with the laws of the states it operates in. "It's a matter of getting everything to fall into place," Ottogalli adds.
Safely Operating
Safety is a top priority at SUEZ and Ottogalli says safety measures are one of the company's greatest investments. Lighting was a big issue for the company when the trucks were equipped with 350- or 500-watt halogen bulbs powered by a 110 volt AC inverter.
"About three years ago, one of our workers was electrocuted," Ottogalli remembers. "He lived, but he was out of work for quite some time. We had to come up with something different so we changed the lighting to a 12-volt, low-voltage system. It's more energy-efficient and safer because you don't have to worry about 12 volts of electricity."
All of the lighting is now LED so dark streets and overnight work is much more illuminated for workers. The company also added a Webasto heater in each truck to prevent water freezing in the pumps and to keep the tool compartments from freezing. "The heating system runs off fuel in the truck and uses 10 times less gasoline than if the truck was running," Ottogalli explains.
Moving forward, SUEZ will continue to roll out the remainder of its new, lighter-weight vehicles while focusing on greater participation in its anti-idle program. "We will still have the renegades out there that like to do things how they want to," Ottogalli says. "But I look at the yearly idle report and we continue trending down on carbon emissions. That tells me that more and more employees are on board with minimizing our environmental impact."
SUEZ has been installing solar panels on all 30 of its new Transit Cutaways, F-550 and F-650 crew trucks to help keep the inverter and truck batteries charged while the truck is shut down because the equipment still needs to be operated. This will help prevent any dead battery issues.