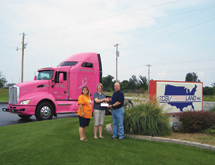 Over the past three decades, TCSI-Transland has striven to provide best-in-class service that exceeds customer expectations. TCSI-Transland focuses on offering safe, reliable and environmentally responsible transportation services.
"This company started by taking trailers off the railroad hub in Springfield in conjunction with another company that was doing the same thing in Kansas City," Chairman and CEO Mark Walker says. "We started with one tractor and grew by focusing on timeliness, consistency and following through on our promises."
TCSI-Transland specializes in full truckload and logistics services. It offers long-haul, short-haul, drayage and flatbed truck services throughout the continental United States. It has operations based in Springfield and Kansas City, Mo. Its drayage service is run out of Kansas City hubs, while its flatbed, short-haul and long-haul services stretch around the country. The company currently has a fleet of about 170 trucks with roughly 350 trailers, about 25 of which are flatbed and 16 are drayage.
"We are a family owned company that is built on dependability, safety and technology," Walker says. "Our employees keep our customers coming back to us."
As the company has grown, it has strategically added pieces to its operations based on available opportunities. As the company built the railroad side of its business, it saw the opportunity to get into regional full truckload services. It then saw the opportunity to broaden its geographic reach and add a flatbed division. It also recognized the opportunity that existed by starting a short-haul division, which allows drivers to spend more time at home.
"Dry van truckload service continues to be our bread and butter," Walker says. "Drayage is smaller today, though still important. We've been successful with our short-haul and long-haul divisions."
Although the company works with a number of different industries and customers, it has seen a lot of opportunity with consumer goods. For example, French's Mustard is produced near TCSI-Transland, and the company has been hauling product for it for years. It also does a strong amount of work with Coca-Cola and Dr. Pepper products.
There are many other strong relationships that TCSI-Transland has built over the years. O'Reilly Auto Parts, Southern Missouri Containers, Sherwin-Williams and Wabash National are just some of the companies that have come to rely on TCSI-Transland's capabilities.
"The construction, consumer goods and transportation industries make up the core of what we do," Walker says.
Fine-Tuning
TCSI-Transland continuously looks for ways to make improvements to its offerings. In the last few years, it began using TruckMate software to help improve back-office operations, as well as fleet management and dispatch operations. The company also brought in a load-planning specialist who is focused on improving forecasting and planning.
"These efforts have helped drive efficiency improvements," Walker says. "We still have a lot of opportunity to improve fleet management, dispatching and the measurement and evaluation of our work."
TCSI-Transland is in the midst of a major software upgrade to its maintenance center, which will allow it to bar-code and scan parts. That way, information on all of the work done in the maintenance center will flow into its accounting department.
"That will be a great efficiency improvement for us because it will take manual processes out of inventory control and accounting for parts," Walker says.
The company is also looking to improve its service quality so it can drive up revenue per mile. TCSI-Transland believes the better service it offers, the better price it can command.
Down the road, TCSI-Transland believes its greatest opportunities for growth lie in providing logistics and brokerage services for its best customers and developing good carrier relationships. The company feels that there is more work it can do for companies it already works with, so it will be looking to expand its existing relationships.
"We must sell to our strengths because customers respect service providers that knows themselves and their core competencies," Walker says. "When we work within our sweet spot, on-time delivery skyrockets and you are in better position to handle the unexpected."