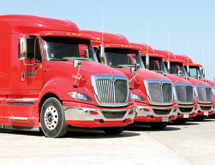 Tennant Truck Lines (TTL) Inc. understands one of the basics of the transportation business: A company only can be known for its established values if its drivers uphold them. Deciding it wanted to exhibit professionalism in all aspects of its operation and provide a consistently high level of customer service, TTL realized it must focus on developing a strong base of employees and drivers.
"We have 225 drivers, and they are all extremely qualified, well-trained and operate very safely," CEO and President Aaron Tennant says. "Our drivers project a good image of our company, and we hold them to a very high bar. In turn, they deliver a high level of customer service."
In fact, TTL was ranked as one of the 2013 Best Fleets to Drive For by CarriersEdge and the Truckload Carriers Association. The company combines its experienced workforce with a sophisticated fleet and advanced technology.Based in Colona, Ill., TTL is an open-deck carrier that serves the mid-atlantic, southeast and midwest regions with terminals in Moline, Ill.; Augusta, Ga.; and Baltimore.
TTL transports freight for long-term customers John Deere and Case New Holland, as well as Macuch Steel, McLaughlin Body Co. and Nestle Purina. The company houses more than 550 trailers, including RGNs, stepdecks, flatbeds and van trailers. Tennant is a third-generation owner and operator of the family company, and he stresses TTL is dedicated to exceeding customer requests with pride, safety and quality service.
"We really got focused on quality and safety in 2009," he says. "We focused on the image of the driver and to keep good drivers, we treat them with respect, pay them fairly and hold them accountable for their actions. We have a very strict qualification standard and provide week-long training to all the new hires that covers all the basics.
"We go above the industry norm with our focus on professionalism, driver image and giving to the community. But professionalism is not just their image, it also has to do with load security, product handling and learning about the product we haul."
Increasing Sophistication
TTL maintains a fleet of new equipment and sophisticated technology, because, Tennant says, this helps it to attract and keep customers, as well as offer a diverse list of services beyond trucking. The average age of its trucks is 14 to 15 months, and the average age of its trailers is about two years. Additionally, about a year-and-a-half ago, TTL built a new terminal at its Colona headquarters that was designed around technology, efficiency and convenience.
"I want the company to always have current assets that meet customers' specifications and are efficient," Tennant says. One of TTL's recent technology implementations was developing a workflow system that involves inventory management software.
"With this system, we can track products throughout the entire supply chain," Tennant explains. "It's a more sophisticated solution than just showing them when we have the product. The workflow system also takes out human error by taking out all of the processes and procedures that we were manually enforcing and putting them on an iPad, tablet or work station. Time stamps and online signatures keep it all on track – we don't miss anything."
He stresses that the technology and quality assets are important, but he's most proud of TTL's driver base and how they maintain the company's standards and deliver the service for which TTL is known.
"We had a safety meeting last Saturday, and I really noticed what a great group of drivers we have," he stresses. "Some drivers out there don't represent their companies as proudly or as well as they should, but our drivers are very professional and best-in-class. I couldn't be more proud of them – I would trust them to babysit my children, I trust them with anything.
"Our drivers are well-spoken, presentable and knowledgeable," he adds. "They represent us well because of the respect we give to them and the drive we've put into them to build themselves up and take pride in what they do."