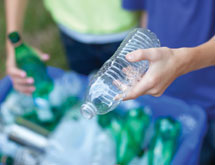 A privately held, family operated business founded in 1973, TFC Recycling has grown from its humble beginnings as Tidewater Fibre Corp. to become Virginia's largest residential curbside recycler. Today, the company says it provides recycling services for more than 700,000 households in six of Virginia's largest cities, and it has more than 4,000 commercial customers in Virginia and North Carolina.
The company is headquartered in Chesapeake, Va., and employs more than 350 people. It also serves greater Richmond from its office in Chester, Va., and it also works from another location in Newport News, Va.
Raising the Bar
TFC Recycling has striven to be a pioneer in the recycling industry. It created the first automated material recovery facility (MRF) on the East Coast and says it has revolutionized the industry through its use of single-stream recycling.
Single-stream recycling allows customers and residents to throw plastic, paper and glass recyclables into a single recycling container and doesn't require sorting. The company believes making recycling easier helps to raise overall participation rates. These kinds of investments in state-of-the art technology are part of the company's mission to bring in more recyclables and process them as efficiently as possible.
Another technology investment for TFC Recycling has been to increase the number of its trucks that operate on natural gas. In addition, the company works to find new markets for hard-to-recycle materials, including electronics and organics. The company also offers an online rewards program, Recycling Perks, which it feels encourages higher participation rates.
Essential Services
TFC Recycling has grown by establishing partnerships and agreements with local and municipal governments, as well as with public service authorities. It also provides waste solutions for hundreds of businesses across Virginia and North Carolina, and it can design recycling and waste removal program tailored to the needs of its customers.
In office settings, it provides small blue bins that can be placed next to trash receptacles. The single-stream office recycling program allows its customers' employees to throw away recyclable paper, plastic bottles, aluminum cans and glass in a single recycling bin.
In industrial settings, TFC provides compactors and different sizes of large containers for recyclable paper, plastic bottles, aluminum cans and glass. The company works to find a market for all of its customers' waste. By offering a free recycling and waste audit, it can design a business recycling and waste program for customers.
The company also provides a wide array of equipment for rent or sale for recycling and waste removal services. These include 96-gallon recycling and solid waste containers, commercial front-load containers, roll-off containers, compactors, shredders, balers and trucks.
Continuing the Journey
The company continued to make strides during the past year. One of the honors it received in 2013 was bestowed upon Hank Brown, its director of fleet operations. Brown earned the Driven to Excellence – Fleet Manager of the Year award sponsored by Waste and Recycling News. It recognizes the fleet manager who demonstrates excellence in achievement and leadership. Brown was honored for his work in raising the standards of TFC's fleet, as well as his work related to the company's efforts in compliance and compressed natural gas (CNG) development.
TFC's work in CNG was another one of its strides over the last year. In June 2013, the company opened a new CNG fueling station in Chesapeake that it uses to refuel its growing CNG truck fleet. The company also intends to open the station to the public in the future. Since purchasing its first seven CNG vehicles in 2011, the company has grown its CNG fleet to more than 20 vehicles.
In the end, TFC Recycling says it is committed to maintaining a leadership position in the collection, processing and marketing of recyclable materials and managing of solid waste in Virginia and North Carolina. It will continue to strive for the development of innovative solutions as it aims to meet or exceed the expectations of each customer.
Having built a strong history in the recycling field, TFC Recycling aims to continue to be a leader in the industry. It is open about its passion for recycling and looking for ways to turn waste into a resource. It wants to educate customers and protect the environment by providing responsible waste solutions now and into the future.