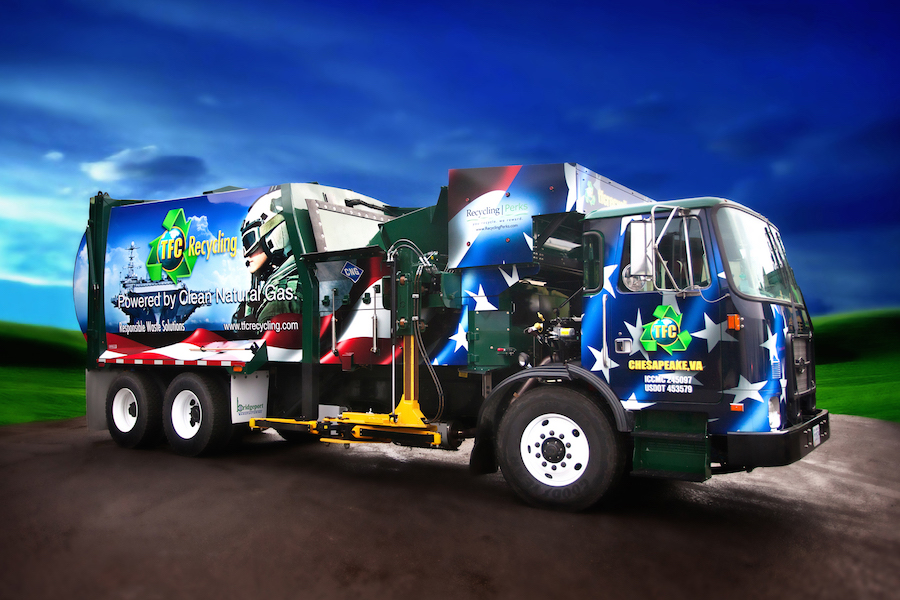 TFC Recycling keeps its fleet of recycling and trash pickup trucks running with a 24/7 maintenance department and well-trained mechanics and drivers.
By Russ Gager
Horse riders are thought to be the people with the closest relationship to their mode of transportation. But at TFC Recycling, drivers stay with the same truck for years, and mechanics work on those trucks every day. "We have a saying where we like to see the driver, the mechanic and the truck become one," Director of Fleet Operations Hank Brown says.
That saying is based on frequent experience, not just a metaphysical connection. "When you have a fleet of trucks and they stay with you for so long, you tend to know them," Brown assesrts. "You know when they need things. You hear them, how they roll down the road. A mechanic can smell if something like a brake seal is leaking before the driver feels it in his brakes. Being around the same trucks continuously, you learn the fleet, the native knowledge that comes with the guys who work here every day. That's the part that you really get in tune with, because the guys know the trucks, and the drivers communicate so well with the mechanics."
TFC Recycling provides waste solutions for more than 700,000 homes across Virginia and North Carolina and 4,000 commercial customers and construction sites. "We're the largest privately owned recycler in Virginia," Brown maintains. The company also picks up trash for some municipalities in trucks separate from those dedicated to recycling.
Each truck is driven by one person who operates an automated arm called an actuated side loader to lift and dump carts of products for recycling into the truck. TFC Recycling also uses front-loaders for large containers of recyclables and rear loaders.
The company has 152 drivers, many of whom are recruited along with mechanics from a program TFC runs in the technical schools called "Grow Your Own." Students are trained and mentored with the hope that they will be interested in and qualified for full-time employment. "The human resource vice president put the program in place, and it seems to be working rather well," Brown says.
TFC Recycling is one of the earliest proponents of single-stream recycling. Even though some countries such as Germany separate their recyclables into a multitude of separate containers, single-stream recycling – putting any recyclable product into a single bin – increases recycling rates in the United States. Plastic, metal, glass and paper are separated from each other economically by TFC Recycling using ingenious, high-speed automated methods in the plant at its headquarters in Chesapeake, Va.
Truck Renovation
An average life expectancy for one of TFC Recycling's trucks is 12 to 15 years – depending on which routes it is driven – because they do not undergo severe duty. "A lot of that is because we do a heck of a maintenance program," Brown declares. This includes daily checks through the company's safety lane and preventive maintenance every 150 to 250 hours of operation.
"Keeping communication open between the driver and a mechanic always helps through the safey lane to make sure the truck is up and safe and ready to go every day," Brown emphasizes. The safety lane is a lane in which the trucks come through when the trucks come back to the shop or TFC for the day. While in this lane, the trucks are checked for all aspects of safety including fluids, lights, tires, windshield wipers and any other safety aspect on the particular truck. "We pride ourselves on having some of the safest trucks in the area. Our DOT safety scores are much better than most of our competition. We continually beat them out by 50 percent."
TFC Recycling's trucks might pick up 900 carts per day, 21 days monthly, for 362 days a year. So every three years, each truck in the company's 174-truck fleet is totally renovated from front to back. This includes all brakes, automatic transmission and hydraulic fluids, filters, body parts, air conditioning, glass, windshields, lighting and GPS systems. "At that time, it gets another wrap or new paint job, and it will be good for a good long time," Brown declares.
The company has two maintenance facilities, one at its headquarters in Chesapeake, Va., and the other in Chester, Va. Mechanics number 28 at Chesapeake with 12 bays, and five mechanics work in Chester with six bays. Both shops have three shifts. "We're open all night long – like a 7-Eleven – and it never stops," Brown quips. Each mechanic services approximately 10 vehicles and is cross-trained on trucks that use all fuel types.
Cheaper Fuel
TFC Recycling's main business helps the environment, but so do 45 of its vehicles that are powered by compressed natural gas (CNG). "It's so affordable that you basically are missing the boat if you have return-to-base-type vehicles and you're not using CNG," Brown insists. "The savings are astronomical. It makes it hard for companies to compete against us, because we're using the cheapest fuel you possibly can, which is true domestic fuel. Our guys love it."
A metal sign posted at TFC Recycling's CNG station says, "Decreasing foreign oil dependency one truck at a time." The company reports an approximately 25 percent reduction in maintenance of CNG trucks compared with diesel ones. One reason is the elimination of diesel filters. Another is that no diesel exhaust fluid is required, and CNG trucks use substantially less motor oil than diesel trucks.
TFC Recycling in Chespeake has partnered with a company in California on the largest privately owned CNG fueling station in Virginia. Additionally, TFC receives a giveback from Virginia for having a CNG station, and the federal government
gives back 50 cents a gallon for TFC compressing its own fuel, which amounts to approximately $30,000 quarterly. TFC runs natural gas from a pipeline through five stages of compression to bring it up from approximately 100 pounds per square inch (psi) to 3,600 psi for its fuel tanks.
The company also has retrofitted some of its trucks with CNG motors for dual fuel systems. These enable drivers to switch from diesel to CNG or vice versa when their tanks of one are running low. "Often we ask them to use more CNG because it is less than half the price of diesel," Brown says.
One of TFC's suppliers is Chevron. TFC Recycling produced a commerical with Chevron to explain the benefits of Chevron's CNG oil in reference to a CNG motor. TFC has a long-standing relationship with Chevron, and the two companies work together closely on a regular basis.
Commodity Prices
Keeping costs low is necessary for a business that is dependent on prices over which it has no control. "We're commodity-based, so when the commodities are taking a beating, so is the company," Brown stresses. "That's why it's more important now than ever that we control costs and make sure we are buying right and getting the best deals we can on our tires and parts, because the recyclable prices are low right now. Prices are always a moving target, because they're not a fixed cost every month – it's always different."
Brown attributes TFC Recycling's success to its cost control and teamwork. "Teamwork has to start from up top," he emphasizes. At TFC, the standard management pyramid is inverted so information flows from the bottom up to top managers. "Information is transferred from manager to manager to make sure we have smooth-running operations, so everybody's expectations are put out and met," Brown says. "And it doesn't cost anything to tell somebody, 'Thanks for doing a great job. I appreciate what you did today.' It costs nothing, and it means so much."
www.tfcrecycling.com
Projected 2016 revenue: $60 million
Headquarters: Chesapeake, Va.
Employees: 350
Specialty: Single-stream recyling