The BST Transportation Group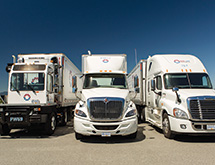 The BST Transportation Group is working to become an industry leader in specialized supply chain services by investing in equipment and developing its people. "I think the key or vision for the future is to really get a group of excellent people working with excellent customers and drivers, providing good value for the hard work that everyone does every day," Vice President Matthew May says.
The Richmond, British Columbia-based company provides supply chain services throughout British Columbia, Alberta as well as to the western United States. Its services include less-than-truckload, warehousing and distribution, regional long haul, drayage and retail delivery.
The BST Transportation Group provides solutions to many of Canada's largest retailers as well as to the Port Metro Vancouver. It is one of British Columbia's primary carriers of retail goods, food and beverage products, and raw and finished materials. The BST Transportation Group is composed of six asset-based companies: including Prowest Transport, Bayridge Transport, Rite-Line Transport, North American Logistics, Quick Transload and Quick as a Wink Cartage.
The BST Transportation Group's extensive network of transportation resources and service-oriented staff, as well as its professional drivers and operators allow BST to provide best-in-class service at competitive rates. "Customers know they can get honesty, reliability and high-quality service at a reasonable price," May says. "We are focusing on assisting our customers with more than just moving freight from A to B. We want to be a larger part of their supply chain in more ways than just delivering their freight."
Solutions People
May describes The BST Transportation Group as the "solutions people" for the industry. The goal of the company is to work towards the greater good for everyone by assisting its customers in achieving the best results in their supply chain and raising the bar.
"We are here to provide solutions," May adds. "It has a lot to do with collaboration – talking about and understanding their needs and understanding the capabilities of ourselves and others in the marketplace. We work to understand their larger goal and try to provide solutions rather than services."
The BST Transportation Group has approximately 400 employees and when hiring, the company looks for people who want to make a difference. "We want people who want to work hard and there is a lot of opportunity for them to capitalize on because we are a large company," May says. "There is ongoing development, internal promotions and a lot of opportunities amongst the group. We are focused on bringing people in and introducing them to the industry. We are not afraid of hiring people who don't come with a transportation background."
The pool of available truck drivers continues to be a challenge in the industry, but The BST Transportation Group looks to find ways to make the industry more appealing. "Drivers are very hard to find and very valuable to us," May notes. "We want to help bring the industry back and make it desirable for drivers. Everyone is trying to do this in their own way. If there was a quick and easy fix they would have found it by now."
Leading the Way
The BST Transportation Group strives to continuously improve the quality of service it provides, which helps its customers improve predictability and meet their targets. "We focus on moving cargo more efficiently and are focused on maximizing and meeting the key economic metrics," May explains.
To continue improving its service, The BST Transportation Group plans to expand its onboard technology that provides drivers and dispatchers with relevant real-time information. The company is researching systems and looking to implement within a year. "We want to see that technology become a tool to further enhance our services," May says.
Safety is a major focus and maintaining a solid safety rating is crucial for the company, which is why The BST Transportation Group strives to get better every day. To do so, it is developing a new occupational health and safety program that May boasts will rival the best in the industry. "These programs are in development and are our next focus," he adds. "We continue to invest in new equipment, practices and policies. I'm focused on having a place in the industry, being an industry leader and being someone people look up to as far as an organization."