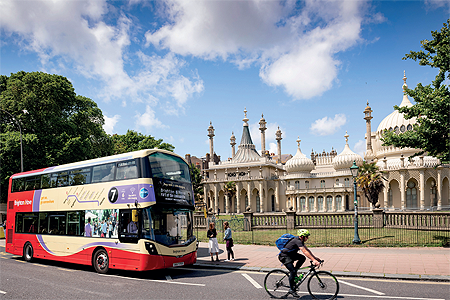 Connecting communities
In little more than three decades, The Go-Ahead Group has transformed from being a small bus operator to one of the UK's leading public transport companies
One of the UK's leading public transport providers, The Go-Ahead Group (Go-Ahead) has been helping to move and connect the UK public to their communities via its bus and rail networks since it was first formed as a result of the bus privatization process back in 1987. From its historic heartland of Tyne-and-Wear (Go-Ahead was the result of a management buyout of National Bus Company subsidiary Northern General Transport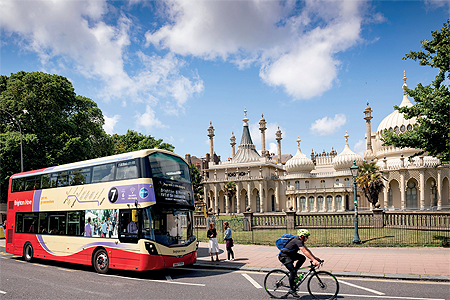 Services), the newly formed group would ultimately go on to become the largest operator of bus services in London – with around 26 per cent of the tendered market – and have a regional network that now accounts for approximately 11 per cent of UK bus services.
In addition to its bus operations, Go-Ahead's rail operation – which runs both the Southeastern and the Govia Thameslink Railway franchises – is the busiest in the UK, responsible for over 30 per cent of all train passenger journeys. Outside of the UK, the group today also has bus operations in Dublin and Singapore, and rail contracts in Norway and Germany. The result is a workforce of over 30,000 employees, and a service offering that, at the turn of 2020, was being used by around two million people per day.
Go-Ahead's Managing Director of Bus Development is Martin Dean. He is the man responsible for identifying and developing new business opportunities both in the UK and internationally. He is also the current Chairman of the bus and coach industry's trade body. The Confederation of Passenger Transport.
Having worked with a number of bus operating groups previously, Martin is well aware of how each company has its own way of working, but he is very quick to highlight what he believes to be one of the main things that sets Go-Ahead apart. "The really interesting thing about Go-Ahead's group structure is that it is one that is truly devolved," he begins. "Each of the group's operating companies have their own fully empowered Managing Directors and support teams who are tasked with making decisions at a local level. These teams dig down deep to really understand their local markets, local networks and local stakeholders. They have an in-depth knowledge of these various attributes, which goes a long way in creating a very attractive service offering that includes fares, the types of vehicle we present and the times that they run. With all of this determined at a local level, the result is invariably sustained, year-on-year passenger growth and consistently high passenger survey scores."
Green transport focus
Go-Ahead's expansion beyond the UK picked up real pace around 2012, when the Group took the decision to target international markets whose bus operations shared familiarities to those on these shores. "The markets where we have been successful to date – Singapore and Dublin – have models that are very similar to the London tendered model," Martin confirms. "The Group was awarded a contract to enter the Singapore market in September 2016, running out of the Loyang bus depot in the east of the city-state, and we have since forged a strong partnership with the local transport authority, which has led to us operating 30 public bus routes, and delivering consistently high customer satisfaction levels. A further positive by-product of our operations in Singapore is that it allows us to exchange best practices between there and the UK."
With regard to the Group's Dublin-based operations, Go-Ahead became the first private operator to be chosen by Ireland's National Transport Authority (NTA) to run state controlled bus services in September 2018. Today, it manages 30 routes overall, including 24 in Outer Dublin and five commuter routes that link the towns of Edenderry, Naas, Tullamore and Kildare with central Dublin. "We finished mobilizing completely in Dublin in early 2020, so we are about six months into full operations and are extremely pleased with how things are progressing," Martin adds.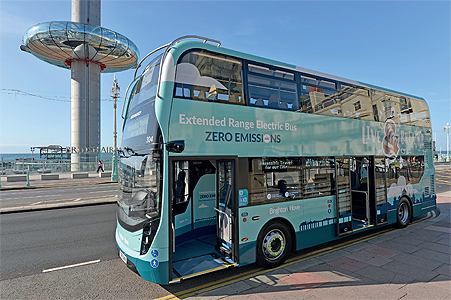 Returning to the UK, Go-Ahead also holds the distinction of being the largest operator of electric buses in the country, with over 200 and counting currently serving passengers. "One of the goals that local councils and transport authorities across the UK share today is the desire to deliver improvements in air quality by reducing emissions and as a major transport provider we want to be a vanguard in spearheading this movement," Martin enthuses. "We recognise the importance of green transport, which is why we have invested in a number of environmentally safer Euro VI engine buses. Our ambition, however, has always been to go beyond this to run fully electric buses, and vehicles that use alternative fuels.
"Today, we have a fleet of 50 BYD/Alexander Dennis Enviro200EV pure electric single deck buses operating on an intensive level every day out of our Waterloo depot. These have proven themselves to be highly robust, well performing vehicles, delivering a quieter, cleaner, zero-emission passenger experience. This has given Transport for London and local authorities around the country the confidence to take up options for more of these buses. That means in London we have now introduced several double deck electric buses, we have nine fully electric vehicles coming into service across our Go North East operation in Gateshead, and three running Park & Ride services in Salisbury."
Covid-19 response
Elsewhere, Go-Ahead has also invested in a fleet of 30 geo-fenced hybrid buses for use in Brighton & Hove, where the local council has designated an ultra-low emissions zone in the centre of the town. "We run a number of long-distance routes into and out of the heart of Brighton, so what these vehicles allow us to do is switch between running on a highly efficient, environmentally friendly 27diesel engine when outside of the low emission zone, before cutting into electrical propulsion once entering it," Martin explains. The group is also an active participant in projects that are looking into alternative fuels, for instance the EU-funded Joint Initiative for hydrogen Vehicles across Europe (JIVE) group, which is seeking to advance the commercialization of fuel cell buses.
2020 has been a year of huge upheaval for the UK's transportation sector, with the Covid-19 pandemic bringing with it a national lockdown and a sharp, sudden fall in passenger numbers. "Back in March, when the Prime Minister announced that the start of lockdown, we were effectively faced with an overnight fall in patronage of around 80-to-85 per cent," Martin states. "Looking back on this now, it is great to be able to say that all of Go-Ahead's employees and colleagues responded to this change in an extremely agile and collaborative way."
Utilizing the Government's furlough scheme to place employees on paid absence, as well as the Covid-19 Bus Services Support Grant, the group reduced its bus service levels by around 50-to-60 per cent yet managed to retain the vast majority of its network coverage. This meant that the country's key workers still had a means of travel. Greater use of online portals and social media allowed for passengers to be kept up to date on service frequency, with the group developing the 'When to Travel' app with Irish-based bus data engine City Swift. This technology has become a popular means of highlighting when a particular bus journey is likelier to be busier. Meanwhile, enhanced cleaning regimes and the adoption of safety measures such as screens for drivers, social distancing markers and a push to limit cash transactions helped people travel with confidence.
Maintaining connectivity
Since the UK emerged from lockdown, Go-Ahead has brought an increasing number 28of its drivers, maintenance staff and other employees back from furlough, and has built its service levels back up to the point where it is now at around 85 per cent of pre-Covid-19 mileage. It is now pushing that towards 100 per cent in advance of children returning to schools in early-September.
As a signatory to the Confederation of Passenger Transport's 'Moving Forward Together' bus strategy for England, Go-Ahead has every intention of playing a pivotal role in taking the bus industry forward to 2030 and beyond. "What we hope to achieve in this time period is to become a major contributor to the increased delivery of zero emission buses over the next five years," Martin says. "We also believe there to be a lot that we can do as an industry to develop multi-operator ticketing, which can also manifest itself in the form of the Mobility-as-a-Service (MaaS) concept, which involves a shift away from personally-owned modes of transportation and towards choice of mode, information and payment mechanisms all delivered with a few taps on a phone.
"One of the things we have noticed during 2020 is a renewed appreciation for buses being seen as part of active travel, and we believe that as this develops further this will go a long way towards operators like Go-Ahead being recognized as a contributor towards a healthier future for urban areas. Not forgetting rural areas, we understand the important role we perform in maintaining connectivity and we will be doing more work going forward in improving accessibility to hard to reach destinations for passengers across our network."
The Go-Ahead Group
Services: Leading public transportation provider