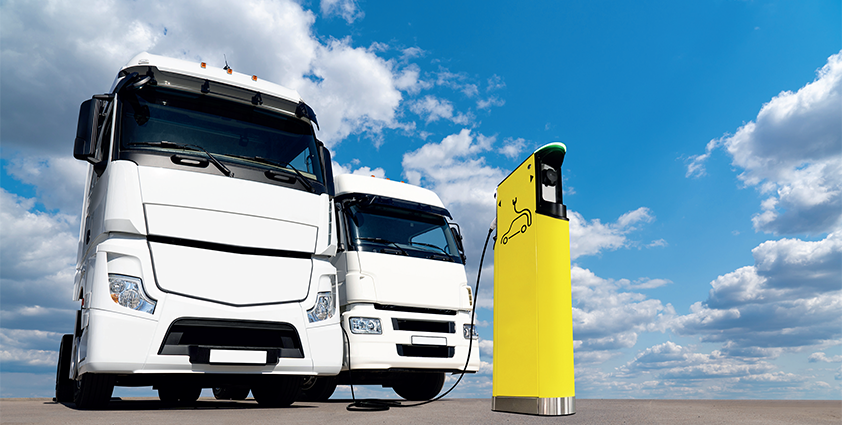 The journey to lower emissions
The worldwide rise of electric vehicles seems unstoppable, and it's not just private and company cars. We're seeing increasing interest in electric buses, vans and lorries. As the International Energy Agency has pointed out, the availability of electric heavy-duty vehicles (HDVs) is expanding in leading global markets. Truck makers such as Daimler, MAN, Renault, Scania and Volvo have indicated they see an all-electric future.
We also see a range of companies reliant on transportation going down the EV route. Logistics giant DHL recently announced plans to add 270 pure electric vans to its UK fleet. These will be used to replace diesel vans which are nearing the end of their working life. Locations that will benefit include London, Manchester, Leeds, Birmingham, Bristol, Southampton, Liverpool, Sheffield, Edinburgh and Glasgow.
DHL's parent company, Deutsche Post DHL Group, is aiming for 60 percent of its last-mile delivery fleet to be fully electric by 2030.
Meanwhile, Sainsbury's has confirmed plans to design, develop and deploy smart chargers for its electric refrigerated trailers. The trailers were first trialed last year and have now been integrated into the UK supermarket's lorry fleet. It is estimated that they will mitigate 20 tons of emissions a year.
As well as climate change concerns, there are worries over air quality in town and city centers, with many local authorities bringing in clean air zones to protect public health. These in turn put pressure on logistics firms to invest in low emissions vehicles such as EVs.
The impact of online retail
Ecommerce and globalization have brought about significant changes in recent decades, with the shift to online purchasing really ramping up in the last couple of years due to the pandemic. Vans and lorries are on the road more and more to deliver goods as quickly as possible. But this boom has consequences for the environment. Transport is responsible for around a quarter of global energy-related CO2 emissions, and more than half of all registered vehicles are owned by businesses. By 2030, it's expected that Heavy-Duty vehicles will contribute up to 41 percent of global road transport CO2 emissions.
To achieve net zero ambitions, moving away from fossil-fueled internal combustion engines and toward clean technology is essential. The future actions and decisions of the transport and logistics sector are vital for the environment and quality of life for us all.
There are some stumbling blocks that need to be cleared out of the way to enable transportation and logistics companies to embrace an all-electric future. As businesses with vehicle fleets come under increasing pressure to transition from fossil fuel to zero emission vehicles, the electrification process can seem an intimidating process at first.
Delivering the appropriate mix of charging infrastructure is crucial for fleets and local authorities should be empowered to deploy the needed charging sites locally. Fleets need reliable, rapid and ultra-rapid charging points close to their business routes to be able to 'top up' their vehicles during the working day as well as at the end of it, when most of the drivers bring their vehicle home.
I would argue that fleets looking to decarbonize should not be afraid of the cost factor. EVs have lower maintenance and servicing costs, a zero rate of Vehicle Excise Duty and are also cheaper to refuel than petrol or diesel vehicles – all of which will reduce operating costs over time.
How green is green?
Perhaps the most important consideration of shifting to EVs is where their power comes from. How environmentally friendly are those 'zero emissions' vehicles in your depot?
I hear from colleagues who help fleet operators convert to EVs that proving low-carbon credentials is becoming more and more important. Nowadays it is no longer enough to say you have EVs; you have to prove that they are powered by renewable sources, with customers ever-more savvy when it comes to sustainability.
Most consumers know 'zero emissions' is just a buzzword when the electric vehicles in question are powered by electricity from gas or coal. And then there's the wider supply chain – for example, if you are subcontracted to deliver, your client is likely to expect you to meet certain criteria. This may include demonstrating that you are committed to sustainability, or calculating your carbon footprint.
By switching your business to a fully-traceable electricity tariff, you can be sure that your vehicles are charged in a sustainable way from renewable energy generation. The way green tariffs work is by matching demand with output from renewable assets. Look to see if the tariff comes with independent verification as this will make it easy to report zero carbon emissions for electricity.
Switching to a traceable tariff can give you a competitive advantage when seeking commercial opportunities and enhance your reputation with customers and stakeholders who increasingly expect 'green' to really mean 'green'.
Choosing the right tariff
It's important to remember that EV tariffs are best suited for sites where the majority of power is required for EVs. Tariffs based on time-of-use benefits allow vehicle and fleet owners to pay less for their electricity when charging during low-demand and off-peak periods. For fleet owners, these periods will typically coincide with evenings and night-time hours when vehicles are charged.
For sites where power demand for EVs is lower, businesses can still charge their electric vehicles with renewable energy by opting for a standard green electricity tariff.
The road to net zero will have a lot of twists and turns along the way, but it's important that we make every effort to reach our destination. Fleet owners need to think ahead and keep the bigger picture in mind if they want to achieve their decarbonization goals, but it will be worth it to preserve our planet for future generations.
For a list of the sources used in this article, please contact the editor.

Kevin Welstead is EV Sector Director at SSE Energy Solutions, the customer-facing arm of the UK and Ireland's largest renewable electricity generator, FTSE 100 company SSE. With the backing of SSE's renewables business, SSE Energy Solutions provides low-carbon solutions for businesses looking to go green.
This 'one-stop-shop' enables SSE's business customers to explore a full suite of low-carbon and cost-saving offerings, from fixed-price 100 percent renewable tariffs from its own UK wind farms and hydro plants to integrated solutions that combine innovative digital tools with flexible technologies.
https://www.sseenergysolutions.co.uk/