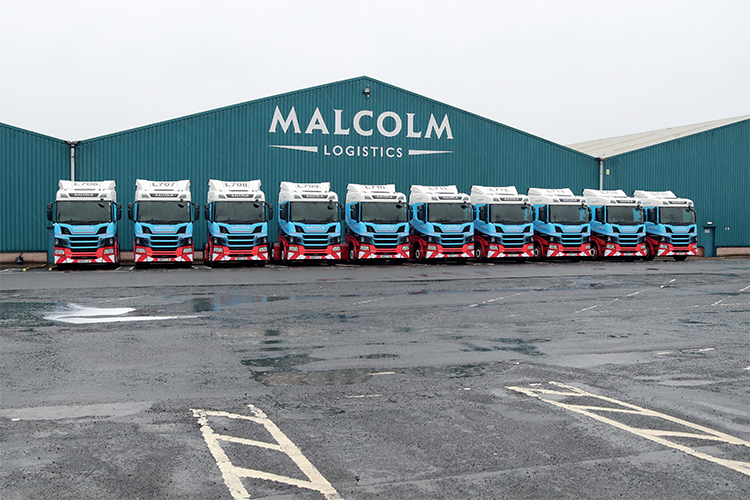 Family logistics
Celebrating its 100th year in 2022, The Malcolm Group discusses its logistics and construction journey, and how it is navigating the major challenges facing the industry today
The story of The Malcolm Group stretches back all the way to the 1920s. At that time, a small family-run enterprise, headed by a single coal merchant, began collecting coal from its nearby railway station. That coal would be transferred into individual sacks, before the company would embark on door-to-door deliveries in and around the local community.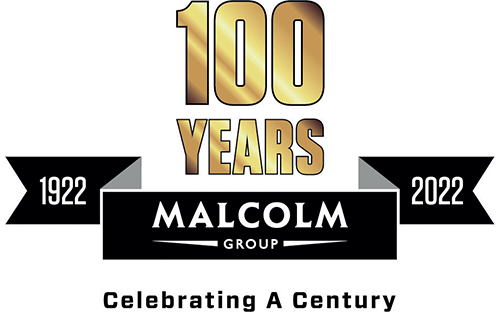 Fast-forward 100 years, and the company is scarcely recognisable. One of the UK's leading providers of Construction and Logistics services, the phenomenal growth of The Malcom Group is largely down to the hard work of one man: Donald Malcolm. Having left school aged just 13, Donald joined the family business in 1939, working full time as it steadily grew its fleet. The company acquired its official name, WH Malcolm Ltd, in 1960, prior to its acquisition by Grampian Holdings, and the beginning of a 45-year hiatus of family ownership. It was not until 2005 that The Malcolm Group PLC was brought back into the ownership of the Malcolm family by Donald's sons Andrew and Walter and has gone from strength-to-strength ever since.
Discussing the company's Logistics operations, Alan Thornton, Commercial Director at The Malcolm Group, points to the company's one-stop-shop offering, comprising logistics solutions, supply chain solutions, and rail movement. "We carry out end-to-end supply chain operations, specialising in glass movements for the drinks market," he explains. "We transport bottles from the manufacturers to the distillers or bottlers for filling, and then perform the distribution. As an organisation, we're extremely practical and hands-on."
An important milestone for The Malcolm Group came on 14th February 2001, when the company launched its rail operations from its linked warehouse in Crick, Northamptonshire. "Our rail logistics began with a single service per week, as a means to service the requests of a single customer," Alan recalls. "Today, we have two trains per day primarily servicing the big consumer retailers, with most of our movements going up to Mossend or Grangemouth, in Scotland, providing 'just in time' services to some of the UK's major retailers."
Together with its base in Crick, the company now operates from eight primary locations throughout the UK, including North Yorkshire, Yorkshire, Glasgow, and Newhouse in North Lanarkshire, home to its Logistics headquarters. With several smaller satellite locations already online, the focus for The Malcom Group is to continue expanding its warehousing capacity. "We intend to make the necessary investments to increase our capacity by around 400,000-square-feet," Alan indicates. "That's set to be applied across all our locations, but with a particular focus on Scotland.
"Owing to the impact of Covid-19, there's been a realisation across the industry as to the importance of what we term 'buffer stocks', located close to our key delivery locations," Alan continues. "However rapidly situations change, we still need to be able to provide our customers with quality service. The consequence is a move away from centralised systems of warehousing to a model of several regional hubs."
As Alan's comments suggest, the effects of the pandemic since 2020 are set to redefine the industry and logistics in the years to come. But as it pivots towards that future, the company can take confidence from a track-record of resilience. "Throughout Covid-19, the markets in which we operate remained very busy," Alan reflects. "Not only did we service the food and drinks markets, but we also executed key NHS contracts for the transportation of waste materials.
"Within our Construction division, we were hit harder," he adds. "At one point, we had 1000 people on furlough because the closure of sites and imposition of restrictions gave us no other option. Our strategy was to structure and reorganise the services we could provide. The lack of congestion on the roads contributed to an improvement in our logistics efficiency – it wasn't until 12th April 2020 that the real challenge came, as respective governments relaxed their Covid-19 legislation. Driver shortages ensued, and the retail world went mad. The volumes required gave everyone within the industry a major shock."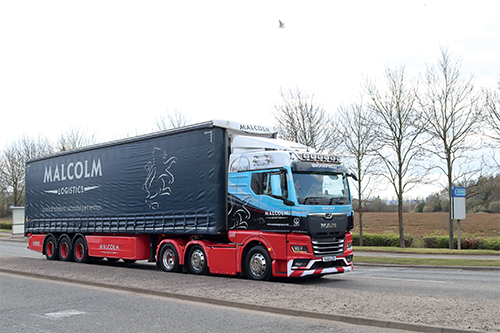 Like many businesses, safety was a key concern. "Then, and since, we've made substantial changes to how we operate," Alan insists. "Across the various elements of our business, we invested heavily in Covid-19 safety measures: screens, hand gels, cleaning apparatus. We implemented new ways of working, including social distancing, and introduced updates to our shift patterns to keep our employees as separate as possible. Those who could worked from home."
Although the pandemic itself has entered a new phase, the value of these lessons remains. "We still have our updated Covid-19 protocol in place across all our offices, and we intend to keep it that way," he confirms. "Collectively, there's been a recognition with regards to what we need to take forward. For our truck drivers, we continue to look at how we can guarantee them a safe working environment, and the same is true of our warehousing teams."
Following the tumult of the last few years, the emphasis on The Malcolm Group is now on consolidating the company's pre-existing business. "We have a unique way of looking at our situation," Alan tells us. "We concentrate on 16 key customers, with whom the business has grown organically over the years. Although new projects are ongoing, our primary aim is to analyse our efficiencies, and add value where we can to those existing relationships. It's about developing what we already have.
"Within that context, we're carrying out the improvements to our rail operations, and expanding our infrastructure," Alan explains. "Likewise, we need to consider our options when it comes to driver and vehicle resourcing. At the height of driver shortages, we had to place a cap on the number of loads we were carrying out for our customers, as did many companies across our industry. With that, it was a question of being able to react and adapt.
"Now, the cost of sourcing new vehicles and trailers is phenomenal," he continues. "We're also seeing significant obstacles when it comes to exports in the wake of Brexit, and recent developments at the ports. The cost of fuel is on the rise, as is the price of raw materials, and that's being exacerbated further by the current political situation worldwide. The challenge we're faced with is to look at the full cost avoidance and efficiencies, and to concentrate on right-sizing the business."
To help navigate these challenges, the company profits from a series of healthy relationships. "Our philosophy is to work not only for our own benefit, but for the benefit of our suppliers, our customers, and all our stakeholders," Alan notes. "Likewise, for our staff, we prioritise communication, ensuring that they're empowered to do their jobs effectively by providing them with best-in-brand when it comes to vehiclesand equipment."
It's with a similar objective in mind that The Malcolm Group looks to support andgive back to its local communities. "We do a lot of charity work, including hosting The Donald Malcolm Memorial Ball every two years," Alan points out. "The last iteration of that, held in December, raised £250,000 for cancer charities. We're also heavily involved with Transaid, with several active fundraising initiatives.
"At the Donald Malcolm Heritage Centre, built by Andrew Malcolm in memory of his father, we host a number of local schools, educating them about logistics and emphasising our own position as a community-driven organisation," Alan comments. "Our outreach isn't restricted to Scotland, it's something we do wherever we have a local presence."
Proven in its ability to respond to this shifting landscape, The Malcolm Group is also ahead of the curve when it comes to realising a more sustainable future for logistics. "We operate a very efficient fleet," Alan reveals. "Our vehicles are brand new, with Euro 6 engines, and an average age of approximately three years old, along with five years for our trailers. In each case, we make sure to specify only the highest quality. We'll soon be moving more of our vans and cars to electric, and we've already begun installing charging points across our facilities.
"Within our warehouses, we're also looking at how we can improve them from the perspective of energy efficiency," Alan adds. "That could be a matter of updating the lighting we use, or through restructuring our operations and processes. We've recently appointed an Environmental Manager whose role is dedicated to the rollout of these improvements, underlining the way in which sustainability is inherent to the business. It's something that our clients are pushing for increasingly, and we're trying to be proactive where we can.
"Moving forward, our strategy is to play to our strengths, particularly in the A50 corridor north," Alan reveals. "We are not as strong in the South, even though we have a pronominal rail terminal in Crick, Northampton. We have recently had to move out of our warehouse in Avonmouth, because there was no movement or tolerance in what we could do.
"Into 2023 and beyond, we have to look at our efficiencies, and how we take them forward," he concludes. "The world will change by then. No one knows what's going to happen in Ukraine, something that influences us, and which we'll have to keep an eye on. For our customers, their biggest problem is containers, and where the ships are going. We're hoping that those issues will resolve themselves soon."
The Malcolm Group
www.malcolmgroup.co.uk
Services: Construction and Logistics solutions