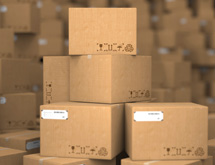 Distribution centers are big in every sense of the word, and getting bigger. Developers, retailers and investors are intensely focused on big-box distribution buildings, which encompass 250,000 to more than 500,000 square feet of floor space and have ceiling clear heights of 36 to 40 feet.
That's big from every perspective, not least of which is user demand. Since 2009, the big-box sector has consistently outperformed the rest of the industrial real estate sector, as large retailers have moved quickly to secure the best space and lock in low long-term rates. Now, as several years of a slow construction pace have thinned out large blocks of space, the big-box market is seeing fast-rising rents and heightened investor demand.
What's behind the big push toward big-boxes? An even bigger phenomenon known as omni-channel retailing. Today's consumers expect websites, mobile apps and brick-and-mortar stores to offer a seamless shopping experience and increasingly they are turning to retailers that meet these expectations.
A recent report from Accenture Interactive found that 72 percent of U.S. and U.K consumers aged 20 to 40 use mobile devices to compare prices in-store. And retailers confirm that their customers' behavior requires omni-channel fulfillment. More than 35 percent of Home Depot customers' mobile purchases and approximately two-thirds of HH Gregg's online orders are picked up at store locations, according to earnings reports issued by those firms in the past year.
Impact on Distribution
These changing consumer behaviors blur the lines between mobile, online and in-store channels. Retailers have responded by creating stations for customers to pick up merchandise bought through e-commerce channels and launching mobile app features that enable in-store shoppers to access information and discounts via their smartphones.
But integrating the various points of purchase is only half the battle. To successfully execute omni-channel marketing, retailers need to integrate their distribution methods as well. With more consumers expecting a seamless experience, retail success today requires one system for offering promotions, processing and delivering customer orders, as well as tracking buying patterns. This is where big-box distribution centers come in.
Historically, distribution to stores and individual order deliveries has been handled on separate tracks. Store-based distribution systems have become highly automated. An in-store purchase scanned by a bar code reader is automatically back-filled in the next delivery cycle, with little direct human action involved between the scan and the restocking of the shelf.
In e-commerce-oriented distribution centers, products are picked from warehouse shelves at the direction of distribution workers. Those workers may also determine the best size of the box for shipping a multiple-item order and which packing materials are needed. If the customer has ordered gift-wrapping, distribution workers handle that, too.
Combining the two types of distribution strategies into one requires a new type of product and not only in terms of size. The labor-intensive nature of direct-to-customer orders requires a building designed with workers' needs in mind, in contrast to the automation-oriented design of traditional warehouses. Big-box centers must integrate features from both sides of the house and may add some new elements:
Multiple mezzanine office levels – With two or three mezzanine levels, big-box centers allow workers to access merchandise easily. Plus, the extra office space is needed for e-commerce order packing, gift-wrapping and returns.
State-of-the-art fire protection – Higher ceiling clearance means sprinklers have more work to do. Fire protection has always been one of the main factors limiting ceiling heights, with the other factor being the stability of racking systems. Ceiling heights of 36 to 40 feet would put yesterday's fire protection systems to the test, but in recent years, new in-rack sprinkler systems increase the level of protection per square foot. The presence of more workers makes fire protection even more of a priority.
Better lighting and HVAC systems – In traditional warehouses employing just a handful of workers, precise calibration of light levels or thermal comfort has not mattered as much as an office environment. Now that big-box centers have more office-type workers, it's necessary to have heating, cooling and lighting that enables workers to be comfortable and productive.
Bigger sites – Not only are building footprints larger, but the addition of more workers means more parking. Plus, omni-channel distribution may involve separate staging and loading areas, which in turn can necessitate more space around docks for trucks to maneuver.
Greater capital investments in equipment and technology – Logistics software and hardware systems were getting more sophisticated even before the omni-channel trend took over. Integrating the various ways that orders come in and products go out requires even larger expenditures in material handling, conveyor sortation and controls, optimized racking systems, lift equipment, inventory management software and picking/packing technology.
Energy and sustainability – As the need to heat, cool and light space increases, the opportunity for energy efficiency becomes more important to control operational costs. big-box centers should invest in better insulation, efficient HVAC and other features that will save energy costs and create an appealing workplace. One new feature that is gaining popularity is the installation of prismatic skylights that capture and disperse natural light to all corners of a center, improving lighting and thermal comfort throughout the building rather than having hot spots and glare from concentrated sunlight.
Few existing distribution centers of more than a few years old are set up to accommodate the needs of an omni-channel distribution strategy. Furthermore, the distribution networks must be reconsidered to optimize the supply chain.
The process of setting up a strong omni-channel supply chain is a major undertaking for retailers, but those that fail to pursue this aspect of omni-channel marketing have little chance of success in the new world of consumer expectations. Leaders have an unprecedented opportunity to help retailers make the logistics work for this increasingly complex process. Done right, the result is a win-win for distribution and supply-chain providers, retailers and consumers.
Tripp Eskridge is a senior vice president at Jones Lang LaSalle, overseeing industrial project and development services nationally. For more information, visit www.joneslanglasalle.com.