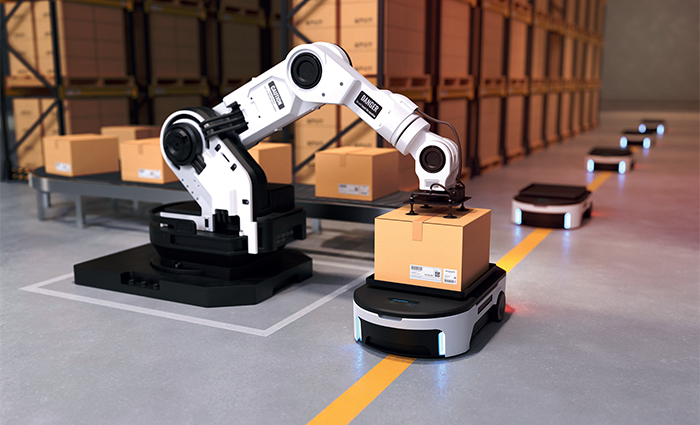 The top seven warehouse automation trends for 2023. By Ramie Smith
The global warehouse automation market has seen steady growth over the past ten years and there continues to be shifts in the market. Building upon last year's analysis, we've compiled a list of new and on-going trends warehouse automation technology vendors are likely to face in 2023:
 Labor shortages continue to drive growth in the warehouse automation market
 Supply chain issues continue to regulate growth
 The rise of robots as a servic
 A greater need for Internet of Things (IoT) and a wider mix of warehouse automation technologies
 Increased safety needs
 Doing more in smaller spaces
 Longevity of warehouse robots
Trend 1: Labor shortages continue to drive growth in the warehouse automation market
Making large investments in warehouse automation solutions has been a big hurdle to overcome, but with the labor market still tight, they offer a greater return on investment than human workers.
This greater return puts your market in a prime position to grow dramatically over the coming years. To achieve that growth, you must be able to properly scale your output to meet your customers' demands. Scalability presents its challenges, but support is available through outsourcing opportunities with companies that specialize in these highly mechanical products.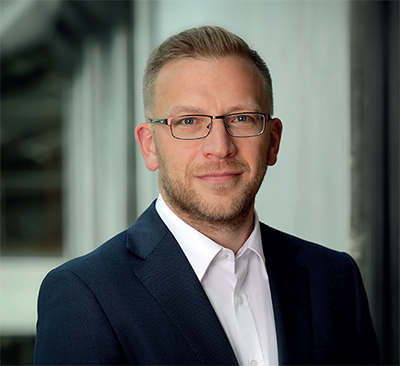 Trend 2: Supply chain issues continue to regulate growth
While supply chains continue to be an issue, a bright spot is on the horizon – the volatility in components availability is subsiding. This reprieve has brought in some much-needed predictability allowing for better forecasting. Despite this bit of relief, this trend is still a key regulator of growth for the industry.
The semiconductor industry is still leading the charge with huge demand backlogs, but realistically getting all raw materials is still an issue, and this dynamic is currently expected to continue throughout 2023. One way to mitigate the issue is to choose partnerships with companies that have well-established supply chain services as part of their offering. This key differentiator won't be a magic wand, but it will give companies insights to mitigate risks and the opportunity to develop strong relationships with multiple vendors that can be leveraged during the production process.
Trend 3: The rise of robots…as a service
With supply chains continuing to regulate the growth of the market, reducing the barrier to entry to this type of technology is a key way the industry is fighting back. If this hasn't been a direction that you've considered, it may be worth a look, especially if you need some growth to happen more quickly.
The practice of renting out robots to customers instead of using a straight sales contract isn't new to the industry, but inflation is causing potential customers to re-evaluate any new spending. Along with the cost savings, the flexibility that this option provides is attractive to new customers and lessens the burden on the end user for product upkeep. The downside to this option that many providers don't consider early enough is the logistics of needing to manage a repair and remand program.
Unfortunately, when something is rented, a user may not take quite as much care to ensure the longevity of the product compared to when they own it. Without a strong repair and remand program, keeping your customers up and running becomes a lot more difficult. When looking into this option, make sure you have a partner that can help you manage the aftermarket care required to keep this service up and running smoothly.
Trend 4: A greater need for IoT and a wider mix of warehouse automation technologies
With the increase in opportunities, a variety of technologies have been developed to complete customer projects, including:
Autonomous mobile robots (AMR)
Automated guided vehicles (AGV)
Collaborative robots or cobots
Warehouse drones
Conveyor systems
Specialized accessories for AMRs and AGVs
Each option is best suited to specific needs so if you specialize in one technology over another, you'll likely have integrate with a technology you're not familiar with. There are two options to make sure you're providing the best output for your customers:
Creating your own complete automation solutions that includes a variety of robotics solutions
Buying other solutions off-the-shelf and integrating them into your system
While both options have their benefits, they also present hurdles to overcome.
When building your own complete solutions with a variety of robotics technologies, you ensure that your system is designed to work seamlessly from start to finish. This offering is particularly attractive to your customers because it lessens the concern of incompatibility issues. But it can be difficult to provide if your company specializes in one type of automation technology over another. If you'd like to build a solution completely owned by your company, partnering with an outside firm that provides design and development services is a great option. With this industry being relatively new, it's important to make sure you look for a well-established company that has experience and expertise in this area.
Off-the-shelf options give you the ability to leverage the specialization of other companies so you don't have to split focus and design additional elements for your system. When going this route, integration into an already established system can be more difficult and with supply chains as they are, product availability can be an issue.
Whichever option you choose, the wider variety of technologies is increasing the need to make sure everything is working together at peak efficiency for your customers. The solution for this is an increase in the number of sensors on bots to provide predictive analytics and monitor for preventative maintenance. To make sure you're providing your customers with the information they need, partners are available to help you make sure their IoT needs are met.
Trend 5: Increased safety needs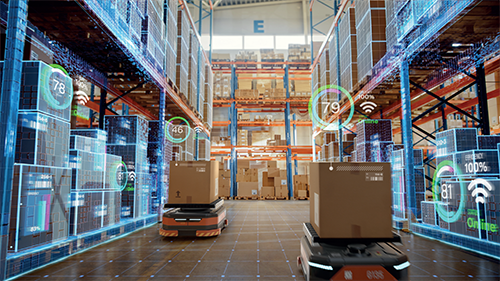 As the number of bots in a facility increases, the need for improved safety measures increases. The shifting focus to using automation to take over labor-intensive and menial tasks and supplement more meaningful work for people is one of the ways the industry is helping combat the labor shortage. This means that the days of keeping robots caged off and away from humans are coming to an end.
While OSHA and other regulatory branches around the world have been slow to develop specific standards in this area, having a robot that is safe to work around is becoming a differentiator amongst providers. The need to be near workers has increased demand for more sensors in the bots, built-in AI-driven learning and improved computer vision to ensure that collisions and other accidents don't occur when working with the unpredictable nature of humans. If history teaches us anything about regulating bodies, it's that any major injuries can lead to huge fines for the user of the equipment. So creating a robot that is built with safety in mind from the beginning can be a huge tipping point in the long run when customers are comparing your product to a competitor's offering.
Trend 6: Doing more in smaller spaces
Even with signs of economic uncertainty, warehouse space is expected to remain at a premium in the coming year, which means you still need to make every square foot count for your customers. Tighter quarters mean the technologies deployed need to have an incredibly thoughtful initial design. And when things get smaller, it often means they get more complex, which isn't something that every provider is equipped to handle.
Making the choice early on to dig into design options that prepare your solutions for working in a smaller square footage is a great way to get ahead of the competition. If in-house expertise isn't available to devote time to this trend, then outside resources are available. The best resources are ones that not only help you with initial design plans, but can help you all the way through manufacturing so that you are set up for efficiency right from the beginning.
Trend 7: Longevity of warehouse robots
Speed-to-fulfillment requirements are now a standard in warehouse automation systems, which means downtime needs to stay at a minimum. A few factors impacting this trend are better power storage, rigorous design and field testing, easily repeatable manufacturing processes and manageable aftermarket services.
It seems that all of these are obvious ways to ensure reliability, but testing inadequacies can account for a variety of failures in the field. And these don't happen due to a lack of trying, but for a lack of knowledge of all the factors that can contribute to the failures once the robots are in the field. To ensure you're in the right position to get ahead of the competition, the best way to overcome these issues is to make strategic relationships with companies where you can outsource some of this work. Those partnerships should be with companies that supplement your individual product expertise with experience in the industry as a whole to ensure that your testing finds issues before they happen in the field.
Even with extraneous amounts of testing, at some point, robots will fail in the field. Another way to ensure your robots last longer is to have a seamless aftermarket service offering so that you can keep your customers going. This too, is a great area for outsourcing, especially if you have companies that are already partnering with for the rest of your product development needs. That way, you can ensure that they have the knowledge to manage your repairs without slowing down your customers.
For a list of the sources used in this article, please contact the editor.
Ramie Smith is Senior Director Industrial, EMEA, at Plexus, where he is responsible for business development, customer account strategy and performance across the Industrial sector in EMEA. Plexus partners with companies to create the products that build a better world. A global leader that specializes in serving customers in industries with highly complex products and demanding regulatory environments, Plexus delivers customer service excellence to leading companies by providing innovative, comprehensive solutions throughout a product's lifecycle.