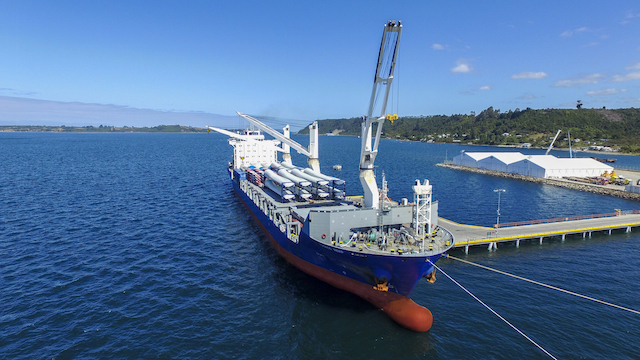 Thorco Projects has grown to provide strong support to its clients.
By Alan Dorich
After only 13 years, Thorco Projects has established itself as a leader in the shipping industry. Managing Director of USA Brent Berg credits this to the company's associates. "I can't imagine a shipping company with a staff better than ours," he says.
Its employees, he notes, treat the business as if it were their family. "It's a way of life for them," he says. "They're proud of being with Thorco Projects and they see a future with the company."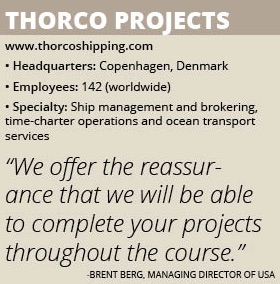 Based in Copenhagen, Denmark, the shipping company specializes in ship owning, commercial ship management, time-charter operations, ship brokering and custom transport services. Thorco Projects started operations in 2003 with four vessels in Svendborg, Denmark, under the leadership of CEO and Partner Thomas Mikkelsen.
In 2011, Berg says, the company opened its Houston office and merged with Clipper Projects in 2013. Both companies had chartering operation which together, formed one of the largest multipurpose owners and operators in the world. "We went up to 115 vessels," he says.
This September, the company formed a joint venture with United Heavy Lift (UHL), and became one brand under the name Thorco Projects, serving the project heavy lift market. "It was a synergistic opportunity for the two companies to come together," Berg says. "UHL benefits from Thorco's network of offices around the world and the market knowledge and expertise of our chartering teams worldwide.
"Thorco benefits from additional support on the technical side, with additional resources of another team of experts with an in-house naval engineer and additional port staff that is standard with the heavy lift operations," he says. "Thorco Projects is able to offer that full package to our esteemed clients. We, together, have gained a more robust support network under the same umbrella."
Rise to the Top
Berg joined Thorco Projects in 2012 after gaining extensive industry experience. A graduate of Maine Maritime Academy, he began his career at Federal Marine Terminals in Albany, N.Y., on the stevedore side. "I started at the very bottom with the hands-on aspects of shipping," he recalls.
But the experience in Albany allowed him to be introduced to all the heavy lift and cargo carriers. "After that stint, I was sick of working in the cold, so I came down to Houston and started to work as a port captain," Berg says.
When Berg joined Thorco Projects, he saw an opportunity to grow and work with several people who he had known from working with in the past. "What also made Thorco Projects appealing is that everyone's important. We can't survive without ops, and ops can't survive without charting," he says.
Thorco Projects adheres and maintains the business model of profit sharing among the team within the group and prioritizes employee retention, he adds. "Further, market conditions aside, the company is doing so well against a lot of the established carriers … out there," he adds.
This is largely due to its strong financial security and backing. "When times do get rough, we'll still be here, going forward," he says. "Unfortunately, these days with the market being so bad, a lot of gossip circulate in the market.
"We can still walk into our client's office and provide them annual reports for Thorco Projects and say, 'This is our financial security,'" he says. "We can offer that feeling that we will be able to complete your projects throughout the course."
A Great Setup
Thorco Projects' parent company, the global conglomerate Thornico, recently launched its sister company, Thorco Bulk, a dry bulk carrier. "We saw there was a need for this division," Berg says, but admits that there are some naysayers.
"A lot of people are probably laughing at the idea because the bulk market is doing the worst out of all the markets," he says. "But Thornico took the approach and said, 'Let's build Thorco Bulk and let's use our alliances out in the market.'"
The company operates as an asset-light operator within the handy/Supra segment under the leadership of Managing Directors Marc Slinger, René Mikkelsen and Uffe Hansen. "We have years of experience from the dry bulk industry, and together with a strong financial player as Thornico, we believe we have a great setup," the three said in a statement.
Thorco Projects and Bulk will operate as separate companies but positioned to find and deliver market areas for synergies. "The market boundaries are inching close together more than ever, we find ourselves within each other's segments," Thomas Mikkelsen said. "And we will, of course, collaborate closely, however, without losing focus and causing our clients to become confused about the fact that we are two separate entities."
Making Sense
Berg sees a strong future for Thorco Projects. "We've had a lot of success in a very short time, and a lot of people say, 'You grew too fast,'" he says. "[But] going forward we know that we have a staff that's able to manage, deliver, produce and take on these new challenges and opportunities."
More mergers may be in Thorco Projects' future, Berg adds. But they will depend on "what makes the most sense for us to be in the best position for our customers now and in the future," he says.