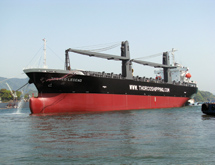 Multipurpose ships can handle a variety of cargo, such as large industrial components for oil rigs, as well as rolling stock and building materials for construction purposes which may not traditionally fit into shipping containers. It is this versatility that Thorco Shipping considers its niche – being able to load from bulk and bagged commodities to large turbines, wind power and heavy lift equipment, and even containers.
"What has helped us to make a profit year after year in such a challenging market is the added value of customer service and attention," explains Managing Director Brent Berg, who also is a partner in America with Morten Thaarup, chartering director and partner in America. "It doesn't matter who you are, it doesn't matter what type of cargo you have or how small or large a parcel is, you can call us 24/7. We are here to try our very best to help you out. Our goal is to handle your cargo with a long-standing relationship in mind, where you can expect top-of-the-line service."
Thorco Shipping's diverse fleet is another of its competitive advantages. "We have some very diversified ship types in our fleet," Berg emphasizes. "This enables us to handle all types of commodities, and we can still reach just about anywhere in the world, catering to our clients' requirements."
Fleet Feature
Last July, Clipper Projects and Thorco Shipping merged into a new company under the Thorco name, reportedly becoming the world's second-largest multipurpose and project shipping company and operator.
Thorco Shipping's fleet includes 100 multipurpose general cargo and heavy-lift tweendeck vessels with a capacity of up to 400 metric tons and capacities ranging from 5,400 to 18,000 deadweight tonnage (DWT).
The company has expanded to 15 countries worldwide to service clients in their respective areas with local knowledge and timely responses.
Thorco Shipping's clientele includes many major players from the oil and gas, renewable energy, steel, bulk and international freight-forwarding segments. The company's vessels trade worldwide, primarily within the project and break bulk cargo segment.
"We are lined up to receive five or six more multipurpose ships," Berg announces. "They really are quite unique vessels with adjustable tweendecks to accommodate the current demands for the various sized commodities that our clients are needing to transport. Meanwhile, we are also shipping bulk materials, such as wood pellets or concentrates from areas where project commodities are needed but not produced."
Moving Equipment
Rather than moving oil in tankers, Thorco Shipping's specialty is supplying offshore oil rigs. "If there is drilling going on in Australia or East Africa, we're moving all the pipe and all the supplies that the oil companies need on a daily basis to keep their operations going," Berg asserts. "We're shipping a lot of blowout preventers so they can continue offshore drilling."
When oil is found in remote areas, Thorco ships everything that is needed to complete a project. "We are contracted to bring in all the supplies to build a port," Berg explains. "Then we bring in earth-moving and construction equipment that is utilized to build the oil refinery, from structural steel to specialty equipment for building the refinery itself. So it is amazing how much starts from oil."
Technological Prowess
Thorco Shipping utilizes technological software and hardware to enhance its efficiency and expertise in managing its day-to-day business, from the booking offices to its ships on the water.
"The technical department reviews and plans ahead of time for ship operations and maintains proactive communication and planning with the vessels for the safest and quickest transit," Berg says. "For example, it is equally important to have sufficient and appropriate lashing of the cargo, as well as appropriate voyage routing based on weather conditions for a safe voyage. This is among many other factors that we, of course, have to manage responsibly."
The merger with Clipper is a sign that Thorco believes the economy is due to improve for the shipping industry.
Thorco's aggressive expansion over the past year bodes well for the shipping industry. "I believe there is a light at the end of the tunnel," Berg maintains. "We do see that potential in the future. There is still a lot of room for improvement, but definitely I feel we can compete better than we did two years ago."