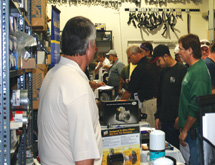 After 60 years, Tidewater Fleet Supply has emerged as a strong supplier of automotive, truck and heavy equipment to a range of customers. Based in Chesapeake, Va., the company serves clients in southeastern Virginia, northeastern North Carolina and Richmond, Va.
President Allan Parrott says Tidewater started operations in 1953 as a battery distributor and over time evolved and grew to open warehouses in Chesapeake, Richmond, Hampton, Norfolk and Virginia Beach, Va. Today, the firm's 2,400 client accounts include federal, state and local governments, as well as fleets, installers and contractors.
"They range from large to smaller fleets," Parrott says. "We also have independent installers and some car dealers and equipment rental companies we deal with."
Parrott credits Tidewater's success to its staff. Many "have been here 20-plus years and understand our business and our customers and what they need," he says, noting that this continuity enhances its services. "It's the mark of a well-managed company to be able to retain well qualified employees."
The firm also is willing to change with its market, Parrott says. While Tidewater added to its product lines over the years, "Our services have changed as well," he says. As an example, TFS added on-line ordering to its website several years ago and sales through the Internet have exceeded $1 million annually.
Adding Extra Value
During the economic downturn, Tidewater's industry became more competitive. "We've seen a lot of pricing pressure out there," Parrott says.
"That's created problems," he says, noting that Tidewater copes by emphasizing the extra values it brings to customers. These include an extensive delivery service that utilizes 34 trucks to serve clients on an hourly basis.
Additionally, "We have on-line purchasing that can be done through our website," he says. "We [also] offer a number of different technical training seminars to our customers. We try to bring value to our fleet accounts in more ways than just to provide a part."
Essential Parts
Tidewater strives to keep the parts its clients need on its shelves. "We're stocking $4.5 million worth of parts, companywide," Parrott says. "We know our customers are stocking less product. They're looking for us to provide parts on a just-in-time basis."
To ensure it has the right parts, the company works with five different manufacturers to monitor its inventory through a "vendor managed inventory" or VM1 program. "[They] set order points so we're stocking the right parts," he says.
More Responsibility
Parrott joined Tidewater 14 years ago. Previously a practicing attorney, he says his father-in-law bought the company and asked him to manage it. Parrott purchased the company in 2004.
Parrott says the most dramatic difference after his career change concerns the breadth of his management duties. "As a lawyer, I was really responsible for one other person, [my] legal secretary," he says.
At Tidewater, "I have a lot of employees that I'm responsible for. I've enjoyed the business aspects of it. I think managing a business is much more proactive than the practice of law, and I've enjoyed the planning and strategy of the business."
He praises his staff. "I'm most proud of all of our folks that come into work every day that go above and beyond the normal call of duty for our customers," he says.
Parrott predicts Tidewater will remain independent. "We remained profitable throughout the economic downturn and I believe we have a strong foundation on which to grow further," he says. "I think there's still lots of opportunities out there to grow our business. We've got great people and good locations and I am excited about our future prospects."