Tigers (USA) Global Logistics Inc.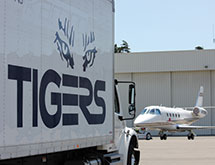 Customized supply chain solutions are what Tigers (USA) Global Logistics Inc. is all about. Privately owned by Jumbo Glory Ltd. and GeoPost S.A., Tigers is a global logistics and transportation company that specializes in supply chain solutions, e-fulfillment and transportation by land, air and sea. Tigers uses its logistics expertise, global network and customer-focused culture to provide a differentiated experience.
"We came together in 2012 with the merger of Kamino Logistics Group and WLG," President of the Americas Sebastian Tschackert says.
Tigers is truly a global company, as it has a physical footprint that extends from Hong Kong, China, Australia, India, Malaysia, Taiwan and South Africa to the U.K., the Netherlands, Germany, Switzerland, the United States and Russia. It offers many services to the marketplace, including contract logistics, e-fulfillment and freight management, and government and defense logistics.
Changing Needs
The company can offer large, regional and national solutions from its dedicated hubs based on customer needs, and it can devise smaller-scale solutions through its global network of shared-user facilities. In all of its operations, Tigers strives to create end-to-end solutions for its customers. Its goal is to implement cost-effective solutions and on-time delivery even when faced with the most complex logistics requirements.
"The bulk of our business is international freight-forwarding, and we are seeing an increasing share of e-fulfillment and contracting," Tschackert says. "The B2C trend will continue to reshape the industry. We have 10 fulfillment centers in the U.S. and many more around the world, all helping with B2C."
Tigers also serves many verticals, including outdoor and active lifestyle, sporting goods and fitness, healthcare, technology, fashion, wines and perishables, automotive and aerospace.
Given that much of the company's business is done with retail organizations, it is no surprise that the B2C trend is having a large impact in operations. Tschackert says the top concerns coming from its retail customers revolve around adapting to the B2C trend.
"Our focus is on customers you won't find on Amazon, customers that want to protect their brand integrity," Tschackert says. "We can provide solutions from the origin of the product to the doorstep of the customer and back, if needed."
Tschackert says freight-forwarding service is essentially more of a commodity now. Tigers must be able to go beyond its traditional core. It may still be moving freight, but it also needs to be an information provider.
On the Move
Tigers continues to invest in ways to improve its operations. Tschackert says people are its No. 1 asset because Tigers strives to be an asset-light company. He says Tigers must attract the right talent and provide ongoing education for the company to continue to grow.
In addition, the company continues to invest in its fulfillment centers to distinguish the company as a full-service provider, rather than just a warehousing company. Tigers recently announced it had selected Kewill's supply chain execution software to manage its multi-site warehouse operations.
As a global company, Tigers must be aware of changes on a geographic scale. Tschackert says the company has made acquisitions in South Africa, Australia and Miami to build its footprint. It also invested in a major fulfillment center just outside of Shanghai.
"China is now the world's largest B2C market, and many companies have stopped expanding brick and mortar stores in China," Tschackert says. "The expectation of the Chinese consumer is to be able to place orders online and through mobile devices."
Other changes Tigers is adapting to include the movement of manufacturing away from China and back to North America, and the changing food chain. As the company continues to evolve, building on its freight-forwarding and logistics backbone and expanding B2C operations, it will focus on quality, asset utilization and people.
"We have a quality program extending throughout the company," Tschackert says. "We are improving use of IT systems and fulfillment centers, and we are investing in our people."