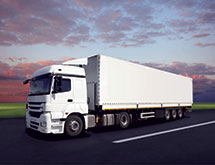 Waxahachie, Texas, is a small but growing town and home to a number of small but growing businesses, one of those businesses being Timco Logistics. Based in the quickly growing city just south of Dallas, Timco Logistics has grown into a family oriented and customer- and employee-focused company. Operating by the motto, "a partner you can count on," the company's founder and owner Tim Balch started the company based on the philosophy that expectations aren't to be met, but to be exceeded.
"Timco has assembled an awesome team of drivers and a very dedicated and supportive staff," the company says. "We are driven to maintain exceptional leadership and values which enable us to offer reliable service while keeping our commitment to our customers, staff, public safety, social responsibility and our financial stability."
Two in One
Timco is committed to the highest level of service in each area of its operation. The trucking division serves the whole United States, with the southern half of the United States as its primary market and the northern half as its secondary market. Whether a customer requires dry vans, refrigerated trailers, flatbeds or tankers, Timco is ready with a range of solutions to fulfill deliveries safely on time. The company operates terminals in Texas and Alabama and uses private as well as contract fleet.
"To become the best at what we do, we must have loyal employees, safe drivers and quality systems in place," the company says. "Timco will provide unsurpassed customer service and work diligently and honestly to enhance our reputation for providing very reliable, safe and consistent transportation services."
Timco's warehouse operations include a 155,000-square-foot food-grade warehouse with 18 dock doors and rail service in Elk Grove Village, Ill., a 200,000-square-foot food-grade warehouse with 32 dock doors in Dallas, and 560,000 square feet of warehouse space with 56 dock doors in Meridian, Miss. Timco's facilities are fitted with a variety of material-handling equipment and automated lines to offer value-added fulfillment services such as assembly, bagging and sealing, cartoning, collating, converting, gluing, kitting, barcoding, labeling, packaging, POP display assembly, shrink wrapping, weighing, rework and inspection, and packaging design.
"We have flexible and innovative solutions providing the greatest value to our customers," the company says. "Our team concept involves a commitment to ensuring displays and products are shipped and delivered on time and in good condition. Timco is cost-effective, and delivers error-free service in all our offerings."
Experience On Board
Between its trucking services and warehouse and distribution department, Timco is a full-service logistics services company. Balch started the company in 2001 with more than 30 years of experience in transportation and knowledge of full-service warehousing and distribution behind him. His expertise is backed by the company's president, Mike Sisneros, who has more than 35 years of experience in the transportation industry, and Timco's Vice President and Director of Safety Steve Perry, who joined Timco in 2010 with more than 22 years of experience in the transportation industry.
The leadership team also includes Todd Nance, vice president of operations, who brings more than 24 years of transportation and logistics experience to Timco. With more than a century of industry experience among them, Balch, Sisneros, Perry and Nance are well aware of what their customers need to stay competitive.
"Timco Logistics provides a service that enables manufacturers, wholesalers and retailers to gain competitive advantages through optimal transportation management," the company says. "We offer results-oriented services that help shippers improve their safety, service and financial performance."