Navigating rough seas in the refit market. By Nick Warren
Adaptability is going to be key for the refit market in the coming months and years. Conditions are challenging to varying degrees across all sectors in Europe, North America and most of the world.
Currently, the lockdown and subsequent economic downturn, are having an obviously negative impact on operators' and owners' budgets generally. Although non-passenger centric tonnage has remained fairly consistent, the ferry and cruise companies are in some cases at breaking point.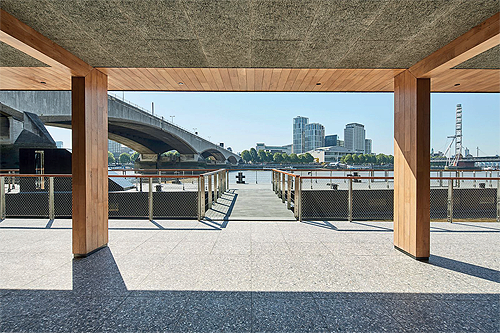 It's good news that Class and Flag bodies are now back at work and attending vessels – but it's bad news that 99 per cent of operators have seen, one way or another, a decline in their income and a reduction in their balance sheets.
Having said that, commercial marine can be described as 'okay'. Tugs, dredgers, coasters, port and harbors have remained busy but the passenger ferry market is very, very tough.
Defense, including other state backed organizations like UK Border Force and Trinity House, has largely remained unaffected; it's been business as usual. The Superyacht space has seen a definitive downturn with the lockdown lifting just a little too late for the usual Mediterranean charter summer season.
Clearly, the biggest disaster is Cruise. Operators are selling or scrapping tonnage, bringing forward vessel retirements, reducing fleet sizes and making significant redundancies. Looking long-term, as the market recovers cruise operators may well prove to more profitable and better streamlined. But at the moment there seems to be little movement with operators undertaking the minimal amount of work to ensure their assets stay in-Class and operational.
We might see a 'peak' in works as ships return to service and sailing schedules 4increase but it is not showing yet. Either way it is safe to hypothesize that any return to service will be accompanying by limited refit budgets and reduced repair and maintenance schedules.
Astute marine engineers and refit specialists may see a new opportunity here for outfit teams. Furthermore, I believe that as cruise ships return to service there may be additional cabin capacity onboard to enable riding squads to better work remotely. All of the PR messages emerging from the sector seems to dictate they'll be 'match fit' and well financed so it's definitely one to watch and stay close to.
The hottest topic as tonnage reactivates is probably that of refit specifications. Parking the aforementioned budgetary issues, the content of the work package is the next major challenge.
In line with budgetary restraints, demand for more efficient solutions is increasing too Some operators and owners are intent on doing the bare minimum of works to ensure that statutory certification is adhered too and that their assets remain operational; the 'nice to haves' have all been dumped.
Restricted budgets are certainly one of the most pressing issues facing the refit market, and will remain so. Owners and operators will still be reeling from prolonged periods of low or, in some cases, zero income as we emerge from the pandemic. The real 'cash' challenge generated by laying up vessels cannot be underestimated.
Generally, for the refit market, we're not seeing any international differentials. It is seemingly tough all round. It is definitely more of a challenge to create a Covid-secure environment ship-side than shore-side. Space is often limited; and often work sites are very short-term/dynamic. Customers are taking this challenge seriously and so too are we. Toolbox talks, improved hygiene, flexible working practices and improved risk awareness can all help operators to continue to support client bases.
There are opportunities, but not many. Those firms which adapt will fare best. This may involve providing new services or recalibrating existing services while taking into account new norms of social distancing and hygiene.
As a business, we've undertaken bio-fogging with increased cleansing of machinery and passenger spaces. We have worked double shifts and back shifts to help vessels remain in service. Our biggest 'win' has been our availability and our flexibility – we've worked tremendously hard to let our customers know that we're still here, we're open for business, and we're flexible.
'Mobile' solutions are proving popular; less time in dock more time on the run is a growing trend. This type of solution is being driven by the customer across all trades and all sectors. Outfit and engineering in particular are in demand. This is another example where business can be won or developed by adapting to changing market conditions.
The advantage of being an Island Nation is that we'll always need ships and shipping and whilst the immediate future is a challenge the reality is that markets, routes and operators will recover. We believe we'll be 'best placed' to support our customers as they recover, and we look forward to doing so. We've already re-sized our business and we're thinking medium to longer-term with our pessimistic opinion of the short-term hopefully over egged.
I am very optimistic about the future for our business and the refit market in Europe and North America. Why? Because that's my job and this is our business. We're well diversified and we will get through these challenging times.
CASE STUDY: Woods Silver Fleet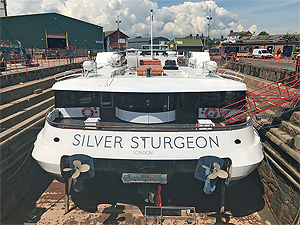 The SMS Group continued operating during the lockdown with clients including Woods Silver Fleet.
SMS refitted Woods' Silver Sturgeon river yacht at its Lowestoft dry dock before returning the vessel to the Thames to continue its charters, corporate events and cruises.
The firm also made the prestigious new Woods Quay venue at its facility in Southampton for installation on the Thames in central London. Woods Quay recently hosted the launch of the newly rebranded Uber Boat by Thames Clippers.
Thames Clippers vessels are built by The SMS Group's sister company The Wight Shipyard in Cowes.
Nick Warren is SMS Group's Commercial Director. The SMS Group Ltd was established in 2004 and is the UK's premier marine engineering services provider. It specializes in ship/work boat building, vessel repair, marine engineering and major fabrication projects in the Commercial Marine, Defense, Cruise and Superyachts sectors.
The firm recently relocated to Western Docks in Southampton, Hampshire, and has facilities in Avonmouth, Devonport, Dover, Lowestoft, Poole, Portsmouth and Shoreham as well as Palma in Spain.
www.sms-marine.co.uk