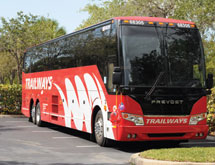 Trailways Inc. got its start in 1936 when five independent bus companies came together to become more competitive in the U.S. motorcoach market. Since then, the company has built a strong brand of 88 independently owned carriers that work together to operate more than 2,500 luxury-styled motorcoaches and serve more than 1,000 destinations in the United States, as well as in Germany and the Netherlands. President and CEO Gale Ellsworth explains the company's well-known brandname is the result of top-quality customer service and vehicles, as well as a dedication to superior safety.
"Safety is something we mandate," she stresses. "Any carrier that is with us goes through a severe safety audit every 16 months. We also have independent audits with the Department of Defense [DOD], because that is the only way the government will allow us to transport members of the military. Each of our members is DOD-certified. If a carrier falls below a No. 1 ranking on their certification after an audit, they go on probation for 12 months to allow them to cover the deficiencies."
Ellsworth explains that it is rare for a carrier to have a bus accident with fatalities, but when and if it happens, it's often that the bus is either operating illegally, or because drivers are driving more hours than legally permitted.
"Trailways does all it can to minimize accidents with our safety mandates and DOT and DOD standards," she adds.
Ongoing Teamwork
Safety is just part of the high level of customer service that Trailways strives to provide to all customers. Offering passenger transport and tourism services through its companies' motorcoaches, mini buses, shuttle vans, limousines, school buses and other vehicle styles, Trailways believes it's important that customers of any of its services have positive experiences with the company. To ensure this, Trailways puts much focus on driver training.
"This brand is 77 years old, but if one of our companies is affiliated with a negative incident, it can impact the entire brand," Ellsworth says. "We focus on training so much because drivers have such a huge responsibility – they are responsible for all of their passengers. We want our drivers to be safe, defensive, conscientious and they also have to have public relations skills. We refer to our drivers as ground pilots, in that they are just as important as pilots of airplanes, but our drivers do not have a support crew; they are responsible for service on their own."
Trailways uses a proprietary GPS system that allows it to monitor all of its vehicles throughout the United States, but there are also systems on board that help drivers monitor the engines, tires and other aspects of the buses. Additionally, Trailways has equipped its coaches with wifi and other features to enhance the customer experience.
"We do all we can to ensure our coaches operate safely, efficiently and effectively," Ellsworth says. "We keep our vehicles well maintained and do our best to keep our customers happy by adding new technology. We always want to have the latest features to serve the coaches and customers."
She adds that by working together, Trailways' carriers are able to deliver quality customer experiences while maintaining the strength of the brand and being successful on their own.
"We are very team-oriented," she says. "Our carriers think of themselves as independent business owners, but the entire team is an extension of their own company. They are sister companies, and it's similar to a hotel chain. Our carriers may have started as single entities, but together, they helped to build the Trailways brand and grow the name through teamwork. Our success shows there is strength in numbers."