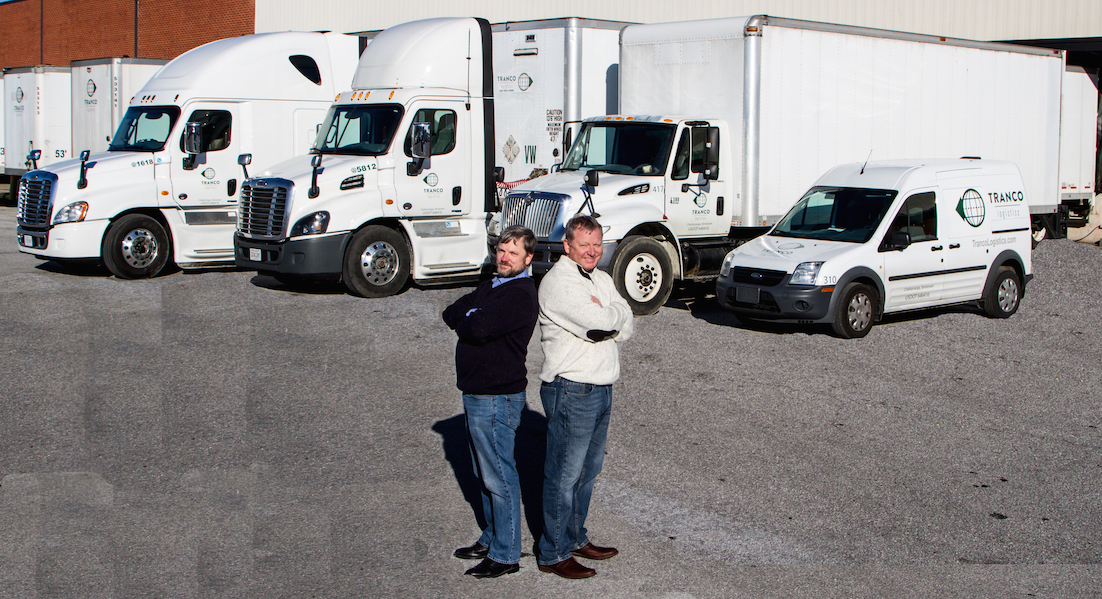 Expanding capabilities and facilities along with a cultural commitment to customer service are fueling the growth of Tranco Logistics.
By Eric Slack
Based in Chattanooga, Tenn., Tranco Logistics is a full service 3PL company offering transportation, 3PL warehousing, distribution supply chain management and real estate services to businesses of all types. The company has grown its presence thanks to its commitment to customer service and best practices that help its clients to succeed.
Founded by twin brothers Bruce Trantham and Byron Trantham, Tranco was built by a family with a legacy in the transportation business. That expertise has been put to good use as Tranco has evolved and expanded its services to meet customer needs. Tranco wants to help its clients grow by being as valuable as possible to them, aiming to build long-term relationships.
"We've been in business for 21 years as of this October," CEO Bruce Trantham says. "We grew up in the transportation business, and Tranco has grown from a grassroots, bootstrap start-up with a small 5,000-square-foot warehouse and a single pickup truck. We've focused on steady growth, and we've been buying property since 2008. We now have about 1 million square feet of warehouse space at five different locations in Chattanooga, as well as about 110 trucks and 300 trailers."
Full Services
Tranco can fulfill its clients' transportation needs by offering reduced cost through its quantity buying power, and it can also provide customers with a dedicated fleet. Its transportation services can be provided from a one-time delivery to an everyday service, and it can provide customers with logistics engineering support for their current fleets.
As for freight management, Tranco understands how to make sure loads are moved efficiently from place to place. The company can provide exceptional service and competitive rates. It assumes payments to carriers and handles any issues that may arise with carriers. Tranco makes sure loads arrive on time, as it understands that customers can't afford errors or delays.
In the warehousing sphere, Tranco has the space to serve, and its dedicated warehousing workforce makes sure products are managed efficiently and cost effectively. It can also provide cross-dock services, customized supply chain solutions, security, JIT plant support and more.
Tranco works with clients in many different industries. The automotive vertical is one of the most significant markets, as Volkswagen built a plant in the Chattanooga area in the last 10 years, which Trantham says has been great for the region. Other big markets include carpeting, appliances, paper, chemical and serving e-commerce companies. For every customer, Tranco understands the importance of following through on its promises.
"Many companies talk about service, but we are truly service oriented," Trantham says. "Our mentality has always been to do whatever it takes."
Indeed, Tranco is constantly seeking to learn. The company trains its people and looks to stay on the cutting edge of best practices so it can offer the best solutions to clients' supply chains. One of the ways it has been expanding its solutions has been building its brokerage services.
"That helps clients and ourselves, as you can never have enough assets on your own," Trantham says. "Having our own assets along with brokerage services is key. We are always looking to make sure we are improving: working on new transportation management systems, warehouse management systems, and helping customers with improved communication and real-time information on trucks, loads and materials in the warehouse."
Ongoing Expansion
Over the next five years, Tranco remains committed to growth. It plans to spread out in the south and move out of the region to have facilities in other parts of the country. "Right now, we are working on plans to open up another office," Trantham says. "We just opened one in Nashville, and we are opening agencies and offices around the country. Additionally, we are looking to buy and lease more space to expand our warehousing capacity."
Other investments have focused on expanding assets and improving technology. Tranco recently put a lot of resources into new software, and Trantham says evolving safety regulations will continue to drive software investment.
"We are also investing into our people because we strive to have a low level of turnover when compared to the competition," Trantham says. "We know there is a driver shortage and that will be an ongoing issue, but we believe that having good recruiters and HR staff, paying drivers well and giving them incentives helps to make sure that we have less turnover."
Over the course of many years in business, Tranco has always believed that once it gets a customer, its robust customer service level would help the company to keep that customer. This is still what drives Tranco every day, getting out and servicing the customer the right way. That is how Tranco believes it has built its business, and that is how the company plans to continue building its business.
"There are a lot of growth opportunities, and our biggest obstacle isn't whether or not we can grow," Trantham says. "The challenge is determining how to grow. There are a lot of opportunities, and we are pursuing them to the best of our ability. We are lucky and have been blessed to get good opportunities, and we work hard to achieve our goals. Chattanooga is a transportation hub with a lot of competition in our area for transportation, warehousing and brokerage services. We've seen many competitors come and go, and we've been able to persevere and succeed because of our quality."
www.trancologistics.com
Headquarters: Chattanooga, Tenn.
Employees: 160
Specialty: Transportation, warehousing and freight management, including JIT plant support