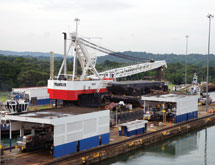 Traylor Bros. Inc. has built its reputation in the construction industry as a company that will take on complex, innovative and challenging projects that other firms shy away from. "We service a niche market," Vice President Thad Pirtle says. "We do work that most of the time no one wants to touch because it's so challenging. We do work under cities, on live rail lines and on bridges over major rivers."
The Evansville, Ind.- based company was founded in 1946 by William Traylor, a civil engineer and inspector for the city of Evansville. By 1956, Traylor had bridged the Ohio River and bored his first mile of tunnel. Careful attention to methods, equipment and design of special equipment and excavation support schemes was Traylor's personal focus. Today, the company is under the leadership of the third generation of Traylors – Co-Presidents Christopher and Michael Traylor.
Traylor is divided into three operating divisions: national heavy civil, underground and mining. The heavy civil division provides comprehensive, cutting-edge heavy civil construction services. Traylor has completed more than 135 complex bridge construction and rehabilitation projects across the nation, as well as piers, wharfs, transit terminals, locks and dams. Its underground division is focused on constructing tunnel projects in North America by using state-of-the-art technology to complete projects in soft ground to hard rock. Tunneling methods include mixed shield/slurry, earth pressure balance, and hard rock tunnel boring. Mining is the company's newest division and focuses on shaft, decline, underground development and facilities construction from conception to completion.
Traylor operates a vast inventory of heavy-duty, cutting-edge equipment that is operated and maintained by highly trained mechanics, operators and welders. The company maintains four permanent equipment yards in Indiana, California, Texas and Kentucky, and creates temporary yards based on project demands.
Building Pathways
Traylor is part of a joint venture to build the 3.1-mile twin-span cable-stayed Tappan Zee Bridge in New York. The $3.1 billion project is the largest bridge construction project in the state's history, Marketing Director Ashlea Mitchell says. "We have mobilized an incredible amount – more than 200 pieces – of our equipment to the job," she adds. "We had one of our biggest cranes modified and upgraded, and shipped to New York through the Panama Canal."
The Thomas W crane, as it was renamed in honor of the company's co-presidents' late father and former chairman, is 225 feet long, 78 feet wide, outfitted with a 400 T Whirley with a 245-foot boom and weighted with three smaller flat deck barges. Traylor's crane departed from Long Beach, Calif., in August 2013 and arrived in New York after a 52-day journey. The Tappan Zee Bridge is estimated to be completed in 2018.
In Louisiana, Traylor is part of a different joint venture to complete the final piece of improvements to the levy system post-Katrina. "The construction must take into account expected rising levels of the water due to global warming," Mitchell explains. "We have done a lot of work in New Orleans since Katrina helping out the U.S. Army Corps of Engineers."
Operating Safely
Because Traylor specializes in high-risk construction projects, safety training is vital. The company works closely with OSHA, Mine Safety and Health Administration and the Coast Guard to provide training courses and review safety issues. "We are a very strong-minded company towards safety," Pirtle notes. "Construction is looked at as not the safest place to work and we want to change that."
Traylor ensures it maintains a safe culture by conducting weekly safety calls with equipment personnel, performing manlift and crane inspections, tracking equipment deficiencies, continuous training, enforcing a new hire buddy system and holding annual meetings on safety initiatives. Heavy civil construction requires the use of a crane for nearly every process. "We are a very crane-intensive company because every piece of equipment and material goes over a crane hook to go to or from the project," Pirtle adds. To ensure its personnel is operating cranes safely and correctly, Traylor requires its engineers and equipment operators to attend training by the National Commission for the Certification of Crane Operators.
Equipment manufacturers also play a significant role by hosting quality and safety training classes on their equipment for Traylor personnel. "We rely heavily on manufacturers because we want our people to be safe in the field," Pirtle notes. Because of this, the company is selective in choosing its partners and has a number of preferred suppliers, such as John Deere, who are able to provide equipment and services anywhere in the United States. "We need suppliers that can provide products and services to us throughout our geographic footprint," Pirtle explains.
Traylor is a key sponsor in the upcoming Construction Industry Safety Initiative group's Safety Week 2014. "This group of 12 contractors gathers a few times per year to set industry standards and keep things moving forward and moving safely," Mitchell says. From May 5 to 9, Traylor will be holding safety talks with its crew and offering additional educational opportunities. "I am a big proponent of safety, productivity and quality," Pirtle adds. "Our goal is 100 percent uptime and zero safety incidents. That's where we want to be."