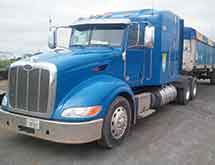 Hauling hazardous waste is not an easy job, but Triad Transport Inc. is up to the challenge, President and CEO John Titsworth says. "Our employees are dedicated to trying to give the best service that we can, which is an important part of what we do," he says.
Based in McAlester, Okla., Triad operates with a full fleet of trucking equipment, including dry vans, roll-offs, end dumps, flat beds and tanks. Titsworth co-founded the company in 1985 with his wife, Gwen, her brother and sister-in-law Davey and Mary Wilkett, and another partner who later sold his share.
In Triad's early years, Gwen Titsworth and Mary Wilkett managed the company's finances as it transported rock, sand, gravel and bulk material for manufacturing clients. After it was approached about hauling waste, the company obtained the permits and established relationships with clients it still serves today, including Veolia, Clean Harbors, Rineco Chemical Industries Inc. and US Ecology Inc.
Eighty-seven percent of Triad's work consists of hazardous waste transport, which sets it apart from competitors, John Titsworth explains.
With eight terminals, "We can serve the central United States, Midwest and the South in areas where disposal sites and waste producers are," he says. "We also have a couple satellite areas where we have employees that maintain equipment and deliver loads.
"We're the only waste transporter that covers [most of] the United States," he continues, noting that the company enjoyed sales of more than $37 million last year.
Changing With the Times
Triad is celebrating its 30th anniversary this year, and Titsworth credits its ongoing success to the quality and talents of the company's staff.
"It gives you satisfaction to have employees that are dedicated to doing a good job and the complete tasks and services that we offer to our clients," he says.
But the business has changed for Triad over the years, he adds. Like others, it has adapted to changes in the criteria regarding hours of service and driver physicals. "We're constantly having to monitor those things, because those are constant issues," he says.
Transportation costs also impact the company. "Of course, fuel has the biggest fluctuation," he says. "The fuel surcharge is [driven] up or down by the price of fuel."
The company also has implemented new technology, including onboard computers linked into its ERP system. "It allows us to [better] know where our equipment is and communicate with our drivers," Titsworth says.
Giving Its Best
Triad plans for continued success. "We're just trying to give our customers the best service that we can, because the economic climate is pretty good right now," Titsworth says.
Although the company would like to grow, the shortage of drivers in the industry makes it difficult, he admits. "Because of that, we haven't been able to expand in the last five years," he says. "It's a shrinking market of drivers." He notes that the company is coping by looking at relay loads and keeping drivers in regions more.