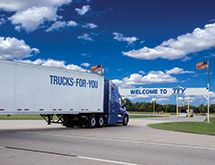 Like most transportation companies, Trucks For You is finding it difficult to attract and retain qualified drivers. The company approaches this challenge by not only offering competitive pay and benefits, but also by offering its drivers an opportunity that many of its industry peers do not.
"We want to provide something more for our drivers," says Jay Calavan, executive vice president of the Muskogee, Okla.-based truckload freight carrier. "We want them to have the opportunity to become owner/operators if that's something they want to do."
The company offers drivers a lease purchase program that offers them the opportunity to eventually hold title on their own truck instead of just leasing the vehicle. More than 100 of the company's employees have been able to purchase their truck and go on to partner with Trucks For You as independent owner/operators.
"I think that what's truly different about us is a family oriented atmosphere that is inviting and encouraging to our drivers; they truly have a chance to succeed here," he adds. "We have a wall of photos of our drivers holding the keys and title to their own truck – it's a big day for drivers, and gives them a real sense of accomplishment."
The program is paying off in terms of employee loyalty, as the company reports a turnover rate of less than 50 percent.
A Wide Reach
Founded in 1984 by Calavan's father-in-law, Trucks For You today offers transportation services to clients including Whirlpool and Georgia Pacific. In addition to hauling appliances and paper products, the company also carries building and manufacturing materials and other types of dry goods. The company owns 215 trucks and 780 dry van trailers, and transports more than 26,000 full truckloads annually.
The company is one of Whirlpool's largest truckload carriers in North America. The appliance manufacturer is Trucks For You's largest client. "We do cross-border shipping for them, and their plants in the United States and Mexico fall in line with how our network operates," Calavan says.
Trucks For You operates terminals in Laredo and El Paso, Texas, a sales office in Monterrey, Mexico, and a drop yard in Atlanta, all of which are located conveniently near to Whirlpool facilities.
The company primarily serves clients in Oklahoma, Texas, Georgia and the southeastern United States, but also serves New Mexico, Illinois, Iowa, Wisconsin and Indiana.
The Right Size
At one point in its history, the company owned nearly 700 trucks, but was forced to scale back and right-size its operations after changes in the markets it served. Trucks For You has since learned its lesson when it comes to capital expenditures and geographic reach.
"We believe in growing organically so we can provide the best service possible," Calavan adds. "People all the time ask us if we can go to Portland, Ore., but we tell them we can't, because we don't know it that well and won't do a good job going there, but we do know how to do a good job going to Atlanta or Chicago. What I tell new drivers when they come in is, 'If you want to go to the West Coast, you need to buy a plane ticket.'"