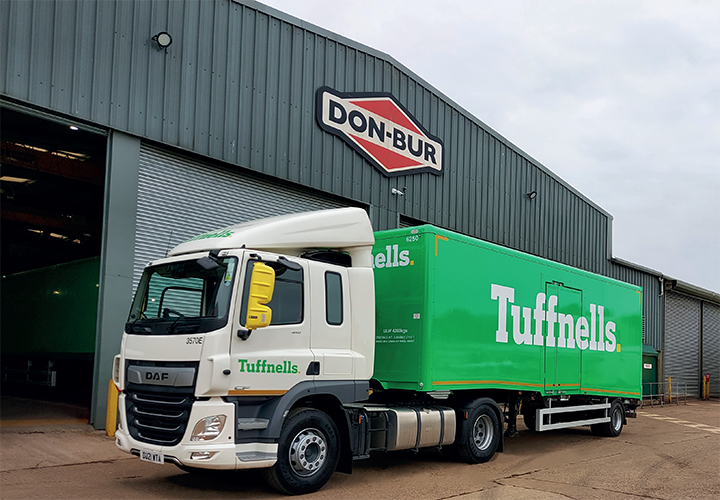 Tuffnells Parcels Express Ltd
A clear path to success
A year and a half on from its sale, and now spearheaded by a new leadership team, Tuffnells finds itself travelling along an exciting route towards the future
It was back in April 2020 that Connect Group formally announced that it had agreed a deal to sell its logistics business, Tuffnells, for £15 million. The deal would see Tuffnells' acquisition by Palm Bidco, and over the next few months, a remarkable turnaround.
For those uninitiated with the business, with over 100 years' experience, Tuffnells is the market leading specialist in the transportation of items of irregular dimensions and weight (IDW), trusted to collect and deliver on behalf of over 4000 small and medium sized enterprises across the UK. Supported by a network of 33 depots and more than 2000 colleagues nationwide, Tuffnells makes around 45,000 daily drops, and offers a range of timed deliveries for predominantly business customers. Tuffnells also offers European and Global services to the rest of the world,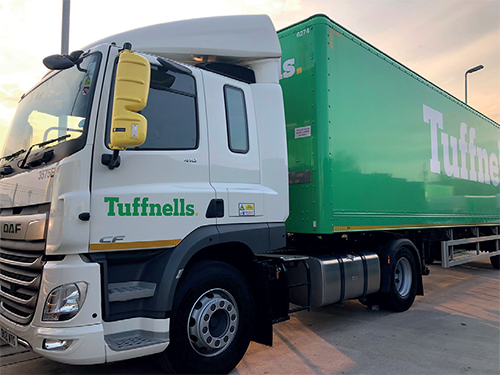 providing a complete range of distribution solutions in the IDW sector.
Catching up with Chris Tresadern, Tuffnells' Chief Executive Officer, in October 2021, he begins by detailing some of the events that have shaped the months since Tuffnells' return to independent ownership. "The story of Tuffnells since May 2020 is of a business undergoing a remarkable turnaround following a significant loss-making period under prior ownership – a feat we believe to be unprecedented within our industry. As a result, this is a business that is now very much on a clear path towards an exciting future."
Of course, this period has coincided with the Covid-19 pandemic. "There is no doubt that the pandemic has changed the industry as a whole in a number of unexpected ways, some of which have been temporary, with others potentially more permanent, as society and the wider economy has had to adapt," Chris states. "Our society's reliance on the Transport & Logistics industry throughout the pandemic required businesses such as ours to continue operating, both safely and sustainably. The safety of our teams, therefore, has been of the highest importance.
"Tuffnells is a predominantly B2B carrier, so one of the most significant changes for us was the increase in demand for home deliveries. As the economy has reopened, B2C demand has reduced, though it is still much higher than before the pandemic. This has required us to make longer term changes to ensure our operation is flexible and able to adapt to the existing and future needs of our customers."
Early on in the pandemic, the company also played an important part in supporting the roll out of the UK's network of emergency Nightingale Hospitals, set up to cope with a surge of Covid-19 cases. "We were tasked with the delivery of essential components required to manufacture ventilators, and other infrastructure critical to the operation of these hospitals," Chris says. "There is truly no greater obligation and privilege than to ensure those in need receive life-saving help, and we were extremely proud that a number of our team members went on to be rightly recognised by the industry for their response."
The men and women who make up Tuffnells' workforce are clearly fundamental to its success, and as such a core part of the company's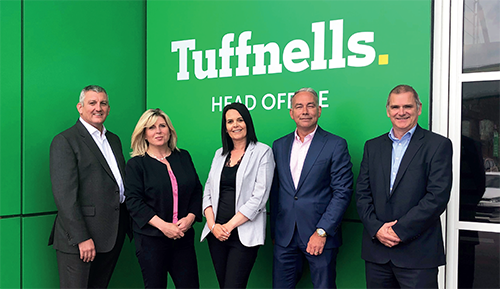 strategy revolves around ensuring that it remains a great place to work for everyone. "One of the areas that we have focused on in recent times is providing clear ways for our team members to progress within the business," Chris highlights. "To that end, our 'Green Shoots' culture and engagement initiative helps us to provide comprehensive training and development programs, while our new Training Academy creates a career progression path for our drivers to embark upon."
As a responsible business, Tuffnells is also committed to operating in a way that meets the current needs of its customers, without sacrificing the ability of future generations to meet the needs of their time. This pledge to conduct its operations in an environmental and sustainable manner is a fundamental part of its ongoing strategy.
An example of this being put into action is demonstrated by the upgrade of Tuffnells' fleet with more environmentally friendly vehicles in order to help reduce its carbon footprint. "We are now well over a year into a significant fleet upgrade programme, which is providing our operation with newer efficiency standards and the latest technology to enable better route optimisation, helping us to reduce mileage throughout our network," Chris explains. "We are also adapting many of the routes currently served by larger HGVs to instead be operated by more environmentally-friendly 7.5-ton Euro 6 trucks.
"What has become increasingly clear to us is that sectors of the industry are starting to see a shift towards electric and alternatively fueled vehicles, which will no doubt grow significantly over the next few years. As technology allows, we are committed to assessing and adapting our fleet to reduce our carbon footprint."
What will also undoubtedly play a key role in ensuring the company meets its long-term targets is the fact that
Tuffnells is by no means a stranger to introducing innovative industry firsts to market. In February 2021, for instance, it was announced that the company had partnered with Don-Bur to develop a new, innovative, easy-access 'Mini-Wedge' trailer for urban use. "This new concept achieves increased efficiency in areas usually served by our larger 18-tonne vehicles by providing higher degrees of maneuverability and maximising the utilisation of tractor units for daytime distribution," Chris enthuses.
Despite its small stature – it measures nine meters in length – the 'Mini-Wedge' trailer design is able to carry an impressive 13,000-kilogram payload, which is far more than is afforded by a typical mid-weight rigid vehicle. It also comes fitted with a host of safety features, such as additional lighting and specialised load restraint to cater for irregular dimension and weight freight and diminishing loads, and has recently won an industry Clean Air award.
"In addition to the 'Mini-Wedge', we are also now trialling a new eSprinter electric vehicle, which I feel is another clear signal of our direction as a company," Chris continues. "This, combined with a continuous focus on route optimisation, ongoing work with our partners on sustainable practices, plus the next phase of our roll out plan for more fuel-efficient vehicles, provides the basis of our current strategy, which we will continue to build on as technology enables more innovative opportunities."
Turning our attention to what the coming years hold for Tuffnells, Chris provides us with the concluding insights. "We have a fresh new leadership team in place here today who are responsible for building on the achievements of our turnaround year," he says. "Personally, I can't think of a better team to take us forward into our next phase, which is to consolidate our position as the number one IDW carrier in the UK.
"Together, we will deliver a strong and healthy future for Tuffnells, offering the best service for our customers and ensuring that this remains a great place to work."
Tuffnells Parcels Express Ltd (Tuffnells)
www.tuffnells.co.uk
Services: Mixed freight distribution