United States Cold Storage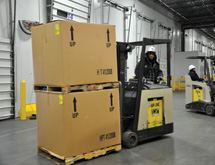 If there is anything people want in their meals, it is assurance that the food they are about to consume is safe to eat. United States Cold Storage (USCS) is an important part of that equation, having provided refrigerated storage services to the food industry for more than 120 years.
Voorhees, N.J.-based USCS is a refrigerated warehouse operator with 34 facilities in 12 states and a staff of more than 1,800. The company started operations in 1889 and, today, it operates as a wholly owned subsidiary of The Swire Group, based in London.
USCS primarily serves temperature-controlled food manufacturers, ranging from "companies that everybody knows like Unilever, ConAgra, Kellogg's, Butterball and Kraft to all the way down to new business ventures that are launching an innovative product," Director of Transportation and Logistics Keith Mowery says. "[We also serve] those that are just starting out."
USCS distinguishes itself from competitors through the strength of its services, Director of Corporate Development Mickey Hoffman says. "Our warehouses are state-of-the-art facilities with energy-efficient designs," he says, noting that this green focus stretches from its refrigeration systems to its lighting systems.
Elements of Success
USCS has enjoyed more than 45 percent annual growth since 2005, Hoffman says. "We're pretty happy with that," he says, noting that the majority of the growth was due to customer demand and appreciation of its services.
Hoffman praises the hard work of USCS's staff. "It's not easy to work in a freezer eight hours a day," he admits. "Our warehouse staff gets the customer serviced and they're proud of what they do."
He also credits USCS's logistics technology, including a warehouse management system that allows the company to react quickly to clients. But this is nothing new, as it has "always had a proprietary system as far back as I can remember," Hoffman says.
"We're actually right now beginning the process of doing a full enhancement of that system," he says. Although USCS considered buying a pre-made system, it decided that enhancing and upgrading its own would have the smallest disruption to its operations.
"We may outsource the programming, but the design and implementation is done internally," he says. The whole process is expected to take four years from design to implementation.
Supply Chain Setups
Although USCS's primary business is warehousing, its transportation and logistics programs have gained a larger share of the business and work as a selling point to get customers in its warehouses, Mowery says. "We're becoming more sophisticated in using technology and software to help provide solutions to our customers about their supply chain setup," he says.
For instance, the company continuously updates its own transportation management system and recently bought the Mojo optimizer engine from Mercury Gate. Both will help USCS "move cost-effective loads," he says.
Last year, USCS also introduced a mobile website where carriers can update their delivery status through their iPhones, BlackBerries or Android devices. "We can get that information to our customers [quickly]," he says.
"We think there's going to be more opportunity to expand on the use of smart phone technology," he says.
"We're also always going to be looking at ways to improve our back-end office support with carrier payment and customer billing."
USCS also has invested in technology to go paperless. "[We want to] retain all the information electronically, and make it easier and quicker for customers," Mowery says. "We have invested in scanning software that will allow carriers to upload documents through a carrier portal for automated scanning and indexing."
Staying Comfortable
The food industry experienced a downturn in recent years, which was felt by USCS. "In 2009, inventory levels dropped with the recession," Hoffman says, but adds that the industry has come back.
USCS is experiencing more customer demand, which it strives to meet without extending itself too far. "You don't want to build a bunch of non-committed space, then have the recession come back," he says.
Instead, USCS is trying to maintain a comfortable level of space in its warehouses as it serves customers' needs. Hoffman adds that the company also is seeing a change in order size.
"Historically, customers had fewer SKUs and ordered full pallets," he recalls. But now, USCS is seeing a significant increase in SKU count and more order selection, which required it to ramp up labor at many of its locations.
USCS plans for substantial growth in the next three years, Hoffman says. "We're expanding our Lake City, Fla., facility," he says, adding that the company is in negotiations to purchase two sites in Pennsylvania and will expand its facility in Fresno, Calif.
Mowery expects the company to grow on the logistics side. "I see us offering more services than we have had historically," he says, noting that it now is a three-party logistics (3PL) organization. "We really think there's a lot of opportunity to grow our 3PL business in the next couple of years."