Axel Schmidt explains how technology can be rapidly introduced to augment day to day worker experience and transform productivity while remaining compliant with social distancing guidelines
The speed of evolution within artificial intelligence and automation is exciting, yet for companies seeking rapid improvements in productivity, the ROI model is just not adding up. From the time and cost associated with automation to the constraints of very simplistic areas of application, full automation is not always an option.
Look closely at any warehouse environment, however, and there are very significant opportunities to augment the performance of the existing human workforce. While processes have been optimized in recent years there are still many aspects of worker activity that are less than optimal. From the physical challenges associated with juggling scanning devices while lifting items, especially at height, to the time wasted walking back to static work stations to input information and receive the next task, there are very significant opportunities to enhance the worker experience, and hence performance.
Furthermore, the Coronavirus pandemic has created a surge in ecommerce with many organizations operating within this space struggling to cope with an unforeseen labor shortage. This surging demand had them hiring huge numbers of additional frontline workers, with Amazon announcing a further 75,000 extra job openings to cope with demand.
Understanding Automation Reality
Warehouse efficiency has never been more important; yet with the continued labor shortages, it has never been more challenging. With the need to improve both productivity and accuracy businesses are understandably intrigued by the promise of automation. However, while the concept of lights out operations that can run 24×7, 8365 days a year is compelling, the reality is somewhat different.
Full automation is not achievable today for a variety of reasons. Firstly, it is incredibly complex. There is no simple switch for an efficient, completely automated environment. It takes time and money to train machines to perform required tasks – and few organizations have the skills to create the deep learning structure required. Given the speed of innovation within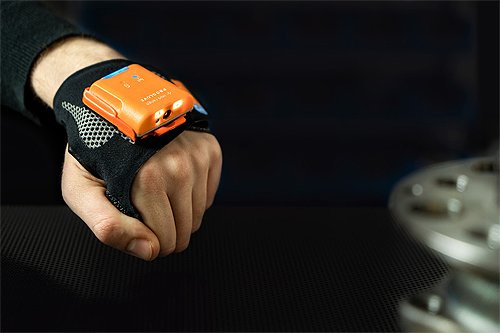 many product cycles, time becomes a factor. If an item is only in production for a few weeks, even one season, there is not enough time to either train the technology to automate the process or, critically, achieve a return on investment.
Strengthening with technology
As businesses continue to operate in uncertainty created by the Coronavirus pandemic, it's crucial for them to deploy initiatives that encourage social distancing. The objective is to prevent employees reverting back to old habits that could endanger them. Technology such as an app linked to a wearable device that can send a combination of acoustic, haptic, and in visual signals, every time the employee crosses a set threshold can underpin these initiatives.
The speed at which businesses are able to onboard new workers is essential when it comes to resolving a labor shortage. Technology such as wearable augmented reality devices can be a valuable tool as it can provide a perfect training ground for workers to master their job much faster while adhering to the government guidelines.
Keeping the workforce healthy and performing well requires the right equipment, including protective clothing and tools that enable workers to perform their roles safely and efficiently. Wearable technology such as barcode scanners can cut process times in half and provide instant feedback to workers which can help reduce typical picking errors by as much as 33 percent. Ensuring accuracy is key to cost saving as it can prevent expensive processes such as product returns, or time-consuming delays due to erroneous parts being removed from products.
So how can you appropriately prepare for a new virus wave or another potential global pandemic? Flexibility is the key to being able to do more with the same space. You need to be able to build, move and redesign workstations quickly, and then allocate workers flexibly in between. Deploying IT and training friendly technology in the warehouse and inventory almost overnight.
Empowering the human
Human beings are at the heart of the supply chain, although often the first association we make with supply chains is machinery, software, buildings, and transportation. But it is human skill that operates them, human ingenuity that manages them, and human shortcomings that identify the potential for substantial improvements. Greater enhancements can't be made by eliminating the human aspects. Instead, organizations may be better off strengthening and empowering the human worker with technology.
The current challenges and vulnerabilities for global supply chains have been brought to light by the Coronavirus, so there is now an opportunity to reconsider the status quo in order to learn from the mistakes and safeguard supply chains into the future. Removing complexity and promoting flexibility with the support of technology is a good place to begin.
Axel Schmidt is Senior Communications Manager at ProGlove. ProGlove builds the lightest, smallest and toughest barcode scanners in the world, connecting the workforce to actionable information. The smarter workforce solutions from the German headquartered company are used by more than 500 renowned organizations in manufacturing, production, logistics and retail. ProGlove was founded in December 2014 after winning the Intel 'Make it Wearable' Challenge in Silicon Valley and is backed by growth focused investors Summit Partners, DICP and Bayern Capital.
www.proglove.com