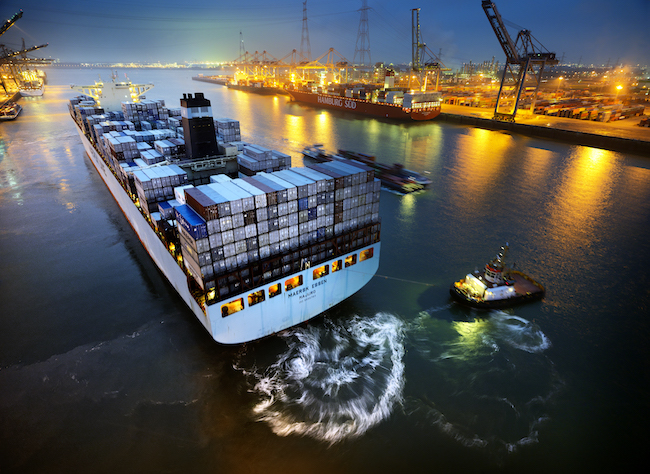 (Image Courtesy of Flanders Investment & Trade)
Three factors can help you pinpoint the sweet spot in distribution.
By Claire Tillekaerts
The popularity of e-commerce is skyrocketing. Consumers and companies are buying globally and expect delivery to be better and faster than ever. In response, logistics players are upping the ante to gain footholds in different parts of the world.
This growth trajectory is built on great ambitions – from reaching key markets in the best and fastest way possible to minimizing operating costs and maximizing profitability. Pinpointing this sweet spot hasn't become easier. In spite of this fact, I've had the pleasure of seeing numerous businesses thrive in terms of international distribution. I believe they are able to strike this ideal balance by centering their approach around a central location, intermodal transport and a supportive community.
Analyze a Central Location
Picking a central location is more complex than simply planting your distribution center near your customers, consumers and delivery points. To get the most bang for your buck, you'll also have to minimize transportation between manufacturing location and storage facility, and ensure smooth connections with nearby carrier facilities. In trying to solve the riddle, you'll find yourself contacting various economic representatives and going through heaps of market insights from your targeted regions.
When it comes to Flanders — the northern region of Belgium, with Brussels as its capital — years of experience have made me deeply aware of how important these insights are for investors. To give just a few examples: 60 percent of Europe's purchasing power is situated within just over 300 miles around Flanders. Within less than 500 miles, you'll reach 227 million consumers and surf the wave of 75 percent of the EU's gross national product. And despite its small area of 5,200 square miles, Flanders contains more than 800 European distribution centers — the highest density on the continent.
Scout for Intermodal Transport Possibilities
Statistics like these will help you put together a shortlist, but identifying a central location is only scratching the surface. The potential to organize multi- and intermodal transport also has become crucial to success.
High-capacity international airports and seaports are necessary to source your goods efficiently; waterways are required to haul them to your distribution center; railroads and highways need to be densely interconnected to get your goods to their final destinations. But most importantly, you'll need all of that packed in a relatively small area around your logistics hub to ensure prompt deliveries.
In that respect, I've seen American multinationals take full advantage of Flanders' logistics infrastructure. The region's multi- and intermodal strength is why sportswear juggernaut Nike is expanding its local logistics space in Flanders — already 350,000 square yards in size — by building a sixth warehouse. It's also why, last year, package delivery giant UPS funneled $4 million into a new distribution center at the nearby Port of Antwerp, which offers a variety of multimodal opportunities.
I am confident that these companies' choice of Flanders is well thought out. After all, the region's road and railroad networks rank No. 1 globally in terms of density per square mile. Its river and canal networks are also among the world's densest. And — despite being a relatively small region — it's home to three international airports and four leading seaports that connect businesses with every corner of the world.
Map Out The Local Community
Success comes at a price, though. The more international companies discover a region's advantages in terms of logistics, transportation and distribution, the higher the demand on its infrastructure and capacity. Tackling these challenges is where the local community comes in. Before deciding on a region, you'll also need to scrutinize the available workforce, the innovation ecosystem for both the logistics sector and the industries you're serving, pertinent tax incentives and so on.
Take workforce. In Flanders, labor productivity reached an output of $69 per hour worked in 2015 — claiming fourth place worldwide and leveling out the employment costs of labor-intensive sectors like the distribution industry. Flanders' education system ranks in the global top five, endowing local workers with the necessary skills to handle novel and complex supply chain technologies. And the region's tax and labor system offers the versatility distribution players seek, in the form of flexible scheduling and options for shift and night work in e-commerce, for instance.
Make sure you gain a thorough understanding of a region's innovation strengths as well. Look for novel initiatives that drive digitization, accessibility, sustainability and an omni-channel approach in logistics, to give just a few examples. In Flanders, these initiatives are propelled by the government's cluster policy. Its new Spearhead Cluster for Logistics — a multidisciplinary collaboration led by Flanders' Institute for Logistics (VIL) — ties together the logistics expertise of research centers and industry players in various sectors, from food to pharma.
In short, the main question is: How will the community embrace my operations and help me achieve my goals? Add your answer to the benefits of a central and intermodal location in light of the "buy it online today, receive it tomorrow" trend, and it becomes clear: virtual may be the new normal in commerce, but the physical location of a company's distribution center(s) has never been more crucial to its success.
Claire Tillekaerts has been CEO at Flanders Investment & Trade (FIT) since 2012. As the investment and promotion agency of the government of Flanders, FIT assists foreign companies in sourcing from the region and helps them set up or expand their operations in Flanders.