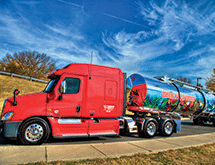 Usher Transport Inc. has been delivering petroleum since 1946 and has remained successful by customizing its deliveries to meet the needs of its customer base.
"We have always concentrated on what our customers' needs are," President Bill Usher says. "Our goal is to make our customers' job easier."
Usher's grandfather Harlan Usher founded the Louisville, Ky.-based company with a handshake deal that secured its first petroleum delivery account. The company is still family owned and operated, and specializes in the safe transport of oxidizers, poisons, corrosives, dry bulk, diesel fuel, bulk oils, gasoline, solvents and aviation fuels for its customers.
Its 200-unit fleet is comprised of company-owned and owner/operator tractors. Usher Transport mainly delivers short- and mid-range loads in a 500-mile radius, but will deliver across the country, and into Canada and Mexico if customers require that.
"We bring a higher level of service by dedicating certain drivers to certain accounts," Usher says. "We work with individual customers and tailor our services to meet their needs. Usher Transport's only product is service."
Depleted Pool
The biggest challenge for Usher Transport continues to be the lack of qualified drivers in the industry. To try and secure the most qualified drivers it can, the company has transitioned its sales force to focus only on recruiting and has streamlined its hiring process from three to four weeks down to one week.
Usher Transport's hiring process has also become fully automated so drivers can apply online and a background check can be performed instantly without Usher Transport having to make any calls. "We used to not hire very many drivers, maybe two or three per month," Usher recalls. "Now we look to hire 14 to 15 per month because of the shortage." To get new drivers out on the road quicker, the company has condensed its three-day orientation down to one day while training can last from one day to three weeks – depending on the driver's previous experience.
Because of the products Usher Transport hauls, safety is its top-priority. All drivers are required to have a Class A CDL, be tank and hazmat certified, have two years of driving experience and less than two violations in a period of three years. To ensure its drivers are safe and compliant with federal mandates, the company will monitor driver behavior in each of its trucks with an onboard electronic log.
"Starting in late September 2014, we will use the data from the electronic logs for truck maintenance and safety," Usher says. The logs report various driving behaviors, including hours of service, the speed of the truck versus the posted speed limit and whether the driver uses the panic stop.
The lack of available drivers in the industry has forced the company to not only alter its operations, but prepare for an increase in salaries. "Without enough drivers in the marketplace, drivers' wages are bound to almost double," Usher predicts. "They will be in the $50,000 to $90,000 range."
Silver Lining
Despite the many challenges the driver shortage has caused Usher Transport, it has also allowed the company to be more selective in its customers. "I don't want to haul for everyone and we can't haul for everyone," Usher says. "We select the customers that can bring the most to us and us the most to them."
As a mature company, Usher Transport does not see its services changing much, but plans to continue focusing on ways to deliver exceptional customer service, Usher says. "We are service-oriented above all else," he adds.