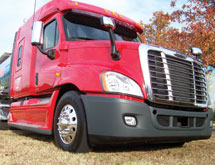 Despite the challenges of operating a trucking company with ever-escalating fuel and materials prices and driver shortages, safety is foremost at Usher Transport Inc. "Our safety department will run two to three times as many checks as the scale and the federal and state people do," President Bill Usher Jr. maintains. "We check our equipment three times more often than it is checked by the authorities, not for weight, for CSA violations – lights, logs, tires, brakes, hazmat. We do level 1 inspections on every truck."
Compliance Safety Accountability (CSA) is a federal program instituted nationwide in 2010 designed to improve commercial truck and bus safety by inspecting these vehicles for safety violations. "A year before CSA went into effect, we were already using it," Usher declares. "We post every driver's CSA score weekly at every terminal. So if a guy gets a writeup in Ohio, that will be posted throughout the company at every terminal. If a guy gets zero defects, that is posted. If a guy has a spill, that is posted. So everybody knows what is going on. We keep our own CSA scores on everybody."
Usher Transport Inc. – a family owned and operated business headquartered in Louisville, Ky. – owns more than 300 tank trailers – many of which are rubber-lined and composite acid tanks – and transports petroleum, general chemicals, corrosives, oxidizers, dry bulk and flammable chemicals. It also owns approximately 70 tractors and contracts with more than 200 owner-operators on long-term leases.
The company is primarily a short-haul carrier that operates out of six terminals from Atlanta to Canton, Ohio. "Each terminal acts as its own revenue hub," Usher points out. "We don't depend on backhauls. Our specialty is service. Our goal is not to be the cheapest carrier in the market – our goal is to be the carrier that provides the best service in the market. Not all customers want that, but some do, and the ones that do will pay a premium for it."
Know Your Customer
Usher says his company has many competitors. "Most of them either haul petroleum or chemicals, but there's not very many that do both," Usher maintains. "Most don't do it the way we do it. Most of them work backhauls and work with really large customers like Dow and DuPont. We do some business with them, but on a much smaller scale."
Primarily a contract carrier, Usher Transport tries to assign the same driver to a customer if it is possible. "If you want to see the same guy delivering the product – he knows what you need and where to put it – it makes your life a lot easier," Usher notes. "We try to meet those needs on a load-by-load basis. It costs a little more to do that. It costs more on our part and takes more attention and extra phone calls."
Usher Transport provides informal logistics expertise for its customers. "We try to learn the customer's business better than he knows it," Usher explains. "In many cases, we will make suggestions to them on how they need to change their logistics so they can save money. We did that with Chevron. We are the low-cost provider of lubricant transportation for them. Three years ago, we told them what we were doing and how."
Usher Transport showed Chevron how the company could save money and time by reducing its tank washing, and how it could keep oil from freezing to the sides of the tanks in cold northern climates. "It took a lot longer to unload, and by using insulated equipment, it's very fast," Usher says. "Our on-time delivery is 99.8 percent with them for the year." Keeping the oil from freezing to the tank sides also allowed more oil to be sold.
The transport company covers most of the United States and some of Canada, but primarily the Midwest east of the Mississippi River, Quebec and Ontario. Its average length of haul for chemicals is approximately 350 miles and for gasoline less than 50 miles, Usher estimates.
Ship and Rail Refueling
Usher Transport has Coast Guard approval to refuel barges and ships, usually from shore or a pier. "It depends on where they want us," Usher explains. "Sometimes we drive out onto the barge – we don't necessarily like doing that. Most of the time, we run their hose over the water to their hookups."
The company also has a rail services division that specializes in direct truck to locomotive refueling. Instead of railroads switching out their locomotives when refueling is needed, now Usher Transport can refuel locomotives in 20 minutes and send them back into service immediately. This has cut equipment usage in half and reduced train transit time substantially, Usher maintains.
Usher Transport buys new tractors and keeps them under an extended warranty for the six years it owns them. During that time, each truck may have been driven from 600,000 to 800,000 miles. Communication equipment used in the tractors includes hands-free cellphones, on which drivers call ahead to customers before they make a delivery.
"We will confirm the time and tell them what time we will arrive," Usher notes.
Currently, Usher Transport is not using any GPS systems. "It is less attractive to us because we are primarily short-haul," Usher points out.
Fluctuating Costs
To handle fluctuating fuel costs, Usher Transport uses a fuel surcharge. Another cost that is challenging the company is that of trailers. "Trailers have gone up over 30 percent," Usher reports. "Stainless steel and aluminum got very expensive. They are in high demand worldwide, and we haven't seen their pricing come back down."
Auxiliary power units to keep a tractor's accessories operating while it is stopped instead of idling also have gone up in price. Adding them to save fuel makes tractors heavier, which increases fuel expense.
Finding drivers has been challenging for Usher Transport. "We could not hire drivers," Usher laments.
"Part of it is the industry's fault," he concedes. "Because of the nature of our business, we don't hire anybody under 25, and they must have two years of verifiable, over-the-road experience. So you're only getting people on a second career."
Electronic Logs
Usher Transport has been considering use of electronic logs for five years. "Truck drivers are notorious haters of change, and everything new is bad," Usher says of their mindset. "Once drivers get used to it, they don't want to work with anything else, but coming into it, it won't be that way.
"We make the local guys' jobs easy," Usher concludes. "The corporate guy has to answer to his boss on price. We don't want to be the low-cost provider – we don't want to be a commodity. We try to give safety and service – that's how we differentiate our company."