Utah Department of Transportation Fleet Department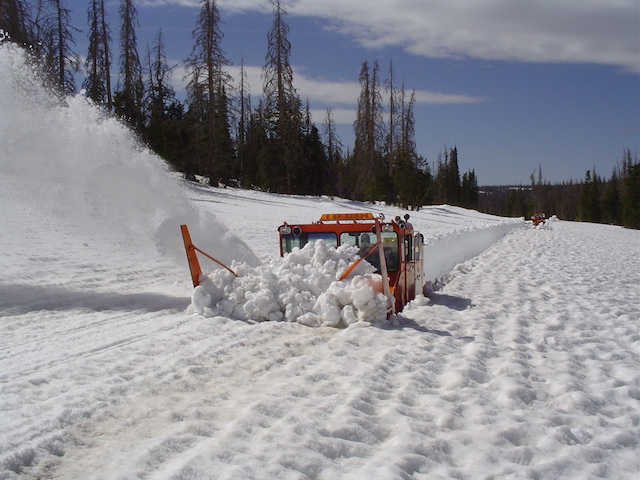 Utah DOT's Fleet Department faces issues, but does all it can to keep the state's roads safe.
By Staci Davidson, Senior Editor at Knighthouse Publishing
In Utah, the state's mountainous areas get a lot of snow, and its snow plows are heavily used in those areas. The lower, desert areas, however, get completely different weather, and not near the same amount of snowfall. These are all conditions the Utah Department of Transportation's (DOT) Fleet Department has to consider to keep residents and travelers safe, while also dealing with the other issues fleet managers face.
"You have to level out the fleet's usage so certain trucks don't have all the usage and make sure all of your fleet is getting equally used," Fleet Operations Manager Jeff Casper explains. "When we equip trucks when they are new, we equip them for routes, like putting wing plows on them so they can throw snow over a barrier. But that truck set up doesn't work in the desert, so when it has to go there, we have to think about the cost to modify it. Sometimes trucks have to specialize when they are equipped so uniquely, but we have to keep it all cost-effective, too."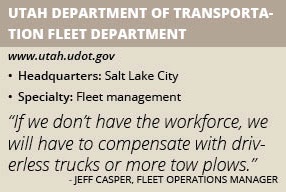 Balancing the usage of its fleet is one issue for the Utah DOT, but it also has to ensure it has the people to keep the fleet up and running. The state struggles with turnover and finding skilled operators and mechanics, as well as being able to pay what the private sector does. As a result, Casper would like to see more simplified trucks, because he knows Utah is not the only state facing these workforce issues.
"Instead of making trucks like an airplane cockpit, I'd like to see them simplified so they are more basic," he says. "If they are more standard, we can take an operator out of one and put them in another, or bring in a new guy and the training wouldn't be so complicated. I know there is really cool technology out there, but to use it, we need operators who are consistent and not in training constantly. The way it is, it is like we are fighting a battle we can't win."
Smart Investments
Casper has extensive experience in many aspects of the Fleet Department. When he got out of the military, he went to school to be a heavy equipment mechanic and got his start working in the fleet's heavy duty shop about 25 years ago. He went back to school to learn about computers, and ended up helping a guy in the DOT's purchasing department with his computer skills; the purchasing guy then trained Casper on purchasing. Casper worked for the DOT's purchasing department for about five years, when the fleet manager started training him to take over that position. He got the fleet management job five years ago when the previous manager retired.
"I had to learn a lot about selling the old equipment and how it operates like a business," Casper says. "I had to start forecasting trends and find common repairs and stock the parts necessary. I also had to look at how long the trucks last and how expensive they were over their lifespan. Purchasing is more about bidding things out and writing specs, where now I'm focused on whether it makes sense to keep existing equipment or sell it."
When it comes time to make new investments, the Utah DOT Fleet is buying more tow plows, which reduces the number of trucks it needs to have on the road. It's also using a lot of GPS so it can concentrate its forces in the areas that need it most. Casper notes it's important to look into more technology, especially as the workforce shrinks.
"If we don't have the workforce, we will have to compensate with driverless trucks or more tow plows," he says. "Eventually, we will get to the point where we may have flying cars, and then we will have to invest in short-term radar to help direct some of the flying cars and maintain a structure so you're not all running into each other.
"We will have to focus more on electrical training for mechanics because there is a greater push for us to buy hybrids, so we will keep an eye on that and keep our mechanics abreast of what is happening and where it's going," he adds. "Eventually, we will have to pay our mechanics and drivers more to do this sort of thing, because even with driverless cars, they will break down and someone will have to fix them. By making it attractive enough to attract young, smart talent, the industry can come back around to mechanics making high wages."