Utility Trailer Manufacturing Co.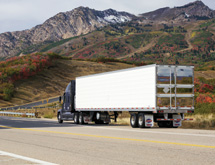 When clients come to Utility Trailer Manufacturing Co., they are looking for trailers that are built to last and can endure the harsh conditions of the road, Craig Bennett says. "There's an old saying that 'a trailer is a box on wheels,'" he says. "Don't believe it.
"A trailer is a working piece of equipment," he says. "It will have a life of 10 years for its first owner and five to seven years for the second owner. It is used and can be abused [throughout its life]."
Bennett is the senior vice president of sales and marketing for Utility, which manufactures dry vans, reefers, flatbeds and Tautliners. Bennett's grandfather and great-uncle, H.C. and E.W. Bennett, founded the company in 1914.
Initially, the two manufactured a single-axle trailer that could transport 60 bales of cotton. Today, the City of Industry, Calif.-based firm manufactures products such as its 4000D-X Composite dry freight van, which is the first to be U.S. EPA SmartWay verified with Utility's USS-160 side skirt and low rolling resistance tires.
Utility serves a broad customer base, Craig Bennett says. "We design and sell semi-custom [trailers] to private fleets, for hire trucking companies, leasing companies and to owner operators," he says.
Its primary client, though, is found in the middle market of the trucking industry. "[That customer] values quality, performance and features in a product," he says.
Utility distributes its products through "what we believe to be the best independent dealer network throughout the Americas," Bennett says, explaining that the firm has 106 full-service locations that not only work on its own products, but those from other brands. "They're in business to service their local market and know their customers' specific hauling needs and design a trailer specification to do that specific job."
Success Strategies
"We strive to design and build the best trailer in each of our chosen product categories," he says.
The firm continuously reinvests in its operations. Recently, it added a second assembly line in its factory in Glade Spring, Va., and sizeable modification shops in its locations in Arkansas and Virginia.
With these additions, "We raised our capacity and ability to grow to handle more accessory-type equipment and trailers that are not as production-line oriented," he says. "It allows us to be more of a customized producer."
Problem Solvers
When customizing trailers, Utility works closely with clients to determine what their needs are, Director of Marketing Larry Roland says. "Working through our dealer network, our customers have access to our engineering and drafting team to design answers to their current problems," he says.
"That's a regular part of our business: working directly with the customers and meeting their needs on a case-by-case basis," he says. One example, Roland notes, is food distributors, who often have temperature-control needs that Utility has to meet.
Another example, he adds, is paper distributors, who need different capacities and a different floor life than the average trailer. "It's not always the product that is loaded on the trailer, but how it's loaded," he says. "In a paper haul specifically, the size and weight of the forklift must be considered in addition to the weight of each pallet."
Some clients also have different dock heights, Roland says. "We need to understand that and work with them in that particular area," he says.
"Understanding the dynamics of the loading and unloading operations is just as important as the load being carried down the road," he says. "This is an area Utility excels in with the advantages that we have in our independent dealer network."
Up to the Test
Utility extensively tests its products before they leave its facilities, Bennett says. "We don't believe in [having the customer] test them for us," he says. "We pride ourselves in knowing for sure that our products will outperform others in the marketplace."
Utility performs laboratory testing, and it also is the only trailer company that has its own testing track. It is located in Southern California close to the corporate office where engineers can see the effects of compression, tension, torsion and abuse on its products. The company only approves new designs, specifications and components if they meet its performance standards.
Bennett asserts that this testing is more important than ever, thanks to the deteriorating road conditions in the United States. "The impacts on the trailer are getting more intense," he says. "In addition to our deteriorating roadways, the trailer 'duty cycle' is increasing due to the shorter average length of haul in most operations. Utility's testing ensures that Utility products will outperform in this operating environment.
Business Continuity
Utility will celebrate a century of business next year. "We're the No. 1 refrigerated trailer seller throughout North America," Bennett says. "Just over the last 18 years, we've been the No. 1 producer."
He notes that his family's involvement in the firm has helped it prosper. With Bennett family members managing the company, "We have a certain trust factor that is hard to replicate in the public world," he says.
The family involvement also adds continuity to the firm's work environment. Recently, Utility Chairman and CEO Paul Bennett celebrated his 50th year with the firm. "We [also] have the fourth-generation family members in key positions as we speak," Craig Bennett adds.
Utility is growing and plans to stay private because the strategy is working well, he notes.